A couple of days ago, we wrote about some interesting changes made in the Mario & Luigi Superstar Saga remake for the 3DS. These changes included everything from a new theme tune for E Gadd to tweaks in character switching mechanics and NPC designs, and showed some of the things that differ between the original game and remake.
However, as you may expect, those weren't all the changes the game had made to it. Oh no, quite a few others existed in the game too, some of which were found after our article was published.
So, here's round 2. Here are six more changes in Mario & Luigi Superstar Saga + Bowser's Minions!
6. Hammer Bros Now Look Boring as Hell
Starting with another design change people might not like. Remember those wacky looking Hammer Bros in Bowser's Castle?
The ones that genuinely looked like they wanted to murder Mario and Luigi?
Yeah, I'm sure you do. They were some of the more notable enemies there, alongside the Sniper Bills and Chomp Bros debuting in the game.
Either way, there's bad news. Why? Because thanks to Nintendo and AlphaDream pushing the 'standardised' Mario designs, these unique Hammer Bros are now simply your bog standard, generic grunts from Dream Team and Paper Jam. Here's a comparison if you don't believe me:

Still, look on the bright side here. Every other enemy in Bowser's Castle keeps its design as similar as possible to their ones in the original Superstar Saga. So, the Chomp Bros, Gunner Guys and Sniper Bills remain intact.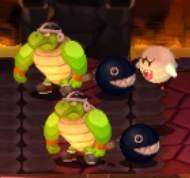 It's just a shame the Hammer Bros take such a big hit in the design department.
5. E Gadd Foreshadows his Role in Partners in Time
Either way, let's move onto something a bit more positive now. Namely, an interesting detail added to the Minion Quest mode.
Basically, E Gadd now shows up in it. And as GameXplain's fantastic video shows, he now references the idea of building a time machine, which as you can tell leads into Mario & Luigi Partners in Time. It's a pretty neat reference, and a nice thing to throw into a remake like this.
4. Boomerang Bros Get a Name Change
Which is also true of the next item on our list as well. Remember those Boomerang Bros from the lagoon area of the game? The ones that looked completely different from every other Boomerang Bros in the series?
Well, there are quite a few bits of good news regarding them. Firstly, their unique designs stay intact here.
So unlike the Hammer Bros and a few other enemies in the game, they've not been 'NSMBified' at all.
And that's not all that's interesting here. Nope, they've now realised how different they look and act from the defaults, and have gave them a new species name to match. Yup, the Boomerang Bros from Superstar Saga are now named 'Beanerang Bros', as shown in the picture below: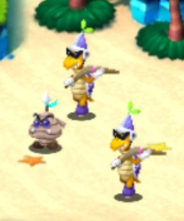 It's very fitting considering the bean theming the other monsters from the kingdom got in this title, and really distinguishes them from their generic counterparts.
However, what about the gameplay itself? Surely there are interesting changes that don't relate to character designs, right?