Super Smash Bros.
for Nintendo 3DS
*please keep in mind this review is entirely from my perspective and differs from people to people.*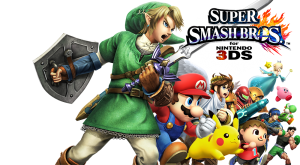 Let's talk about crossovers. Crossovers are when two or more characters from different media come together and interact with one-another. In most crossovers, the creators like bringing out the best of each character. For example, their famous quotes, special moves, and more. In this case, I'm talking about Super Smash Bros. for the Nintendo 3DS. In this game, you have the option to play as one or more of your favorite Nintendo characters in a handful of game modes. "Settle it in SMASH!"
Characters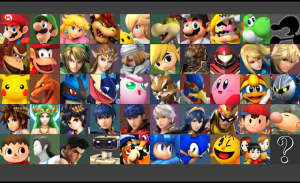 "Battle it out as your favorite Nintendo characters!"  -Nintendo
This ain't a joke. Who wouldn't want to play as everyone's favorite plumber Mario? How about some of the newcomers: Mega-Man, Villager, or Zero Suit Samus? Oh yeah, and Lady Palutena, too. Don't forget who some of us have been mumbling about- Mewtwo. Personally, I was disappointed when I heard Mewtwo couldn't make it to the new installments of the games. Rumors around the internet explain it was due to a lack of space left during the development of the games. It would've been nice to use Mewtwo's Mega Evolution (introduced in Pokémon X and Pokémon Y) as it's Final Smash. Thankfully, Nintendo fans were praised by Masahiro Sakurai (Creator of Super Smash Bros. among other games) and the rest of the game's developers, which made it possible to add Mewtwo into the games as a DLC only if you've bought both 3DS and Wii U versions. Anyways, you get to play with over 40 Nintendo characters. One negative thing I'll have to add is: how come some of the characters feel like clones? Correct me if I'm wrong, but wouldn't you agree that the Koopalings are basically the same? Look at their Final Smashes for instance. I don't blame them for being siblings, but couldn't they have had their own special Smashes?
Music
The music in the new installments of Super Smash Bros. consists mostly of remixes from songs in their respective games. These remixes are awesome though. Most returning and new stages have a bit of a 'rock and roll' feeling to it. The music is clear and crisp and the quality of the music makes you believe as if you're right in the stage. In my opinion, the best one I've heard so far was the Kalos Pokémon Trainer Battle, which is used in Pokémon-themed stages (Prism Tower and Kalos Pokémon League). most of the time.When you're in a standard smash match, don't you just love deciding which stage you'll want to fight in? Whenever I'm playing on a stage in the game, I can't help but hum to the beat of the various tracks this one game has. Am I wrong? Be serious. I know you do that too… Right?
Different Ways to Play
Besides your regular Smash Matches, they've added a heap of new content. According to the Official Super Smash Bros. Website, "There are three sub-modes in the Stadium: Multi-Man Smash, Home-Run Contest, and the all-new Target Blast." In Smash Run on the Nintendo 3DS, players choose different paths as they proceed along a map and fight against waiting computer opponents.There are tons of other ways to play and enjoy this game.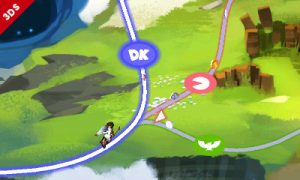 Pit from the Kid Icarus series is shown playing Smash Run, exclusively on the 3DS version.
Overall Score
The Super Smash Bros. series are games I always enjoyed playing, but finally having the ability to play it on the go is something else. This really changed the way Nintendo earns its money. There ARE some downsides though. First of all, I believe the game takes a little bit too long to start up. Not to worry though. The New Nintendo 3DS (or should I say: the Smash Bros. Machine) is going to fix that. Another negative thing about the game is the clones (Hence the Koopalings). There are other clones, but I should probably not talk about them as they'd probably enrage some fans.
Another thing I noticed was the Assist Trophies and summoned Pokémon running on 30 frames per second, but I don't really find that as a bother. Oh yeah, there are also a handful of glitches. Here's a funny Yoshi Glitch found in the game:

This glitch turns other players into colossal combatants — so huge they fill the entire screen.To perform the glitch, player 1 must select Yoshi and the game must be set to Multi-Man mode against CPU fighters. Once the battle starts, Yoshi uses his Standard Special move, Egg Lay, to capture opponents inside shells. When the encapsulated fighters pop out of Yoshi's egg shells, they will be transformed — overgrown, clumsy, and careless. Upon successfully performing about 8-9 Egg Lays, the behemoth-sized battlers finally meet their demise once they become too big to fit on the screen. -NintendoNews.com
In conclusion, I give this game a 9.2/10. It's a fantastic game that rejuvenates the hype we had during our childhoods as we played through the original Smash Bros. for the N64. Not to mention the built-in rage when you play for Glory. The glitches found during gameplay can be a bit frustrating, but that shouldn't be the cause for not buying this game. With a price of $40 on the market, who wouldn't want to buy a game this great?
Note: This review may or may not have obsolete claims. This review was made 3 years ago, when I was a sophomore. Please disregard any typos. If you feel a claim is fake, comment about it.