Well, it's interview time again here at Gaming Reinvented! Yep, after a few weeks of not posting anything, we're back talking to all kinds of industry figures about their experience developing video games. We've got developers, composers, YouTubers… heck, we'd go as far as to say 2018 could be the best one yet for Gaming Reinvented's interviews.
And no better example illustrates this than today's interview. Namely, one with a very interesting video game developer called Randy Linden.
So, who is he? Well, have you ever played that port of Doom for the SNES?
Messed around the Bleem emulator on PC (before Sony sued the company behind it)?
Or perhaps even tried out Dragon's Lair back on the Amiga?
If so, that's Linden's work. He's been involved in tons of games over the years, on every console from the NES to the Amazon App store, and shows no signs of stopping anytime soon.
So, relax, pull up a chair and settle down for part 1 of our in-depth interview with Randy Linden about his experience working in the gaming industry! It's going to be great!
Starting with a bit of personal background stuff. Who are you? Can you tell us a bit more about yourself?
I've been a programmer for 35 years now: my first published title was an almost-unknown game called "Bubbles" for the Commodore 64 similar to the arcade classic "Centipede," but other titles I've worked on are probably more familiar: Dragon's Lair for Amiga (the first time full-screen full-colour animation was streamed from floppy discs on a home computer) and DOOM for the Super Nintendo.
Above: Dragon's Lair on the Amiga was one of Linden's first games
I've also done non-gaming software as well: A database program called "Paperback Filer" (later renamed to "Pocket Filer") for Commodore 64 and 128s, a Commodore 64 emulator for the Amiga called "The 64 Emulator", a PlayStation emulator called "bleem!" for the PC and "bleemcast!" for the Sega Dreamcast.
My latest project is "Cyboid", a full 3D FPS that's like "Quake" and runs on Amazon Fire devices (TV Stick, TVs and Tablets) and Android devices (Tablets, Phones, TVs and SetTop Boxes.) Cyboid has single player, split-screen two-player and multiplayer online for up to eight. The game runs well, even on low-end hardware like the Fire TV Stick.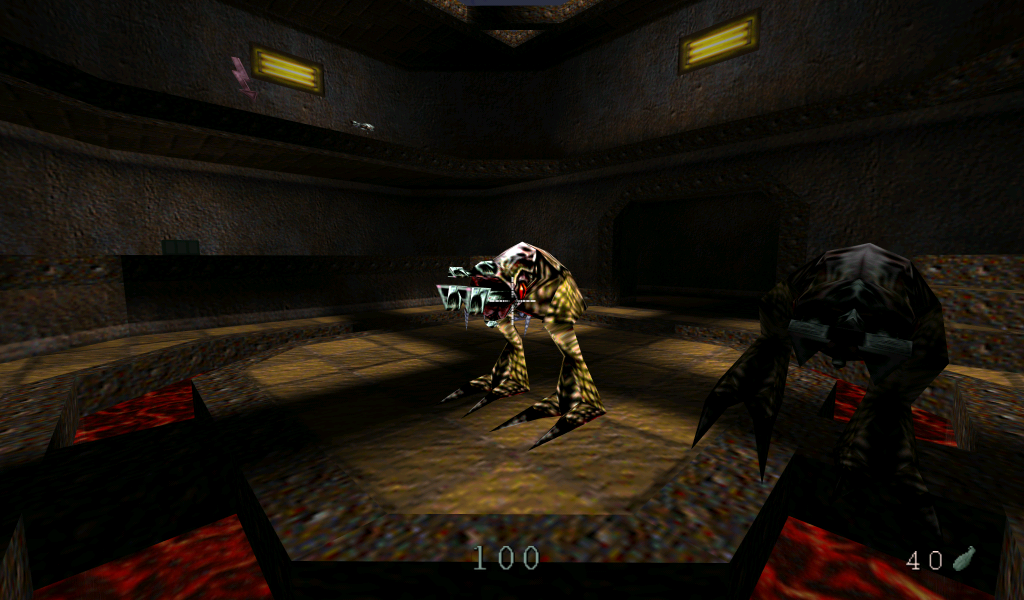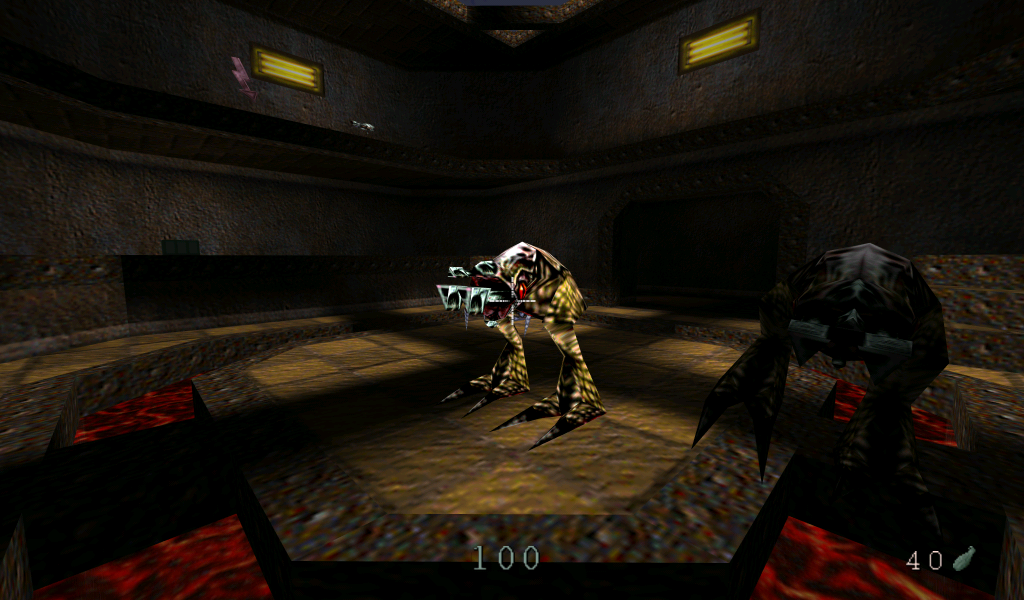 What about your gaming history? How did you first get interested in video games?
Our school received a Commodore PET, one of the first available computers worldwide and we were allowed to book time on the machine to learn how to program, although most of us used it to play games!
The system used cassette tapes for storage and there were two or three games that changed my life: Space Invaders, Adventure (the classic text game) and Lords of Karma, but it was an adventure-style game where you could save your progress by entering the machine-language monitor and typing in a command which saved out the block of memory with the game variables to tape — when you wanted to continue playing, you loaded the game, switched tapes and then loaded your saved state and then ran the game.
Were there any you remember fondly from that time?
Sure! Here are a few of my all-time favourites:
Space Invaders (Commodore PET) was a virtual clone of the classic game, but all done in 6502 assembly instead of BASIC
Parsec (TI99/4A) because it improved on the classic "Space Invaders" with unique alien graphics every few levels
Xevious (Arcade) was a vertical scroller that had pseudo-3D graphics and had hidden objects you discovered by bombing the ground below
Venture (Arcade) had a bunch of "rooms" with unique monsters which required different strategies to defeat
Dragon's Lair (Arcade) used a laser disc to show a video instead of using graphics — the controls and timing was all pre-programmed, but the animation was awesome
Lode Runner (Commodore 64) had unique gameplay and tons of levels
Forbidden Forest (Commodore 64) had great graphics and one of the best sound tracks on the C64
Frantic Freddie (Commodore 64) also had an awesome sound track
Sword of Sodan (Amiga) because of the massive animated characters (as tall as the full screen), a programming achievement at the time
Metal Gear Solid (PlayStation) had awesome gameplay, great graphics and sound, tons of challenges and unique gameplay throughout
Super Mario 64 (Nintendo 64) for the real 3D graphics and immense levels
DOOM (PC) a "hall of fame classic" that introduced network gameplay to the world
Quake (PC) another true classic that brought 3D to PC all done in software
And how did you get started in video game development anyway? Did you want to make games from a young age?/
I was always fascinated by arcade games — the graphics, sounds and gameplay — much more than winning, and that drove me to play more and more so I could see what the next was like!
The first game I wrote was called "Barriers" on the Commodore PET — it was really simple: a vertical wall starts at the left side of the screen and moves to the right where there's a space ship you control. You can move all around the screen and shoot a laser to blast a hole in the wall as it's moving closer. If you make a big enough hole for the wall to pass by without touching your ship, the next wall was a little bit faster.
Over time, my programming focus changed to projects which presented unique technical challenges, often in the category of "that can't be done" for various reasons (hardware, software, CPU speed, memory, etc.)
Onto your game development history now. What was the first game you ever created? Did you work on anything interesting before Datastorm for the Amiga?
When the Commodore 64 was released there was a bundle that included the monitor, computer and a desk to put everyone on. My mom bought me that one year for my birthday and I wrote my first "professional" game called "Bubbles", a clone of the arcade classic "Centipede." — I say "professional" because it was actually published by a company and I was paid for it!
There was a start-up company in Toronto called "Syntax Software" that had just released a game called "Cyclons" which was available at the local computer store. I looked up the company and the owner's name was "Randy", so I knew fate was calling! So I called the owner and arranged a meeting. I worked at Syntax part-time for a few months doing various programming jobs and eventually demo'd "Bubbles" … and the rest is history!
How did you get involved with Visionary Design Technologies anyway?
VDT was a start-up that I founded and ran from my mom's basement — VDT's first title was "Dragons's Lair" for the Amiga.
I had always been fascinated by "Dragon's Lair" and one day I started calling companies which sold arcade games to track down the laser disc from the game.
I rented a laser disc player and used the "Sunrize Industries" digitizer to scan some of the images — the digitizer used coloured filters and required three passes for each frame of animation.
Eventually I contacted the company which made the digitizer and told them about the project …
They sent a prototype of their next-gen digitizer which could scan images much faster and didn't require any filters. Many years later, another company was started by the same owner of "New Horizons" — that company is "Roku" — cool, eh?
What about Sullivan Bluth Interactive Media? Seems like quite a jump going from Datastorm to Dragon's Lair here…
Actually, Dragon's Lair was done about a year before DataStorm — and Sullivan Bluth Interactive Media was founded after they saw a demo of Dragon's Lair.
Dragon's Lair was one of those "impossible" games that I knew was possible on the Amiga because of its unique hardware capabilities — the game required took a huge amount of work, but it achieved a milestone for gaming and home computers in general.
Here's something interesting: The game requires six disks to fit all of the graphics and sound data, but the entire program is only 8K bytes — yes, eight kilobytes total!