It's interview time again on Gaming Reinvented! Yeah, it's happening already. Bet you didn't expect that so soon after Guru Larry's interview did you?
Nah, nor did we. But the Eyes in Everything team had their answers ready a tad ahead of schedule, so we decided to hurry up the interview and get it posted as a result.
But hang on, what is Eyes in Everything?
Well, basically it's the dev team behind a game called Psycutlery.
Which in turn is basically a spiritual successor to a beloved Mario fan game called Psycho Waluigi. Complete with Psycho Waluigi developer Thunder Dragon as the main dev.
Either way, here's a trailer for Psycutlery, in case you don't already know of it:
But hey, enough waffling for a minute! Let's get on with the interview!
1. So let's start with a simple company question. How did you guys meet for the first time? What made you want to set up Eyes in Everything?
LUKE: The two of us go back since, well, practically forever! Nearly 17 years is practically forever in internet years, uh, right? It was the year 2000 when I made public a little fangame site called "Bowser Technologies," which soon led to our meeting.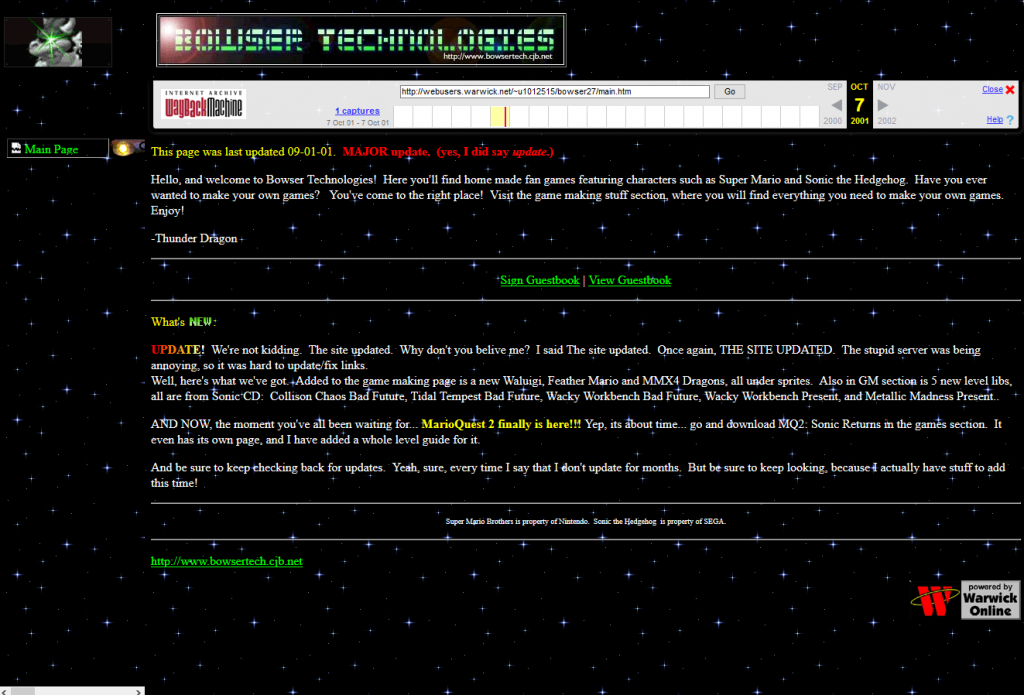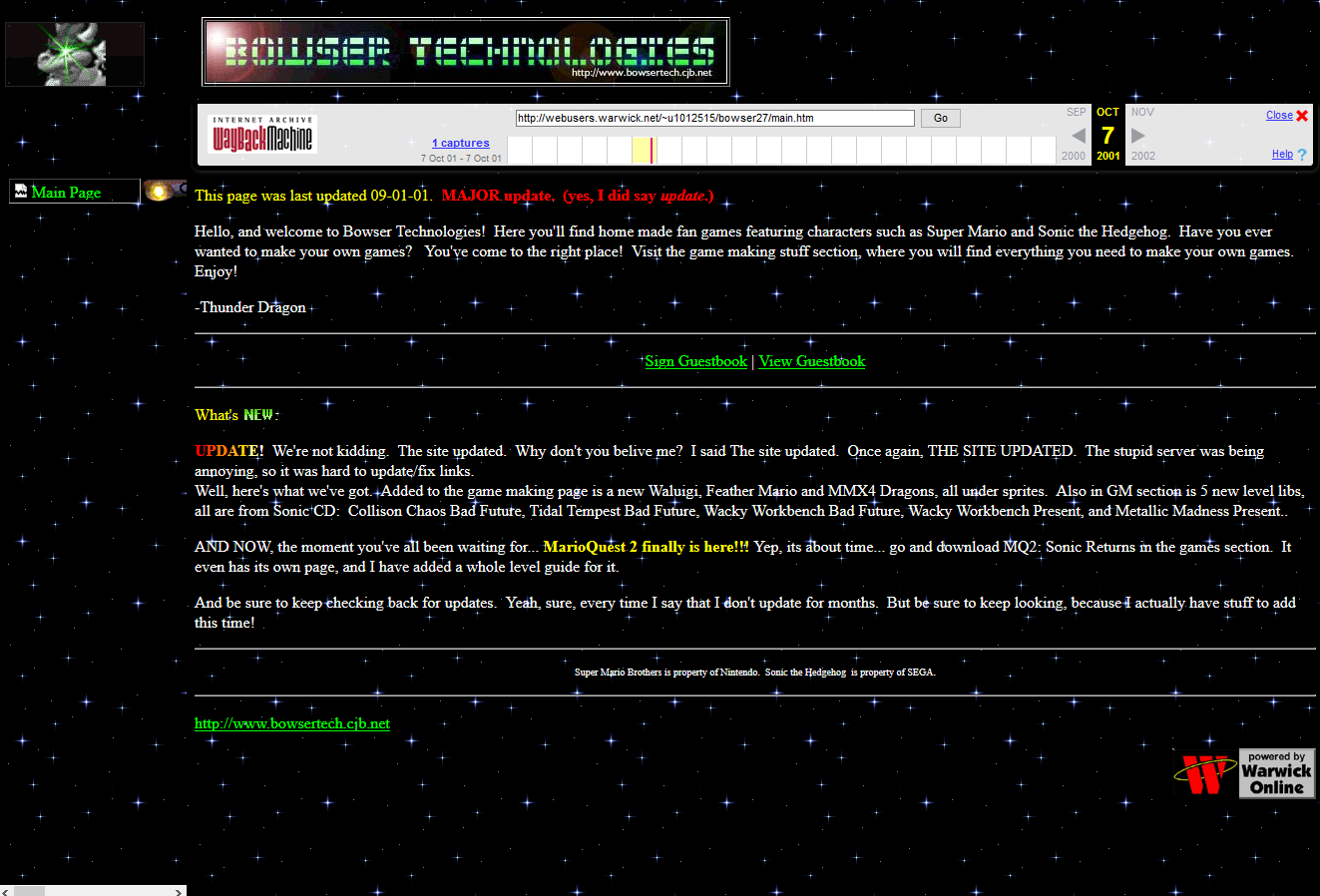 As far as setting up Eyes in Everything goes, it was not formed as a team initially. I came up with the label as a sort of brand identity for myself. The label was to be applied to all my creative endeavors, from art to game development. Likewise, the game Psycutlery was meant to be a solo project. I could have easily done everything myself… except for two crucial elements: the music, and the marketing. I wasn't nearly experienced enough in either field to pass a professional-grade project, so to speak.
Jon found me at a great time. He is a passionate musician, and is now researching indie game marketing. Perfect!
JON: Way back in 2000, I was known as Yoshiman. I had only made possibly 4 or 5 posts on the not-so-active forum until he switched it up to MFGG. At that time, I was just a lowly member while he was the big guy, top-notch administrator. Down the road, I worked on up to administrator, which I think helped acknowledge a more equal-level friendship than before. Eventually, I offered to make some songs for Psycho Waluigi, and then afterwards left the website for some time. I got wind on Twitter that he had finally broke away from creating fangames and begun an indie game. I wanted to create the whole soundtrack for Toadette Strikes Back (I still have two songs I was working on for it) before I left, so I felt it was my personal duty to offer it now for Psycutlery.
2. And hey, how about the name? Where did that come from?
LUKE: I fretted long and hard coming up with a brand label, and sketching out logos for many potential brand identities. Whatever I did, I just couldn't come up with a decent name! When I looked back at some of the logos I scribbled out, I noticed one common trend amongst the lot of them: eyeballs. And then I looked back at some of my other random drawings. Eyes everywhere, and in everything! That was when it dawned on me. Eyes in Everything! It also carries something of a double meaning about finding eye-opening inspiration in, well, everything, which is a philosophy we seek to carry across our work.
3. Were you planning on making any other games before Psycutlery? Or is this your first ever idea for a game?
LUKE: I actually didn't really have an "idea" to make Psycutlery. It was something that just… sort of happened! It began as an open-ended experiment that, by some series of contrived coincidences, ended up becoming something of an actual game. But to answer your question, since I don't consider Psycutlery an idea so much as happenstance, yes, I did have other ideas for games. Two, to be precise: an underwater action-adventure, and an action-RPG platformer hybrid involving ghosts and necromancy. But considering both of those are considerably more complex ideas, it's probably better to start off with a simple platformer, huh?
4. As we know, one of your team previously made a Mario fan game called Psycho Waluigi. So, how much did that inspire Psycutlery as a game? Because it definitely seems to have some similarities to the fan project…
JON: It was pretty much all Luke that made Psycho Waluigi, with some testing help, a few other's sprites here and there, and MIDI to MP3 music for the songs not created by me. We've said on Twitter and many other places that Psycutlery is the spiritual successor to Psycho Waluigi, so it has many similarities.
LUKE: Originally, it had nothing to do with Psycho Waluigi. But remember how I said that Psycutlery was a thing that kind of just… happened? In its experimental stages, it was something of a straight-up Yoshi clone, albeit with original characters. However, having decided around the time that I wanted to distance myself from fangames forever, I didn't want a character with an extendable tongue. So in a haste, I covered up all ties to Yoshi with a spork. A floating spork. That happened to be controlled with what appeared to be psychic powers. So, ironically, in my urge to distance myself from fangames, the project wound up playing awfully similar to one! Thankfully, it was one of the few fangames that had potential to pass as something original with a few audible and graphical swaps – so, hey, may as well act on that.
5. Why Psycutlery? Seems like a very weird name for a game about a character with psychic powers…
LUKE: But did you notice exactly what the character was controlling with said psychic powers? It's a piece of cutlery, is it not? As for the pronunciation, think of it as something like "psychiatry" or "psychology," only with tableware.
6. Heck, what's with the kitchen utensil motifs anyway? Because everything from the logo to the end of level goals seem to involve forks…
LUKE: It's a SPORK. It's like a fork. But it's also like spoon. It's the jack-of-all-trades, master-of-none in the world of silverware! As such, sporks are inherently comical, so the idea of a game that places emphasis on one is bound to raise a few laughs. It's all to set the decidedly bizarre tone of the game, and the wonderful absurdity of saving the galaxy with such an impractical eating utensil… there's something of an underdog story there.
7. What about the graphics style? To me, it reminds me of a fair few GBA games (in a good way). Was that the generation you were inspired by?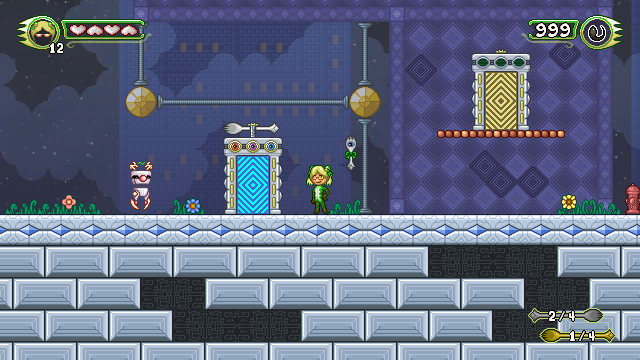 JON: The Progressive Era – the first spork to be manufactured was available in 1890. Huge inspiration.
LUKE: Indeed! Actually, the original patent for the implement that would become known as the spork – Dr. Samuel W. Francis's "runcible spoon" – was issued as far back as 1874. So one could say this is a graphical style over 140 years in the making!
Ehhhh, but seriously, there was no specific console generation that inspired the graphics. I was merely going for what one would call "simple pixel art," for the sake of convenience and ease of animation. See, I have long been a traditional illustrator, so everything in both the digital realm and the realm of animation is something of a new experience to me (although I have previously dabbled lightly in both). One of the coolest things about game development is learning all sorts of new things, really! Like, you know, the history of the spork. Wild.