As you know, custom Mario Kart tracks are a dime a dozen online. From Mario Kart Wii to 7, DS to 8 Deluxe, every game in the series has gotten hundreds of custom tracks make for it with fans, with many of the best ones being on par with those in the original game.
And one place you're likely to find out about them is the MarioPower55 YouTube channel. Began in January 2009 as a place to post footage of random games its creator was playing, the channel has since branched out to cover custom content from all sorts of Mario games, as well as other list videos and concepts related to said fan creations.
It's a hugely successful formula, and one which has gotten the videos tens of thousand views in a matter of hours and days.
So today, we're gonna talk to the guy behind it, and see what makes it all tick. To find out just what goes into the average Mario Kart custom track video, how the tracks included are chosen, and what got its creator interested in the whole YouTube business to begin with.
You ready? Let's do this!
Starting with a bit of personal info. So, who are you? Who is MarioPower55?
My name is Tyler, I'm 24 years old. MarioPower55 is my YouTube channel that I created back in 2009. I currently run the channel with my twin brother, Michael. (His channel is "Luigi's Arcade") He helps me come up with ideas, and I pay him to be my graphic artist! I do all the editing for the channel and I do mostly all of the research for the videos. MarioPower55 is all about showcasing mods, mainly made in the Mario Kart Communities!
And where did your username come from? It seems rather random for a channel about custom content in Nintendo games…
MarioPower55 was actually my Dad's idea. The channel was originally made to be a shared account where My Parents, Brother, and Myself post our videos to, but ended up being my channel. My Dad wanted to name the account after Mario (since my bro and I always loved playing Mario Games). Obviously we couldn't just call it "Mario." Funny enough, I remember being stumped on what to call the channel, so my Dad just suggested adding "Power" after Mario, and then "55" because we thought it sounded cool! My Dad also made the logo that I still use to this day.
What was your first video game?
My parents loved (and still do love) playing video games, and so they got me into playing games like Tony Hawk Pro Skater on the Playstation 2 and Marble Blast on our Mac. I played a lot more games after that, but I almost remember playing Tony Hawk Pro Skater first. My first Nintendo console was the gamecube!
What games are you playing at the moment?
Other than any Mario Kart Game, the game I grind the most right now is MLB The Show 22. Fun fact, I'm a huge Baseball fan and I play each MLB The Show game that comes out every year. I also love playing rom hacks, especially for Super Mario 64 and Pokemon. Been really enjoying some switch games as well like the new Mario Strikers game. And to end this list, I've been playing the new Monkey Island (Return to Monkey Island) with the family!
Is the Mario series one of your favourite series of all time?
100%. I have so many great memories playing the Mario Games when I was growing up, and I still have fun playing them. Love playing all the Mario Party games and of course the Mario Kart games. Especially with friends! My favorite video game memories growing up were playing through the Paper Mario games with my brother. (Thousand Year Door <3) And another fun fact, I got pretty competitive with Mario Strikers Charged on the Wii, and almost went pro.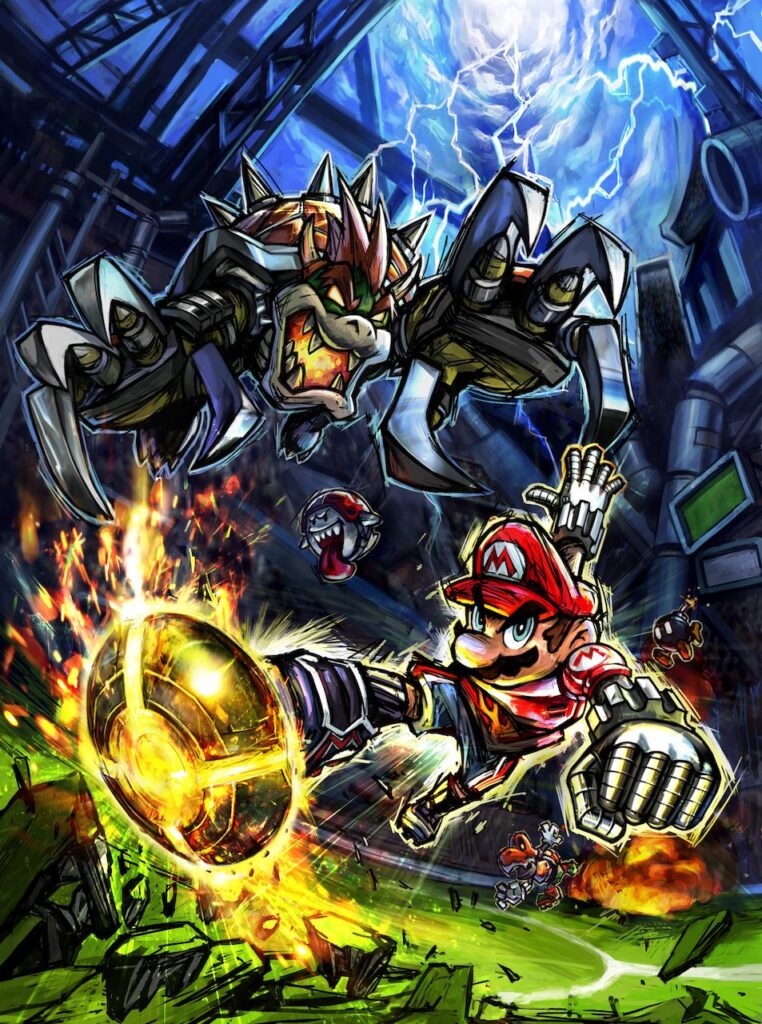 Any games you're looking forward to at the moment? Presumably stuff like Mario + Rabbids and Zelda Tears of the Kingdom are up there, right?
I have quite a few! Tears of the Kingdom is gonna win game of the year, so I'm super excited to play that. I cannot wait for the new Spongebob Game: Cosmic Shake (Since Battle for Bikini Bottom is one of my favorite games of all time.) Sonic Frontiers, Mario + Rabbits, and Pokemon Scarlet & Violet.
Regardless, let's talk about YouTube now. What inspired you to start a channel?
My brother and I wanted to record our Mario Kart races, Pokemon Battle Revolution battles, and Mario Strikers Charged matches! We had a lot of fun playing those games, so we got a flip camcorder and started posting to YouTube. My first ever video on the channel is a Wifi Race on Mario Kart Wii.
And why did you focus on custom content in Nintendo games, like custom tracks in the Mario Kart series?
11 years ago (2011), I decided to record some Mario Kart Wii Texture Hacks that my friends made, and that turned into showcasing community made Texture Packs/Music Packs. That carried on for a while because I was simply having fun showcasing projects! I started really uploading Custom Tracks in 2015/2016. I was uploading both Packs & Custom Tracks until late 2019 & early 2020, and then around that time, I switched to showcasing only Custom Tracks. That was all about Mario Kart Wii, but in 2021 is when I started uploading and showcasing Custom Tracks that were made for all of the Mario Kart Games (not just Mario Kart Wii). I focused on custom content on this channel because I absolutely love giving a spotlight to all of these talented creators in every community and I love playing their mods!
Were there any other content ideas you had for your channel here?
When I created the channel, my bro and I wanted to also post random walkthroughs/let's plays (or anything else that we felt like uploading). I also wanted to post my wifi gameplays on Wii Games. I just got really into the Mario Kart Wii Community at the time and that's when I started mainly making Mario Kart content.
Did any other YouTubers inspire you here?
Yes, there were quite a few! Mayro, TWD98, RedFalcon, PrinceBoo, AttackingTucans, Mr.Bean35000vr, Chuggaaconroy, Nathaniel Bandy, and Sawyer were big inspirations throughout my YouTube career so far!
Editor's Note: We've actually interviewed quite a few of these people! Check out our interviews with Mayro, TWD98 and Nathaniel Bandy after reading this article!
How do you find content to cover? You always seem to have some really good choices for Mario Kart tracks and what not…
It all depends on the Mario Kart Game that I want to cover for that video. It could be a big talking point in the community at the time, like when the next Mario Kart 8 Deluxe DLC Wave comes out or a modding team releases a big project (etc). When I research for videos, I start by going on discord servers associated with the Mario Kart game that the video is focused on to connect with the creators. Since, each Mario Kart game has their "custom wiki," I check those as well. I also check Gamebanana.
Which Mario Kart game has your favourite custom tracks and why?
Mario Kart Wii! I've been following the Mario Kart Wii Custom Track Scene since the first CTGP-Revolution came out in 2011 by Mr.Bean35000vr & Chadderz. I've been so amazed with the tracks that get released every week for years now in that community, that I've been making a Monthly Showcase Video for New Custom Tracks in the Mario Kart Wii Modding Community to give creators a spotlight! It's the longest active series on my channel as March 2023 will be the 3 year anniversary of that series. With that being said, It's been a lot of fun watching each Mario Kart Modding Scene (for all the games) grow so fast in the last year! (Shoutout to the CTJams!)
Were there any games you were surprised had so many amazing mods and custom levels available?
Certainly! Within the last year there was a huge spike on Mario Kart 8/Deluxe Custom Tracks. We haven't seen that much action from the modding community in that game for years now, but in 2022, there are so many amazing Custom Tracks for both the Wiiu version (Mario Kart 8) and the Switch version (Mario Kart 8 Deluxe!) The Creators are constantly getting better and better! And, if we're talking non Mario Kart, I say Super Mario Odyssey and Super Mario Sunshine have a surprising amount of Custom Levels in the community now!
Have there ever been tracks or levels you found disappointing there? Perhaps so much you dropped them from a video you were working on?
I don't think I've ever been disappointed in a custom level/track. I look at it from a perspective that every creator starts somewhere and they are making a portfolio for themselves. In my Monthly Custom Track series that I mentioned before for MKW, I'm always looking for new creators to showcase their work. Now, I nit-pick a lot in that Monthly Custom Track series because I want to showcase what I think are the best tracks released in that month. I don't include all of the tracks because I think it's a fun goal for the creator to make it onto the series. At the end of the day, I think every creator shouldn't be afraid to release their work!
What are some of your favourite ever Mario Kart tracks?
Some of my favourites include Super Marine World, Midnight Museum, Garden of Dreams, Vile Isle and Frantic Funyard.
And speaking of dropped content ideas… have you ever had so many great track choices that you had to split some of them off for a future video?
This happens way more than you think! When I showcase Retro Track Recreations on my channel, there are so many creators that make each track. Let's say I'm making a retro showcase of people recreating Mario Kart DS tracks in Mario Kart 8 Deluxe. There are a lot of tracks that have multiple recreations and I just need to pick one for the video, but I often find a way to showcase all of them somehow (even if it's saving them for a future video.) I think we are spoiled with custom content in 2022 and it's getting harder and harder to showcase them all!
What tracks, levels and other mods are you looking forward to?
I look forward to new tracks in each Mario Kart Community! I would like to shoutout a few projects here that I'm super excited to play/showcase once they get released!
In the Mario Kart 8 Deluxe community, a modding team run by Fishguy6564 is making the official CTGP for Mario Kart 8 Deluxe. (CTGP-DX).
In the Mario Kart DS community, there's a big update in development for CTGP-Nitro! Also, the release of GCGP (The full MK:Double Dash game remade in Mario Kart DS!) Both teams are run by SGC!
In the Mario Kart 64 Community, there's a big update for Mario Kart 64: Amped Up! An amazing rom-hack that is made by Litronom!
One thing I've noticed recently is that you've made your later videos less 'anonymous', with voiced commentary, face reveals and more of a personal touch to them. Is there a reason for that change in direction?
MarioPower55 has been non-commentary based ever since I started the channel. The content was never about "me," but more so about the mod I'm showcasing. I never had that much confidence in myself, and so recently I wanted to put myself out there a little bit more with the content. That means, some videos will have a voiced intro and even the whole video is commentary based. I still want to primarily keep this channel non-commentary as people are subbed for that style of content. But yeah, the reason why I became less anonymous recently is because I want to put myself out there more, and make some of the content more personal.
What was it like doing a face reveal after having run the channel (near) anonymously for a few years?
It was nerve-racking, but relieving! I knew If I wanted to make some of the content more personal and unique to my channel, I needed to put my face out there. I was always afraid of what people would say about me, my looks, and how I sound. I concluded that openly putting myself out there more would make me feel a lot better, and give me more confidence (even if I'm judged).
Still, it seems the change in direction has done well. So, do you think we'll see more 'personality' based videos in the next few years or so? Like top ten lists, analysis videos, reviews, etc?
100%!! I have a lot of fun making that style of content. I'm trying to figure out different ways that I can implement commentary into the channel. One of the ways I was thinking about was just putting that style of content on a different channel and keep MarioPower55 a non-commentary, edited/gameplay focused channel. Having been more confident in myself, opened a huge door for me and my youtube career.
What does the future of the channel hold in general? Are there any new types of videos you want to try out?
Right now, I don't see that much change! Just small areas that I want to improve with the videos and to put even more time/effort into making them clean. My goal with MarioPower55 is to be the showcase channel for the latest and greatest mods. There's always a feeling that my channel will be shut down by companies (like Nintendo) because it's modding focused. But, for the time being, I'm just having fun making the content, and giving creators a spotlight.
Have you considered covering custom content from non Mario games? Like custom Zelda dungeons and shrines, Metroid levels, Pokemon fan projects, etc?
For sure! I've always been following Pokemon Fan Projects, and I've recently gotten into some Banjo & Kazooie & Ocarina of Time projects. I'm just super fascinated by fan-made projects. Since MarioPower55 is all about mainly Mario Kart mods, I will find a way one day to include mods from other games.
Caption: Presumably, MarioPower55 has played a few of Mark Kurko's awesome hacks recently too.
Regardless, your channel is doing very well so far, with nearly 20K subs and 10s or 100s of thousands of views per video. Did you ever expect it to do this well?
Not at all. When my channel was made, I was just going through public school and posting whatever I wanted, and it was very random and silly. I'm grateful and honored to now be in this position to showcase projects that not only my friends make, but just everyone in general. If you went back in time 13 years and asked the 11 year old me the same question, I would've been shocked!
What do you think of your channel's progress so far? Are you happy with how it's doing?
It honestly blows my mind to when I started really uploading again 4 years ago, that I'm where I am today. I can be proud of the progress that I made, but I'm never satisfied fully. I want to keep the train moving!
Have you considered trying to monetise it more? Like say, setting up a Patreon or doing YouTube as a full time job?
Right now, MarioPower55 is a part time job for me with ad-revenue, donations, & sponsors. With finishing up University with a Electronic, Media & Film (EMF) degree, I feel like my YouTube career is connecting well with my University degree. After I graduate, the plan is to figure out a way to implement Patreon, freelance/commission editing work, and to spend more time fully on building my brand by running a few channels with more sponsors. So yes, the plan is to go full-time with YouTube.
Are there any other creators you want to work with on future videos?
I haven't done that many collaborations in the past, but I want to change that! I want to branch out more. Would love to collab with more Mario Kart youtubers/creators in the future. A big inspiration is what my friend, Mayro, does here on YouTube! She always has a video collabing with another YouTuber/Creator.
Finally, what advice would you give for anyone wanting to start a YouTube channel and why?
My biggest advice is to just upload what you want, and NOT what the algorithm wants you to upload. At the end of the day, all of your favorite YouTubers started out making videos for fun. I was just a dumb kid making random stuff with my brother. You will eventually carve out a niche that will allow you to have an audience on whatever you want to do. Think of it this way, if you enjoy making something (enough to post it to YouTube), there's always someone else that feels the same way and will come across your content.
Yeah, we agree wholeheartedly there. As much pressure as there is to obey the YouTube algorithm, actually going down the 'post stuff constantly based on keywords' route is a recipe for a miserable existence, and a setup that'll make you frustrated with your channel sooner rather than later.
So don't do that. Do what MarioPower55 (and other popular creators) suggest, and make the videos you want to make. That way, you'll stay motivated, and hopefully find an audience that actually cares about you and your work.
Still, what did you think of the interview? Did you enjoy learning more about Mario Kart custom tracks, and MarioPower55's YouTube presence? What other awesome creators do you want to see us interview here on the Gaming Reinvented site?
Leave your thoughts in the comments below, on social media, or on our Discord server today!
MarioPower55 On Social Media