Listings for a new Crash Bandicoot game called Crash Bandicoot 4: It's About Time have appeared on the Taiwan Digital Game Rating Committee's website. These listings show the game as coming to the PlayStation 4 and Xbox One, and feature box art for these versions, as seen below: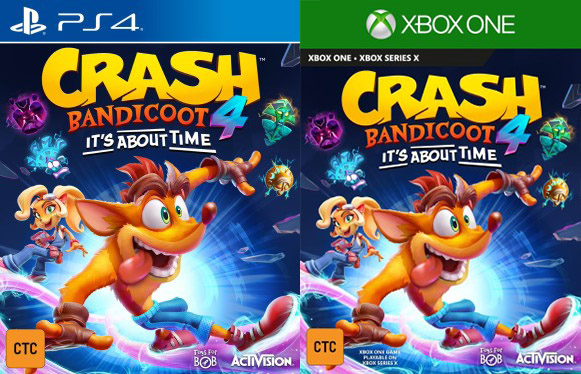 They're interesting listings, and ones that tie in really well with the rumours about the game. What's more, given the description provided on their pages:
Crash is relaxing and exploring his island in his time, 1998, when he finds a mysterious mask hidden away in a cave, Lani-Loli. The mask is one of the Quantum Masks and apparently knows Aku-Aku, Crash's mask friend! With the Quantum Masks returning and a Quantum Rift appearing near our heroes, they decide to bravely head through to different times and dimensions to stop whoever is responsible.
It also seems like they tie into Activision's recent marketing scheme for the series too. Where, various influencers received jigsaw puzzles based on the game, complete with artwork of a new mask character not yet seen in the franchise:
So it definitely seems like this is the next Crash Bandicoot title, and that it might end up being the first in a full blown revival of the series overall.
However, it does raise a few questions nonetheless. As well as a few minor concerns about the future quality of said titles as a whole.
For starters, the developer for this game isn't Vicarious Visions or Beenox, the companies behind the N Sane Trilogy collection and the Crash Team Racing remake respectively.
Instead, it's apparently Toys For Bob, previously known for their work on Skylanders and the Reignited Trilogy.
So it'll be interesting to see how they handle the project. They're not complete strangers to the series overall given his appearance in Skylanders, but they're still a lot less familiar with it than their counterparts there were.
Additionally, it'll also be interesting to see if the Nintendo Switch gets the title as well.
Since as per the ratings board listing, only PS4 and Xbox One versions have been confirmed right now.
Hence we're curious whether the Switch will receive it down the line. We'd assume so given N Sane Trilogy (which had its Switch release a few months later than the PS4 one), but we can't really be sure right now.
Finally, we're a tad confused why they called it Crash Bandicoot 4 in general.
Cause a previous title in the series already had said name, at least in certain parts of the world. It's like making a New Super Mario Bros game and calling it Super Mario Bros 4 or Super Mario World 2.
Regardless, it's happening, and it seems we'll be finding out about the game very soon.
So what are your thoughts here? Are you excited for a new Crash Bandicoot game like this? How do you think Toys for Bob will be able to build on the formula this time around?
Tell us your thoughts on the matter in the comments below, or on the Gaming Latest forums today!
Source:
Crash Bandicoot 4: It's About Time rated for PS4, Xbox One in Taiwan (Gematsu)