It's rare for a game to have the same success as Pokemon. After all? Pokemon since the 90s came out at the right place in the right time where anime in America has become huge thanks to its anime being released first in America by 4kids and Toonami making anime a big splash with many young fans who grew up with DBZ. The perfect mix of Japanimation and many Americans loving things from Japan like Nintendo is what caused Pokemon's cuteness to become a hit both on GB and for many handhelds until GameFreak switched to the Switch. (No pun intended) Pokemon's unique gameplay and cuteness are what cause other companies even Japanese ones to make or create their own version of it. From Digimon to even the famous Yokai Watch proving some can hit Pokemon's kinghood right off its throne. But sadly not all series can become or even beat Pokemon as Pokemon still sells a lot of copies today even with the now infamous games Sword & Shield selling over a billion Switches now. Nothing can stop it. Sure TemTem tried to give us an MMO that many Pokemon fans had dreamed of? But it's not enough to make Pokemon draw fanart or write fanfics about it compare to Pokemon's huge fanart and fanfics written about it. But there is one type of game that not many people have heard of as it was released on Steam a few years back but it's an interesting tale as this game was only made by one man and one man alone made this game not only out of love but also did it because he wanted to create his own version of Pokemon.
That game's name is……
Disc Creatures!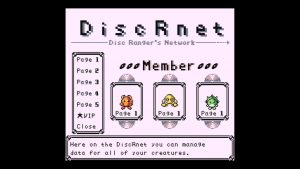 So what is the game about? Well? It's a Pokemon-like game to its core. Made under RPG maker but it's so good and well made that you would think that a huge team has made it. No, it was all made by one man. Yes, that includes the Disc Creatures, the music, the sprites, the gameplay style, and more.
Many of the designs for Disc Creatures looked like they came from the old kindergarten playgrounds on how there was new unknown Pokemon you can find using glitches or tricks to find them. They even also take cues from Pokegods that have strong Disc Creatures that can kick your butt. Disc Creatures has that and more.
It's a homage to Pokemon with that it has nice cool names. It also has the Disc Creatures talking just like Digimon. And even has the same battle system gameplay as Earthbound. Of the three influences. Two of them had help in the past of making Pokemon. Creatures Ink. the makers of Earthbound had a hand in helping create Pokemon. Henge where the name Disc Creatures came from.
(All 200 creatures just like the original Red & Green when it was planned to have over 200 Pokemon. Good homage.)
There is a lot of references and callouts to Pokemon and many other Pokemon like video games that have helped make Disc Creatures stand if you look hard enough to check each one of them.
The gameplay is also fun as well. Battle system is an earthbound style where you battle three bad guys onscreen while your little disc creatures are shown with their health meter shown. They also have Pokemon like attack names so it feels like you are living in the 90s playing the best games of your childhood. It also has a pretty good storyline and interesting places which I won't spoil for newcomers but I'll say you will love the game for its good lore.
Outside of that? Buy the game on steam as even the guy who made the game has said he wishes he could port the game on Switch so folks can play it on the go. But at the moment? He's making a new game in the Disc Creatures series called Disc Creatures World where it is a GBA style game with more colors this time and new Disc Creatures that are created for said game. Support him on Twitter for updates and don't like it being a Pokemon copycat scare you away lots of folks thought it would be just lame but from what I played myself? It's pretty fun and cool. So check it out when you can. I give it a 10 out of 10 for giving me fun. 🙂