Neither seem particularly interesting games, with one being an old Game Boy puzzle game that I don't think happened to be too popular back in the day (at least, I can't find much evidence of the game being a cult classic or anything), and one being a visual novel which weirdly doesn't even use the 3D that the 3DS is named after.
So, what do they look like?  Well here's Quarth: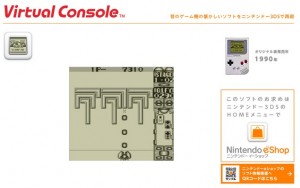 Or at least, its page and default screenshot on Nintendo of Japan's virtual console page.  Eh, I think I'll pass on this one.
And here's True Rememberance.  It's a visual novel which for some reason needs save slots.  No idea why, visual novels I hear aren't exactly 'difficult' games.
Still, my opinion personally?  Forget any of those average games and buy Wario Land Super Mario Land 3 instead, that game is both awesome, somewhat challenging and actually fun to play.  See the next post for more info on that.