As you know, an animated Mario movie has been in development since at least 2018. Produced by Illumination Entertainment (the same studio behind the Despicable Me series and Minions), the film is co-produced by Nintendo themselves, with Miyamoto playing a prominent role in its development.
It's an interesting setup, and one which has a lot more promise than the last attempt.
Yet it also raised a lot of interesting questions too. Most notably, who would the voice actors even be?
Would Martinet be here? Would other voice actors from the games return to voice their respective characters?
Or would Hollywood A-listers be drafted onboard in their stead?
Well as it turns out, the answer is sadly the latter. That's because in the Nintendo Direct a few days ago, Nintendo announced the full cast list for the movie, and it was filled to the brim with A-listers and newcomers. Here's the announcement with more information:
The movie poster with the same names listed: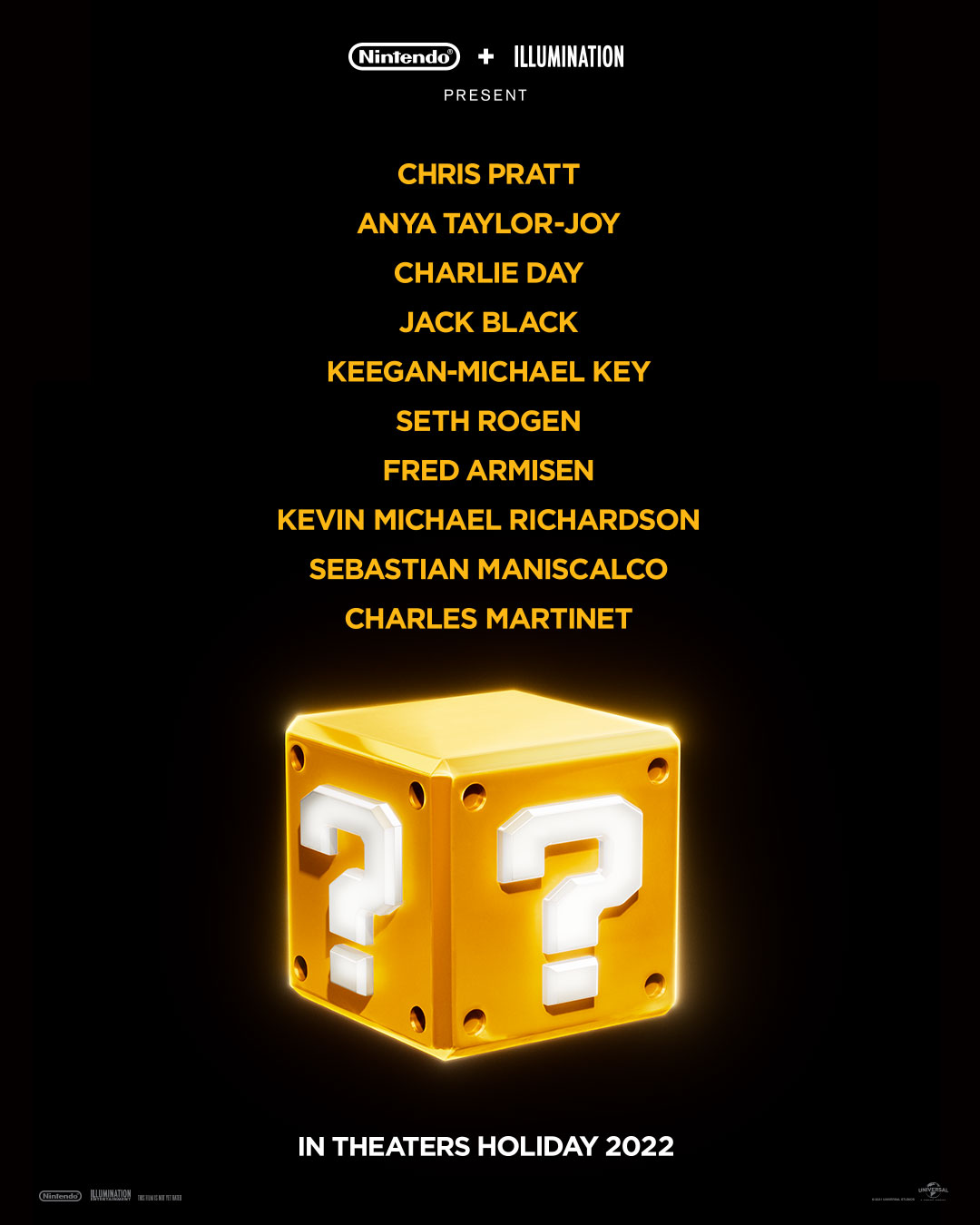 As well as the full cast list in text format:
Mario: Chris Pratt
Luigi: Charlie Day
Peach: Anya Taylor-Joy
Bowser: Jack Black
Toad: Keegan-Michael Key
Donkey Kong: Seth Rogen
Cranky Kong: Fred Armisen
Kamek: Kevin Michael Richardson
Foreman Spike: Sebastian Maniscalco
The choices are interesting to say the least. On the one hand, Charles Martinet is at least in the movie, and does seem to have a few cameo roles there. So he won't go completely unused, and could well handle the likes of Wario, Waluigi or Toadsworth in such a movie.
Yet at the same time, his main roles have been given to Chris Pratt and Charlie Day, and every other video game series voice actor is missing altogether. This means that poor Samantha Kelly and Kenny James have been left out in the cold here, along with pretty much everyone else who made the series what it was.
It's like how in the movie Scoob, Frank Welker was the only member of the cartoon series' cast to return for the film, and only got to voice Scooby rather than both Scooby and Fred. Another shameless attempt at cashing in on A-list celebrities in lieu of voice actors, on the assumption the latter can't carry a film by themselves.
Still, we probably shouldn't be too judgemental there. The new voices could work well if done properly, and the people involved do seem to care at least a little about the series as a whole. Like how Chris Pratt said it'd been a childhood dream to voice Mario, and how he'd grown up playing the games as a kid. So on that note, it's likely it'll be handled at least somewhat respectfully there.
And the character choices in general are at least a tad more interesting than expected too. After all, who'd have even imagined Foreman Spike would return, let alone in a Hollywood movie? Same goes with Kamek, Donkey Kong and Cranky Kong, etc. So the chances of it being just 'Mario and Luigi travel through eight worlds to rescue Peach from Bowser' are at least a lot slimmer than it'd be with the New Super Mario Bros team handling things.
Regardless, that's the movie cast list. It's different and it's not particularly respectful to the voice actors, but it does show promise nonetheless. So what do you think of it? Are you happy to see Chris Pratt as Mario or Charlie Day as Luigi? Who would you have cast for those roles if you were in charge?
Let us know your thoughts on the matter (and more) in the comments below, or on our Discord server today!
Source: