With E3 less than a month away, it's no surprise the company has decided to reveal their plans for the event. After all, it's Nintendo Directs and conferences that usually garner the most hype at these events, and no one wants to miss out on said Directs or conferences this time around either.
So here's the schedule for Nintendo at E3 2019:
Firstly, you've got the world championships for Splatoon 2 and Super Smash Bros Ultimate on June 8th at the Ace Hotel Theatre. These will start at 8am and 11am respectively, and feature the world's best players facing off against each other for the grand prize.
After that comes the E3 Nintendo Direct for this year, which will air on June 11th at 9am PT. This one will be focused on upcoming games set to release in 2019, with titles like Super Mario Maker 2 and Luigi's Mansion 3 likely among those included there.
Finally, you've then got the Nintendo Treehouse Live thing, which runs across the rest of the days. Like in previous years, this is a livestream that gives Nintendo fans a more detailed look at a select few upcoming titles, with a few new announcements mixed in here and there.
All of these events can be viewed live at e3.nintendo.com, along with more information on attending the tournaments/playing the games at the various events.
So check out the official infographic about the event here: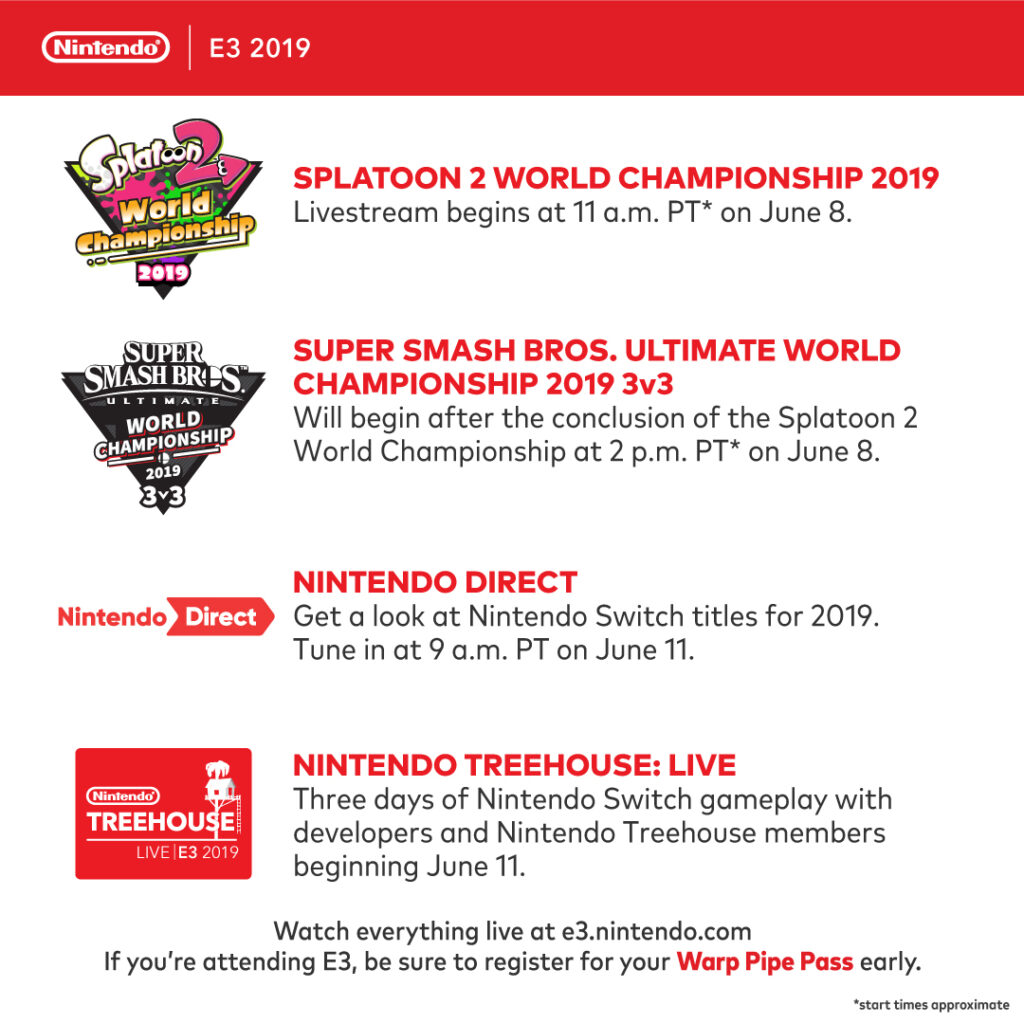 See when the event will air in your region in the table below:
| | | | |
| --- | --- | --- | --- |
| Region | Splatoon 2 Championship Time | Super Smash Bros Ultimate Championship Time | E3 Nintendo Direct Time |
| UK (BST) | 7pm | 10pm | 5pm |
| US (PT) | 11am | 2pm | 9am |
| US (ET) | 2pm | 5pm | 12pm |
| Europe (CEST) | 8pm | 11pm | 6pm |
Then tell us your thoughts on the whole affair. Are you interested in seeing what Nintendo's got planned for this year's E3? What games do you think their E3 Direct and livestream will feature anyway?
Tell us your thoughts on these questions (and more) in a comment below or over on the Gaming Latest forums today!
Source: