Yesterday, Nintendo released the second trailer for the Super Mario Bros Movie. In that video, we saw things like Donkey Kong and Cranky Kong's roles, references to Mario Kart and Yoshi's Island, and evidence that Peach was indeed a 'badass princess'.
And in that video, we saw an incredible number of references to the Donkey Kong Country franchise. These included not just DK and Cranky themselves, but appearances from such lesser known Kongs as Funky Kong and Kiddy Kong too. It was amazing to see, and showed that Nintendo has a lot of interest in promoting the DKC games, and using their characters from the Rare era.
But now we've got even more cameos! Yep, thanks to some new posters Nintendo released, we see even more fan favourites show up here as well. Can you see who they are in the poster below?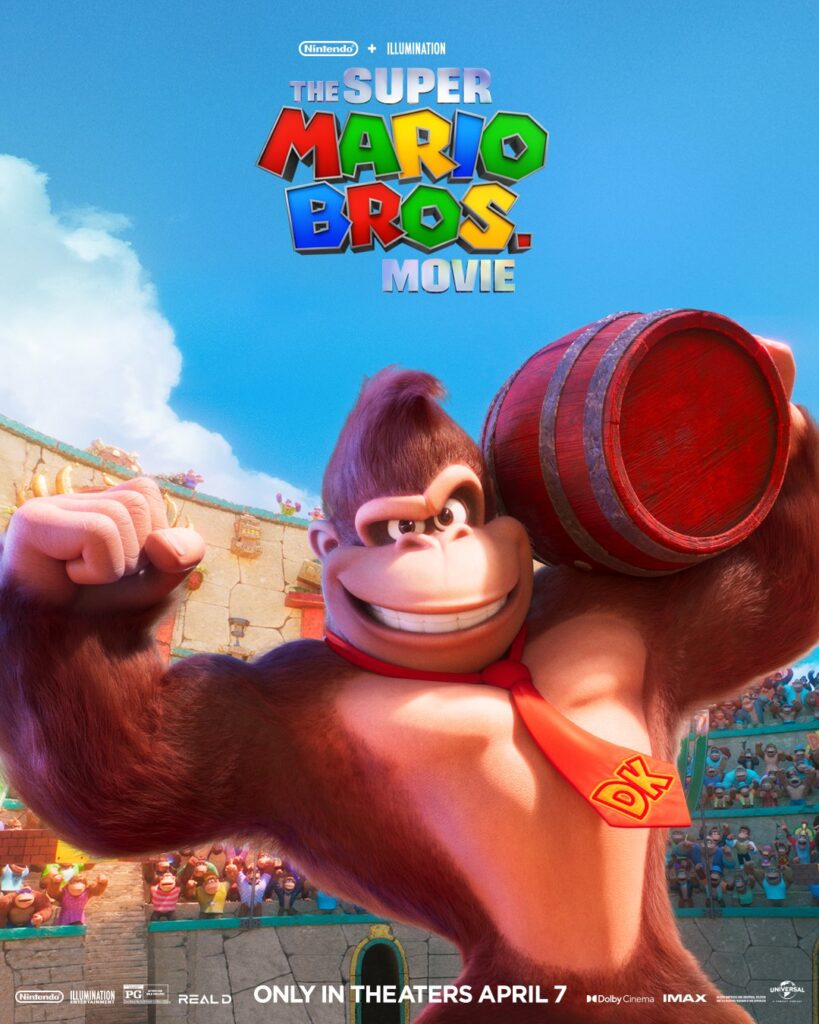 No?
Well, if you look in the bottom right corner, you'll see three familiar faces in the audience. These include Diddy Kong, Dixie Kong and even Swanky Kong!
Yup! Swanky Kong is in this movie too! That's one hell of a callback, and a character appearance we haven't seen since the DKC 3 remake back in 2003.
And it makes us wonder something… does this imply something big is coming to the DK series outside of the movie too?
Because there have been a lot of rumours related to Donkey Kong related games and adaptations at Nintendo recently. We've got that mysterious 3D DK game supposedly in development for the Switch by Nintendo EPD. We've got Super Nintendo World, which is getting a whole Donkey Kong section…
Plus there's even evidence going around that Seth Rogen will star in a Donkey Kong movie too. So perhaps these cameos are setup for that. A way to bring back the lesser known Kongs to get fans familiar with them before the DK movie and video game come out.
Or maybe it's just a few neat cameos. Regardless, it's awesome nonetheless, and makes us even more excited for the film as a result.
Still, what do you think? Are you happy to see all these Kong cameos now? How do you think they'll factor into things like a possible 3D DK game or solo DK film in future?
Leave your thoughts in the comments below, on social media, or on our Discord server today!
Source: