Ever since it launched back in 2018, Mario Tennis Aces has been getting a steady stream of new characters via its monthly tournaments and DLC. From your typical standbys like Birdo and Dry Bones to more novel choices like Pauline and Fire Piranha Plant, the game has seen roughly one character added per month via tournaments and online modes. It's pretty impressive really, and it's taken an already decent roster and made it all the better in the process.
However, all things must come to an end, and Mario Tennis Aces' DLC is no exception. Hence this July, Nintendo are releasing the final new playable character for those who play in the month's tournament.
That being Dry Bowser. Yep, Bowser's skeletal counterpart is appearing in this game soon, and he looks better than ever: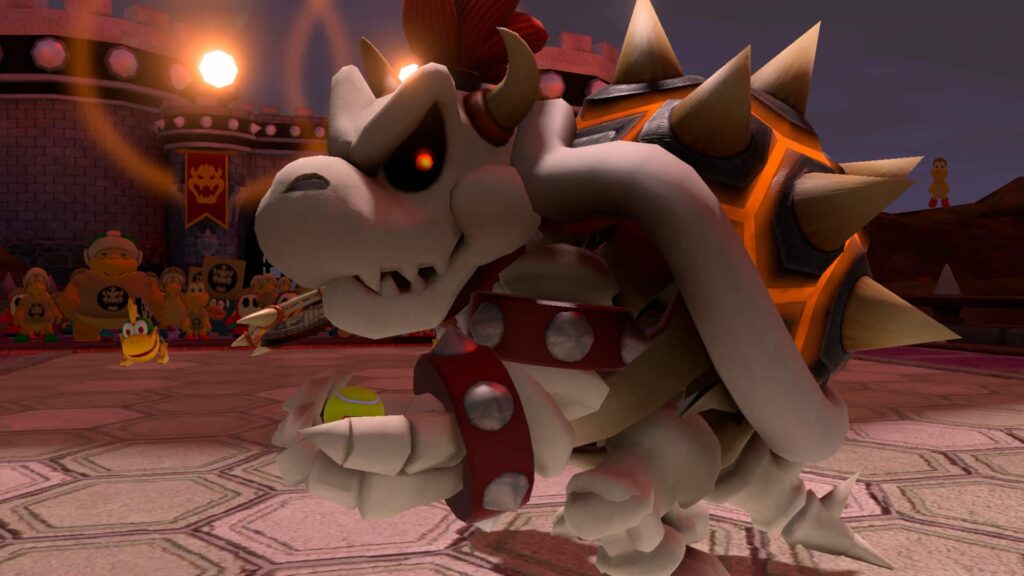 And he plays differently from his regular counterpart. Just like in his Mario Tennis Open appearance beforehand, Dry Bowser in Aces is a defensive character, a role very much differentiated from his power focus living self.
So check out the text about his appearance in game here:
さらに、来月7/1には、『マリオテニス エース』最後の参戦キャラクター「ほねクッパ」の参戦が決定!姿とともに、プレイスタイルもクッパから変化するようです。乞うご期待!
Which translates to:
This July, Dry Bowser (the final new character) will be added to the game. He'll have a different play style compared to normal Bowser, so stay tuned for more information.
Then tell us what you think about Dry Bowser as a Mario Tennis Aces character in a comment below. Do you think he's a good choice for the roster? Does he make a nice final character for a year's worth of DLC?
Give your thoughts on this (and all other things Mario Tennis Aces) today.
Source:
Nintendo Co Ltd (Nintendo of Japan)'s Page on Mario Tennis Aces