Let's Liveblog: Nintendo's June 2022 Nintendo Direct Mini!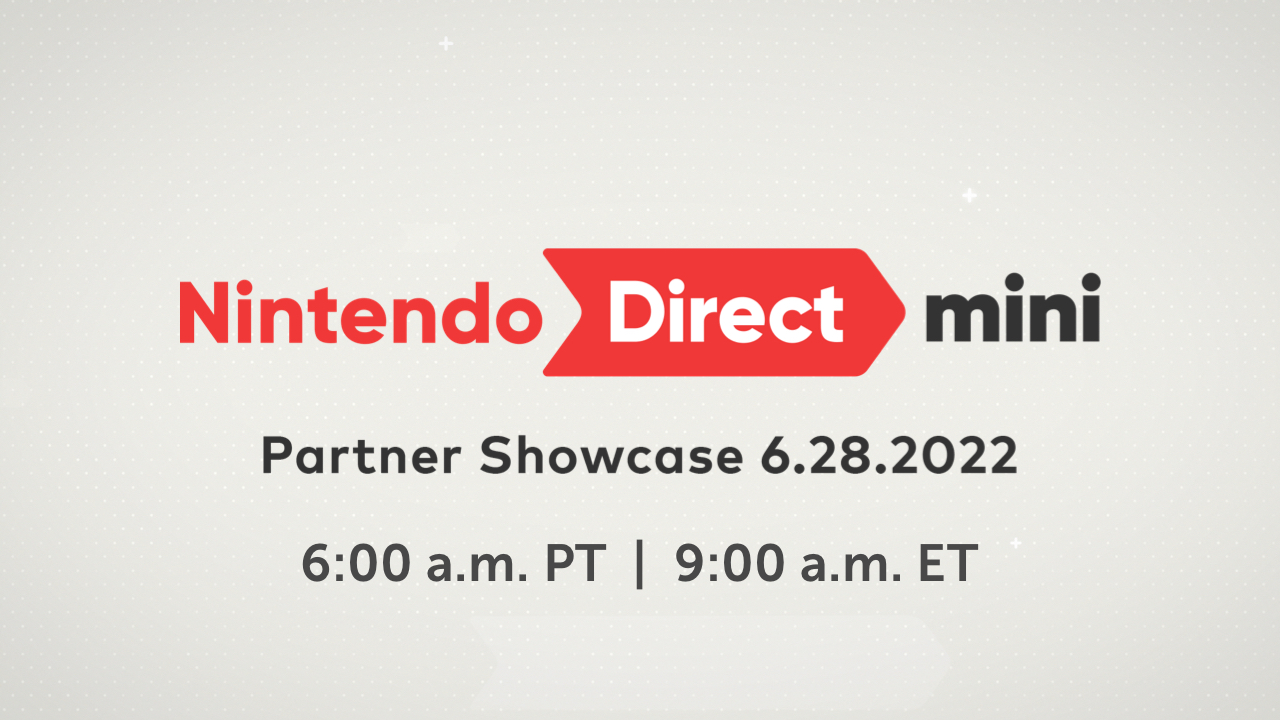 As you know, Nintendo's posting a new Nintendo Direct later today. This Direct will be a Partner Showcase focused on third party Nintendo Switch games, and include 25 minutes of info and announcements about the same thing.
And as you also know, we tend to liveblog these presentations here on Gaming Reinvented too.
So today, we're gonna do the same thing. However, there will be a few changes nonetheless.
Namely, we're going to have to 'fake' the whole liveblog aspect. Why? Because unlike previous Directs, Nintendo isn't actually planning to stream this one. Instead, they'll post the whole thing in one go at 2pm today, and everyone will be able to watch it at their own pace as a result.
But we're not going to sum up everything afterwards here. No, we're going to look at the Direct as if it was streamed, and post the announcements as we come across them.
So if you're interested in that, check out the Nintendo Direct presentations for each region when they go live later today…
Then check back at 2pm today GMT (or your time zone's equivalent) to see what we have to say about all of these awesome announcements!
Nintendo Direct Presentations By Region
UK
US
Japan
Nintendo Direct Airing Times by Region
| Region | Nintendo Direct Time |
| --- | --- |
| UK (GMT) | 2pm |
| US (PST) | 6am |
| US (ET) | 9am |
| Japan (JST) | 10pm |
| Europe (CEST) | 3pm |
Liveblog
Tell us your thoughts in the comments below, or on our Discord server today!
Either way, those were the Nintendo Direct Partner Showcase announcements! What did you think of them?
Seems like for the most part though, the games featured are the same in all 3 versions.
A kaiju focused game called Monster Farm is included there too. This one has a vague 2022 release date.
The Mario + Rabbids: Sparks of Hope tutorial still exists in the Japanese trailer, and still covers the exact same thing.
Interestingly, the Portal collection gets a narrated trailer in the Japanese version.
There's also a new Dynasty Warriors game, something called Anonymous;Code (also a July release) and a game called Once More.
Seems like the Klonoa 1 and 2 remakes/remasters are in the Japanese presentation. Not sure why they weren't in the others, but they're coming to Switch on July 7th.
And that ends the UK version of the presentation. Time to see if I missed anything in the others...
These other two are coming soon, which presumably means either late this year or early 2023.
We're getting Persona 5 Royal on October 21st, and Persona 4 Golden + Persona 3 Portable are also heading to the console!
Wait Persona is coming to Nintendo Switch? Holy crap!
The game releases on November 4th 2022.
Apparently there's a death season called Quietus here though, and you have to find a way to stop it. So... Harvest Moon meets Majora's Mask I guess.
Harvestella is the next game, which is another life simulation RPG with farming and cooking elements. Oh hey, that's two of these games in one presentation.
Back to narration now, lol
Oh hey the Portal Companion Collection is available today! That's sudden!
There's also Captain Velvet Meteor: The Jump + Dimensions. That one is coming on the 28th July 2022.
And A Plague Tale: Requiem, which is an October 18th release. Jeez, October looks like a SUPER busy month for Switch games.
As does No Man's Sky, which soars onto Switch on October 7th 2022.
Fire Emblem Three Hopes gets a short trailer. It's out now though, so if you want to play it... what are you waiting for?
Still, it launches on Switch on December 9th 2022.
Yep, treasure hunting level. This is very like Pokemon Legends: Arceus.
Ah so it's a monster raising game where you hunt for treasure. Gives me Pokemon: Legends Arceus vibes to be honest.
Onto Dragon Quest Treasures now!
Either way, it launches on Switch next year.
It looks good nonetheless, and it's interesting to see new enemies and obstacles here.
Eh, I'm probably just out of touch there.
And here's Minecraft Legends. Have to be honest, I never quite 'got' these Minecraft spinoffs. Do people have much investment in the world of Minecraft beyond what they build/stories they create themself?
Seems like this is a... farming simulator? That's unexpected. Wonder how it'll stack up to the likes of Stardew Valley?
Doraemon Story of Seasons: Friends of the Great Kingdom comes next. Another 2022 game.
Apparently a demo with the beginning of three chapters and save data transfer feature will be on the eShop later today.
Here's Live a Live! Nice to see this game finally get an English translation.
It's called Disney Dreamlight Valley, and is available in early access from September 6th 2022. That last part sounds worrying...
Either way, it launches in Winter 2022. Let's see how well it plays out then
Seems these cyberspace levels are indeed based on previous Sonic locations, since Green Hill Zone is one of the areas shown here.
It looks about how you'd expect, given all the demos and videos we've seen recently. Doesn't seem to run too badly either, which is surprising.
Sonic Frontiers? Oh boy...
RPG Time: The Legend of Wright now. Another August 2022 game, with a very cute art style. Like how the RPG looks like it was handdrawn in a noteblock, and how that art style plays into the gameplay Paper Mario style. Coming August 18th.
Looks fun for the folks who like this type of game, but that's probably not us.
Railgrade is next. Coming August 2022, and seems to be a train/railroad simulator.
Railgrade is next. Coming August 2022, and seems to be a train/railroad simulator.
Also it launches on Nintendo Switch later today!
But it does seem like an interesting mix of RPG and platformer gameplay.
But it does seem like an interesting mix of RPG and platformer gameplay.
Little Noah: Scion of Paradise now. Never heard of this game.
More info will be coming in Ubisoft's showcase tomorrow at 5pm UK time on their official YouTube and Twitch channels.
Either way, we get a confirmation that Bowser is now a playable character, and the game launches on October 20th 2022. Just like the leaks said!
Either way, we get a confirmation that Bowser is now a playable character, and the game launches on October 20th 2022. Just like the leaks said!
The game looks amazing though, even if this narrator is kinda annoying. Like, I think people know how this game plays? It's a sequel after all, and you're just showing us the basics of strategy combat gameplay again...
Hmm are these first strikes? Are we now encountering enemies on the overworld like in the RPGs now, rather than dealing with set piece fights?
Seems like Cursya's forces want to take the power of the Sparks, these Luma like creatures.
Seems like Cursya's forces want to take the power of the Sparks, these Luma like creatures.
Oh hey it's Mario + Rabbids Sparks of Hope! I wondered what had happened to this game!
It does look very charming though, and the trailer is great. Happy to see Ron Gilbert release his new game on Switch here, and it'll be here later in 2022.
Isn't this the unexpected Monkey Island sequel that was just announced recently? Didn't know it was coming to Switch already!
Oh hey, Return to Monkey Island is here!
It'll launch as a console exclusive on February 2023.
Didn't expect local and online co-op play here.
Didn't expect local and online co-op play here.
Onto Blanc now. I like the art style here, it's a very cute setup. Love the handdrawn graphics.
Either way, it launches on August 26th!
I know at least one person on one of our Discord servers who'll be over the moon here!
Wait Pac-Man World is getting remade? Holy crap...
They'll be part of the Mega Man Battle Network Legacy Collection, which also comes with an art gallery and music player. Launches on the eShop next year.
Oh neat, Capcom remembers that Mega Man Battle Network exists, and is rereleasing all 10 of the games on Switch!
It's being released next year.
Apparently it's called Super Bomberman R 2, with one player having to hold off an army of 15 invading ones. Interesting concept, though it sounds tough as nails for the defender...
It's apparently called Lorelei and the Laser Eyes (yes really) and is coming sometime in 2023.
Hmm, not sure what this game. A murder mystery? With an interesting gimmick?
Either way, it's coming on October 6th 2022.
So it comes with existing DLC and costumes, plus new ones. Seems neat.
End of YoRHa Edition is an interesting subtitle.
Huh neat. Nier Autumota is coming to the Switch now?
A demo for the game is also available now
Still, the updates also continue through 2023.
Whereas the second and third three updates are coming in Autumn and Winter. Not sure why the more... interesting looking DLC is the first one though, lol.
Seething Bazelgeuse coming August 2022 apparently.
Wait, free updates already?
Game looks good, though it's really not my thing. Monster Hunter fans should love it though!
Seems like Monster Hunter Rise Sunbreak first! Nice narration!
And the videos are now up! Let's go!
Less than 10 minutes remain!
Just testing this feature still works...
We'll start adding entries here when the Direct goes live later today! Stay tuned!