In under a month, Mario & Luigi Superstar Saga + Bowser's Minions will be released for the Nintendo 3DS. A remake of the original Superstar Saga on GBA, it promises to update the title for an all new generation, with improved graphics, music and gameplay elements to make it feel just as modern as its contemporaries.
But while the aesthetic changes are the most notable, it seems they're not the only interesting ones. Nope, quite a few characters and mechanics have been switched or changed in the title too, ranging from the minor to the incredibly important.
So, let's look at them, shall we? Let's look at ten of the most interesting changes coming to Mario & Luigi Superstar Saga + Bowser's Minions…
10. Mechawfuls are now involved in the storyline!
Starting with an interesting addition to the storyline. Namely, the Mechawful enemies from Mario & Luigi Bowser's Inside Story.
These robot foes are now shown destroying Beanbean Castle Town when you first arrive, with a greater role being given to them in the Minion Quest mode too.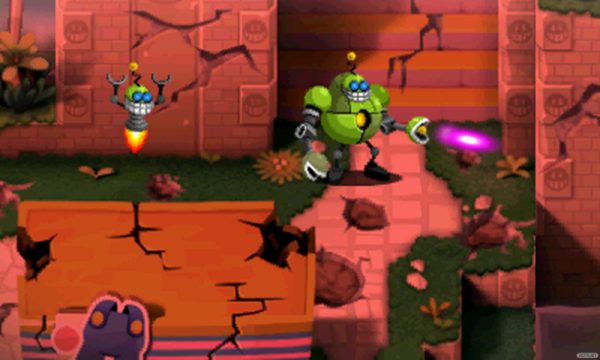 That's interesting. Why? Well in the original Superstar Saga, Fawful wasn't quite as much of an independent villain as he was in the later games. So, to see these guys appear now hints that his megalomania was present all along, and that he may not have been entirely loyal to Cackletta at all.
It's an interesting change with quite a few implications for the series in general.
9. Along with Bowser Jr
Which is also the case with another early appearance from a later game foe. Yep, Bowser Jr makes an appearance in this game too.
We know this because he's clearly shown in this piece of artwork for the Minion's Quest mode included in the remake:

So, what's his role?
Well, it's hard to tell really. Based on the fact he's only shown in Minion's Quest, it's likely he's not making an appearance in the main mode.
But why would Bowser's army fight his own son? Hmm, the plot thickens. Perhaps Fawful or Cackletta mind controlled them/ordered them around like the Koopalings in the main adventure?
We'll have to wait and see!
8. The posters in the Yoshi Theatre get an overhaul
We won't have to wait to find out about this change though! Because unfortunately for Wario and Starfy fans, the posters in the Yoshi Theatre got a major overhaul.
Yep, gone are the old ones, with cameos based on other Nintendo franchises. In their place are posters advertising films based on the other Mario & Luigi titles. Like one with the Shroobs, one with Prince Dreambert and one with the Brocks from Bowser's Inside Story.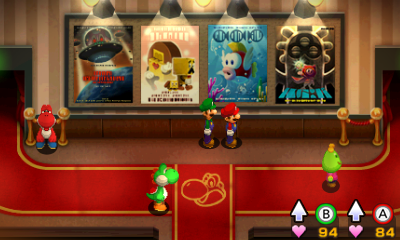 It's an interesting change, and the new posters do look nice. However, it's also a bit disappointing given the prominence of these cameos, or how they were the one-real Wario reference seen in a major Mario game in the last decade or so.
And it's not just poster designs that have been affected here…
6. As does Blink's design in his mini game
It's character ones too. Because for whatever reason, Blink now looks nothing like Donkey Kong. Instead, he looks like a generic skeleton pirate: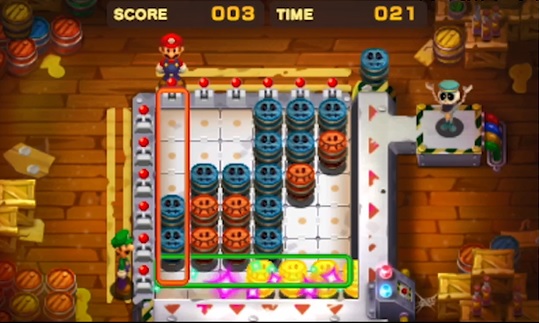 And that's disappointing if you ask me. There's no real reason AlphaDream changed this, so it's just taking away some of the character variety for the sake of it.
But this isn't the last 'interesting' character design difference here. Oh no, another familiar face has been changed too…
5. Psycho Kamek is replaced by Dr Toadley
With Little Fungitown's resident psychiatrist Psycho Kamek being replaced with Dr Toadley from Bowser's Inside Story.
No, I'm not making this up. They switched out a character from Superstar Saga with a completely unrelated one from Bowser's Inside Story: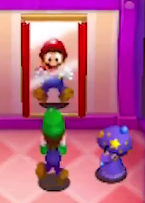 That's odd for a remake. But still, at least it's a positive change. Psycho Kamek was a rather dull character in his only appearance, whereas Dr Toadley actually had a personality and unique way of speaking in his.
So, to see a one off replaced by a more interesting character isn't a bad thing here. Just a completely unexpected change for a remake.