Well, this is a bit unexpected! Seems Nintendo has released an update for Super Mario Run, complete with a few new features and fixes!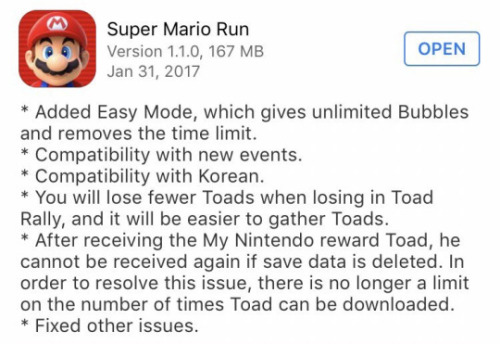 Most notably, a new Easy Mode! This interesting addition lets players race through levels without the risk of ever dying, since Bubbles are now unlimited and the time limit has been removed altogether. That's good news for people who aren't so good at Mario, since they can now literally force themselves through the game without risk of messing up.
But that's not the only change here! Oh no, difficulty has also been decreased in Toad Rally too. Why?
Because you both gather more Toads as you play and lose less when you lose the race. This means completing Kingdom Builder is much quicker and more convenient, and a lot more people will be able to hit the 9999 Toads mark this time around.
Other additions include the ability for the game to display Korean text, a bit of groundwork for future event releases (like the recent Christmas one) and the ability to download Toad from My Nintendo multiple times. So hey, if you lose your phone or want to move Mario Run to a new one, you can get Toad back really easily now.
And finally, you've got the usual bug fixes. Nothing more to say there really. Probably just tweaks to fix issues like the sound sometimes not playing in the app.
So that's the new Super Mario Run update for you. Do you like it? Could the new features be interesting to use?
Or do you think Nintendo may have toned it down a tad much?
Source: