In recent years, video game collecting has become big business. Spurred on by an increase in YouTube channels dedicated to the hobby and retro gaming as a whole, we've seen hundreds of thousands more gamers buying games and systems from the olden days, with the legions of new stores and sellers popping up to fill the growing market.
This has caused… various effects on the market. Like say, a huge increase in the prices for rare yet popular games like Earthbound. Or a somewhat worrying trend towards repro carts and bootlegs being sold by morally questionable stores and eBay sellers.
But it's also caused another affect too. Namely, an increase in new games for classic systems!
Yep, thanks to the collectors' scene, we're now seeing new games released on the NES, SNES and Mega Drive (among others) long after the systems were originally discontinued. These include everything from games revived from cancellation (like Nightmare Busters) to all new originals by upcoming companies like Coffee Crisis.
So today on Gaming Reinvented, we're gonna talk to one of those companies. Namely, Mega Cat Studios, a company known for creating new titles for the NES and Sega Mega Drive among various others.
Here's our interview with the company!
Starting with a quick personal question. Who are you guys? Who are the folks behind Mega Cat Studios?
We're a team of people with life-long pixel romance.  Some of us have been working together on contract work for over a decade, and others are enthusiastic travelers we met along the way that have a shared vision for making the games we want to play.
And how did you get started with video games in general? Was the NES a large part of your childhood?
Most of us grew up with a steady diet of pixels, whether it was the Commodore, Genesis or NES.  We're lucky to have an opportunity to do something we love.  I'm sure there's a ten-year-old version of us cheering that we've had the opportunities we have.
Are there any classics you remember from your youth?
NES: Castlevania, Shatterhand, SMB 3
Genesis: Sonic & Knuckles, Shadowrun, Comix Zone
SNES: Mega Man X, Parodius Da, Zombies Ate My Neighbors
C64: Impossible Mission, Last Ninja Series, Turrican Series
How about… less well received ones? What games do you remember being terrible?
This was the most interesting to talk about.  I think all of us had a different experience with a Clearance Rack video game.  Anticipation for the NES is one of my most vivid let downs.  I'm sure many of us had a similar diet of 1-2 games per year across all holidays, and having one of them be Anticipation was the gift equivalent of a gut-punch.
What about current gen games? Do you still play them?
Indie gaming is absolutely where I spend most of my current gen game time.  I think it's common for lots of retro game fans.  When Breath of the Wild came out, we had at least two weeks of broken sleep schedules and missed weekly sprints.  I know Andy is heavily invested into buying any wrestling game that has customization options, and then heavily investing himself into making a ton of luchadores. "There are some great pro wrestlers out in Mexico, someone has to do the right thing and get them out there. No one else was going through the effort to make a painstakingly accurate La Parka. I'm just happy that I can help".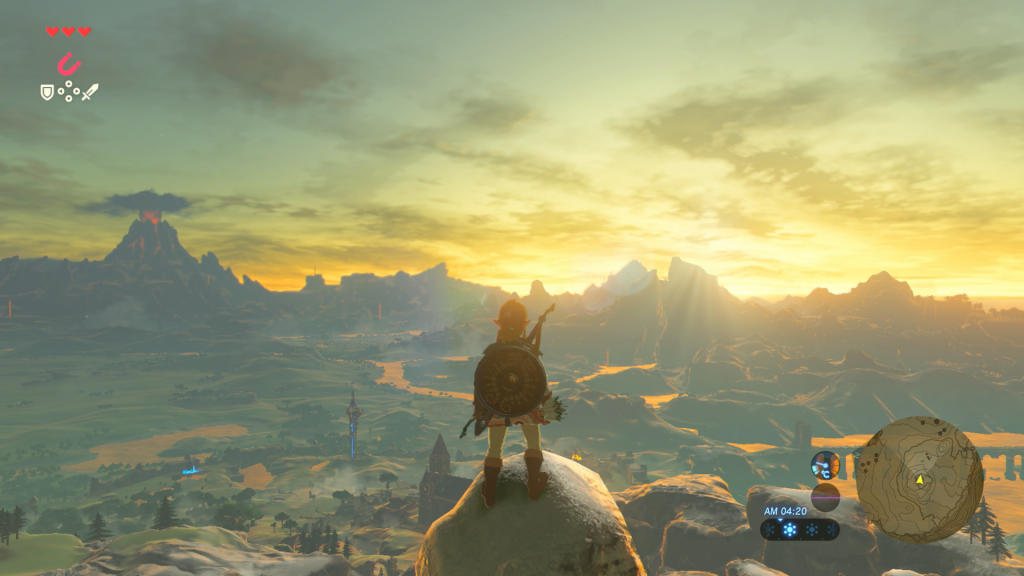 Either way, onto the company now. What caused you to start Mega Cat Studios?
Contract work is the backbone for what we do right now, like many Indie studios.  We're all grateful for it.  Now that we're bringing some of our own concepts to life, it rounds out the rest.  Any creative maker wants to have more autonomy over the projects they're investing themselves into.
7./8. What about the name? Why a giant cat? And what about the logo? It's kind of amusing to see the cat with a controller where its eyes should be/cartridge hanging from the collar…
Aside from having the actual Mega Cat at our office, there's just lots to love about cats.  Aside from being incredible companions, their expressive facial expressions and unpredictability is definitely endearing.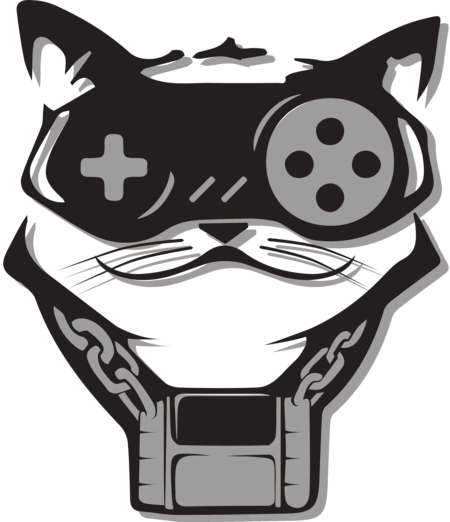 However, the thing that's most different here is the choice of platform, since you seem to be designing games for retro consoles like the NES and Mega Drive. Why? Why those rather than PC?
PC games are actually our focus, they're just much larger projects that take more resources and effort to achieve the quality standard we want, but the retro games are always going to be part of our identity.
And why the NES and Mega Drive in particular? Do you have any plans to make SNES games? How about games for early 3D systems?
We have some SNES & Dreamcast projects in que, but there's no timeline in mind at this point.  Pixel art and good games are timeless.
Either way, let's start with Log Jammers. Why a zombie themed sports game?
Zombies are just one facet to this arcade thriller's roster of colorful characters. We've also got a rad surfer, a champion lumberjack, and a hometown sports hero.  Fantasy arcade sports games are made with couch co-op in mind.
Was this the one that inspired your site's 'zombie' gimmick on the staff page?
Actually, that gag comes from Zack's eternal hunger and his foreknowledge that he will one day have to eat our brains.
What about Dushlan? Any reason for a Tetris clone here?
We didn't make Dushlan, just helped with getting it out there.  Peter McQuillan is the start to finish creator of Dushlan.  The unique features and new challenges are what make Dushlan fun.
New shapes beyond the 7 present in Tetris
Additional features like 'save' – save a piece for later usage and swap it with the piece currently in play, now you'll have the 4×1 piece just when you need it
New challenges including

random blocks appearing on screen
plus random horizontal lines moving
and random lines being added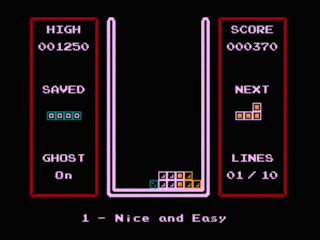 Either way, City Trouble and Expedition made me wonder something. How do you come up with these random game ideas? Because it seems like every game you make is not only its own IP, but a different genre altogether…
City Trouble is the brainchild of Den Kat Games.  It's made in the style of an NES Black Box game.  We did not have anything to do with the creation of this game.
Expedition's card RPG game was created by a local group of like-minded RPG fans.  Having an RPG to play with friends that's quick, easy to learn, and still has all of the RPG elements everyone loves made it a perfect fit.  I remember the Wrestlemania VCR board game, and though it would be fun to do an NES companion cartridge.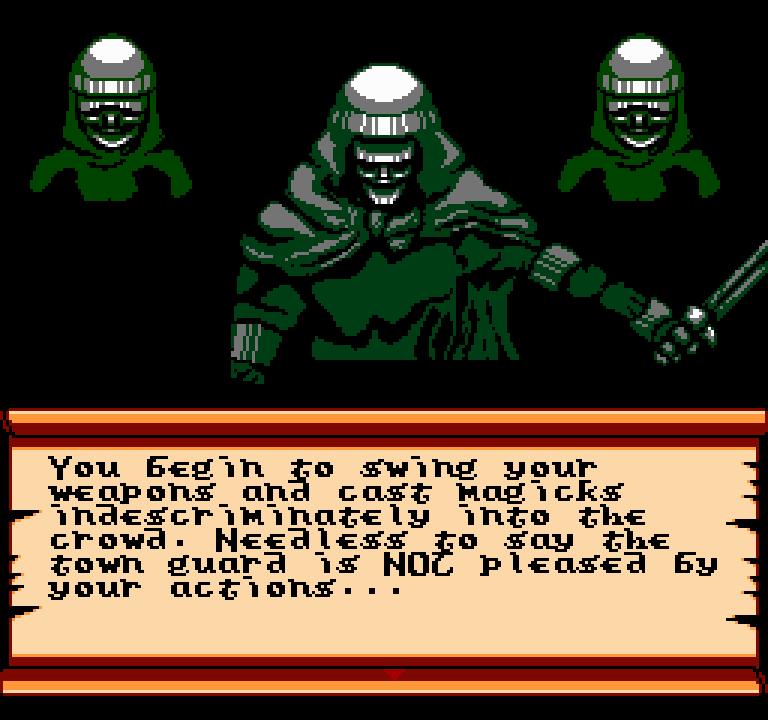 Have you ever considered making a sequel to one of your existing games?
We're a bit early on with our own projects to consider a sequel, but it's hard not to get excited about doing something you love and wanting to build a deeper narrative.
What about porting some of your games to other systems? Like some of your NES games to the Mega Drive with better graphics and sound, or any of them to PC in general?
Direct ports of retro games that follow accurate technical specifications don't do as well on modern distribution platforms.  We're trying something unique where select games will be redone for modern platforms, and take advantage of these newer, more robust tech stacks.  Here's an example of Log Jammers PC:
https://www.youtube.com/watch?v=zjnOMzMBvQg
And Log Jammers NES: https://megacatstudios.com/collections/nes-games/products/log-jammers-for-the-nintendo-entertainment-system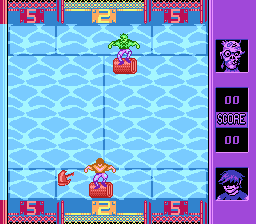 Onto Coffee Crisis now. What drove the idea for this game?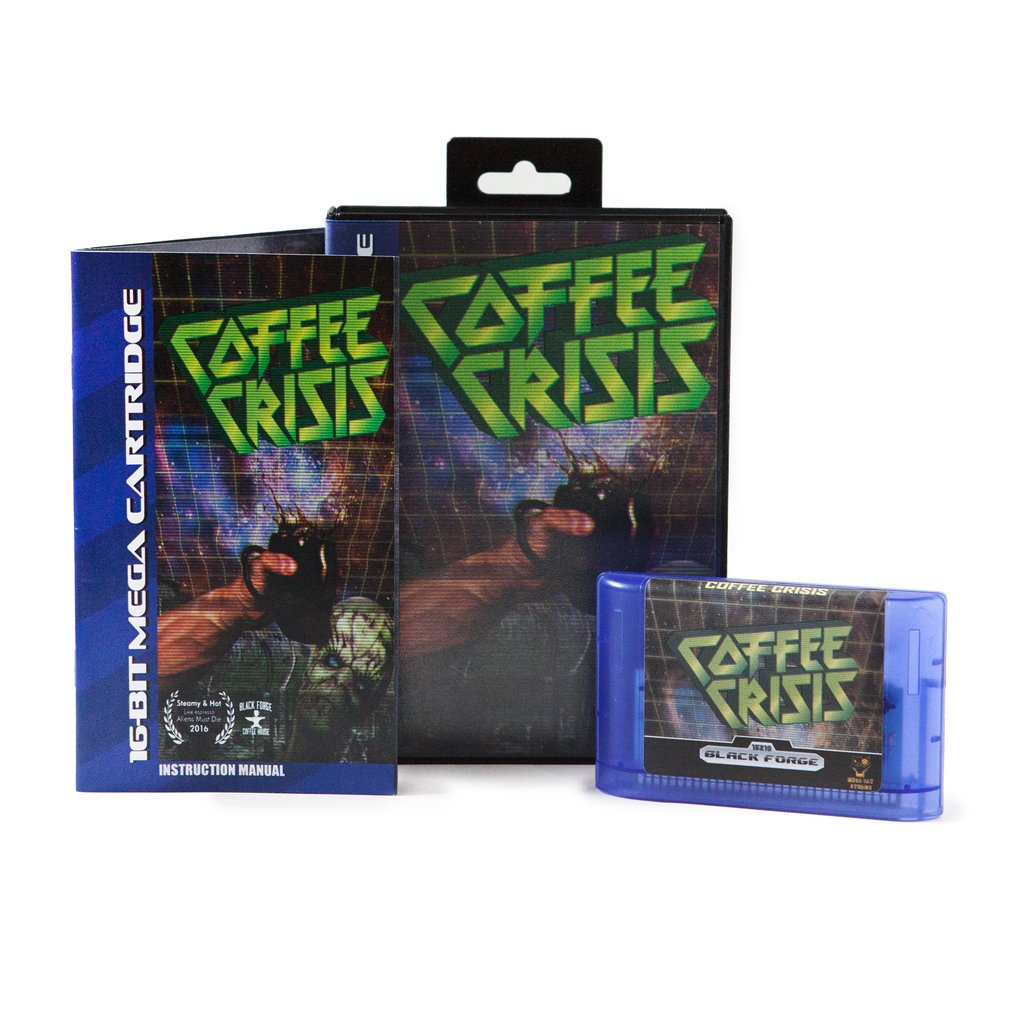 Coffee Crisis was easily the biggest learning opportunity we've pushed through yet.  The original concept was simple:  We would make a short, cartridge based game for a local business that highlighted the unique things about their brand, and gave some additional play to one of our favorite retro platforms, the Genesis/MD.  We wanted to keep it to $5k, and hopefully, get some cool exposure for Black Forge Coffeehouse doing something that we love.
When they delivered the script for a beat 'em up, things started to unravel.  We kept moving along with development outside of the budget, and went to Kickstarter to get some much-needed exposure to see who else would be interested in supporting a project like this.  The rest of the timeline for mistakes can be summed up like this:
| | |
| --- | --- |
| "Let's do a game for free to highlight a sweet local business!" | |
| "This is definitely going over budget, but it's fun and for a cool cause." | |
| "We can do better art than that!  Budget be damned, as long as we don't lose too much money, quality should be our first priority.  Let's redo the levels, the characters, and literally everything else before the Kickstarter is over." | |
| "Oh no, the developer on this game is dealing with some incredible personal problems and the Kickstarter has less than a week left." | |
| For two months, we banged our head against the wall trying to decrypt the source code that uses custom tools we don't have, without documentation, built in Assembly. | |
| We knew we could do a world better, and redid the character animations, added charged hits, and used the great community of play testers that backed our campaign to incorporate their feedback. | |
| New art, mechanics, attacks and features all successfully implemented.  New music & improved sfx added, and the cartridge upgrades go out | |
Lots of little lessons learned.  A late game is better than a game that falls below the quality standard we want to release, and that won't happen again
We're really lucky that the Genesis/Mega Drive community has shown up as much as they did to support us on this project.
How about the music? Cause your site says it has professional metal tracks, so who compared the music? What was the thought process by the tracks used?
The original music had covers from GreyWalker, a sweet Metal band that some of us know personally.  If you think chiptunes are a challenge, try doing chiptune covers.  If that's not challenging enough, try doing it with a music genre.  It wasn't something we could give Greywalker justice doing,
The final production cartridges had the music redone by Mitch Foster, http://www.mitchfostermusic.com/.  The PC ones are especially awesome imo, https://soundcloud.com/user-363711960
Said game also seemingly did rather well on Kickstarter, raising $15,000+ in the process. Did you expect this?
Not quite, but we were happy to make it!  We sure did need the dollars to stretch after the hiccups.  Setting up shipping to $5 flat rate internationally, when half of the backers were international, and shipping is almost $30 there gave us another unique learning experience.
Somewhat less well received was the art style, with a few people on sites like NeoGAF being really critical of it. Did you ever feel like changing it or bumping up the gfx quality based on those comments?
The Kickstarter trailer of the game definitely didn't have art to the final quality standard we wanted.  Here are some character and level examples:
<td">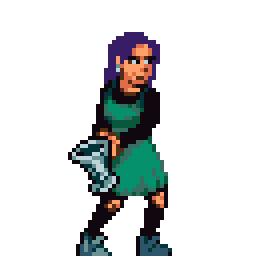 What was the press coverage like for it? From what I can tell, I don't think many of the major publications wrote about it, though I may be wrong there. Did you reach out to them?
We had 20-30 blogs/interviews throw features up, but no major places.  We had….
No press kit
No following for the game before the release
A soft launch on a Friday night at the end of a work day to make it to an event
No outreach set up aside from our own social media
I would recommend to anyone doing crowdfunding to not do those things.
How about YouTube personalities? Do you work with that community to promote your games?
For Coffee Crisis we haven't, but since we listed it for sale about a month ago on the site, we've had quite a few requests.  I expect a dozen or so going up before the end of this month!
Regardless of that, it's out now. Did the game sell as well as you'd hoped? Or maybe even do better?
Definitely better!
As you probably know full well, homebrew development for older consoles is actually getting popular, and there are a fair few other companies developing games for said systems. So… do you have any favorites made by devs outside of Mega Cat Studios? Like NES/Mega Drive/SNES/whatever homebrew projects that you think are really impressive?
Definitely the guys at Retrotainment & Collectorvision!  Retrotainment is about to put up a Kickstarter:   https://www.facebook.com/RetrotainmentGames/ and Collectorvision has a crazy library they're building: http://collectorvision.com/
It's exciting to be part of this Retro Renaissance right now.
Unfortunately, this popularity has also led to some questionable behavior in the world of retro gaming, in the form of games being bootlegged via repro carts and ROM hacks sold for money without their creator's knowledge or permission. What are your thoughts on this stuff?
I love my Everdrive, and it's helped me avoid many, many game purchases that I would have done otherwise.  With the rampant success of emulation utilities, hardware, and retro pi projects, I'm sure it's far from over.
How do you stand out in a scene with this added attention?
Everything is built on customer service, from ensuring a tight feedback loop that's reflected in the constantly evolving product line and brand standard.  Also, cats.
Finally, what other projects have you been considering for the future? Any interesting games you're working on right now?
We are pretty excited to be putting the finishing touches on a few games right now that have been in some level of development for months.  Creepy Brawlers, Little Medusa, Justice Duel, Log Jammers & Bite the Bullet are all nearing release.  The Log Jammers trailer is available here: https://www.youtube.com/watch?v=Za_J1jfdZqk&feature=youtu.be and the others are easiest to stay up to date by subscribing to our mailing list.  It's once a month, has free stuff, and keeps you up to date on what we're working on.  Subscribe from the home page!  www.megacatstudios.com
So, if you're a retro gaming fan or feel like their new NES and Mega Drive games are something you're interested in, follow their lead and subscribe to their mailing list.
And keep an eye on Kickstarter too. Because while they haven't mentioned it in their interview, they have told me that they'll be launching another Kickstarter for some of their upcoming projects in due time.
It'll definitely be one to back if you want to support the company and their works. What's more, it's also probably gonna be one of the better deals on Kickstarter too. I mean, have you seen that site recently? The amount of high profile failures there just grows and grows…
At least these guys know how to offer a decent game on time rather than promising the world and failing to deliver any of it.
So, check out their works, follow them on social media and give your thoughts on the company and their products today.
Cause in a world where indies are constantly trying to copy the classics with 'modern' technology, it's nice to see one actually go and make their games for the systems they're designed for.
But hey, what do you think about it? Are you interested in Mega Cat Studios or any of their games?
Post your thoughts on them here on Gaming Reinvented or on the Gaming Latest forums today!