Hello. This isn't the usual "CM30 run" interview. This is an interview hosted by Squishy. I'm taking over briefly to ask a singing shopkeeper some questions. And by a singing shopkeeper, I mean Nicolas Daoust.
For those wondering what I'm talking about, There is a singing shopkeeper in Crypt of the NecroDancer. You know you're getting close to his shop by the angelic sounds of singing along to the OST. It may sound like a fancy soundfont, but an expansion added an alternative voice to the shopkeeper. That's where Nicolas comes in!
So today, I'm interviewing the voice of the shopkeeper and content creator, Nicolas Daoust. Let's get right to it!
The Interview
First of all, who are you?
Hello! I'm Nicolas Daoust, slightly renowned as the guy who did not accept those shopkeeper tunes as impossible to sing.
Just as a fun way to get to know you a bit better. What was your first video game?
Pong! On some standalone console with a detachable (wired) controller for P2, that I believe is still in my family to this day. Here's a similar model: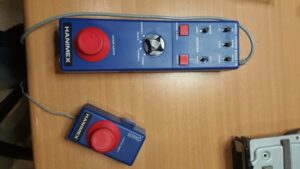 Then random games on my father's 1984 Macintosh.
What games are you playing at the moment?
Good question! I'm more into indie gaming for the shorter, newer experiences; I can't stand filler. Right now there's only Walkabout Mini Golf I play regularly, and I might finish Symphony of War and/or Bug Fables. In the last year there's been Beat Saber (as seen on my channel), Hades, Tunic, Inscryption, Baba Is You, A Dance of Fire and Ice, and It Takes Two.
(Some would be surprised at the lack of Xenoblade Chronicles 3 in there: yes, I made a 1h30 video on a game I didn't even play. I didn't have time to play it and make the video!)
Any you're excited for in the future?
Always! There's never enough time to do everything I'd want.
Next are questions related to your role as the singing Shopkeeper from Crypt of the NecroDancer. How did something this epic and random come to be?
In the weeks following the game release, a pretty extensive modding scene developed, and at some point I looked for a mod that would replace the synthetic shopkeeper vocals with a real voice.
There was none.
Soon I realized why there was none: even the easiest, 1-1, is not something you sing on a whim. The game had been out for three months, not long enough for someone to put in the required dedication!
I first tried my hand with 4-3, the hardest of my two favorites (other one being 1-3), and it found its audience pretty fast! On a high, the following week I covered 4-1, viewed as the "most impossible" track, and then slowed down my releases to a crawl, taking my time to do each track justice.
When Brace Yourself Games announced the Amplified expansion, I was dreading whatever Danny Baranowsky would add, so I contacted them to see if I could hear it in advance and start practicing right away! At that point I still had one track to go before I tried making a mod, and…
BYG offered to pick up from there and add me as an official shopkeeper alternative in the expansion.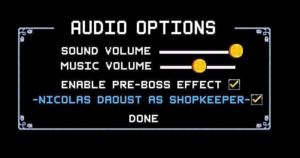 Something that was not my idea, but that I have cherished since, is that when that option is checked, the shopkeeper sprite changes to… me!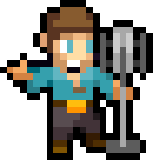 Plus, your covers of the Cadance of Hyrule songs are awesome! Any favourite songs from that?
Thank you! After covering the obvious 1-1 first, I chose my two favorites for the following covers: Lost Swamp is an original from Baranowsky, the game's composer, and Overworld is his love letter to The Legend of Zelda's many overworld themes.
Do you have music theory experience or are you self taught?
Not even! I know how to read a chart (but can't sight-read), and that chords can have numbers that mean things, but otherwise it's just a matter of hearing if notes sound good together.
Any techniques on singing like that? It's a very unique style.
Not even either! Which is a curse and a blessing. A curse because some formal training could help me, but a blessing in that it left me a lot of flexibility to approach these crazy tracks: I'm free to make whatever ridiculous phonemes are needed!
I've sung since I was able to talk, but never as a career. I think I was just good enough to even attempt these shopkeeper covers, and then I improved to match what they asked of me. With the insanity of Cadence of Hyrule, I'm now finding Crypt of the NecroDancer much easier to sing!
Of course the throat-hitting (first seen in 4-1) is a signature move, but more for entertainment purposes than any serious use.
How did you come across the Crypt of the NecroDancer games?
In 2010, rhythm games were burning out on Guitar Hero and Rock Band, while the Bit.Trip series was experimenting. By the time Crypt of the NecroDancer was announced, rhythm games fans like me were ready, and I played it on release.
And in turn, Crypt of the Necrodancer deserves credit for getting the rhythm game market to its current health! I'm looking forward to trying Soundfall, Metal: Hellsinger (in VR!), Hi-Fi Rush, and of course the upcoming Rift of the NecroDancer.
What are the best and worst parts of this role? It sounds like a lot of fun. But as someone with a little music experience myself, I can also tell that there's some difficulty.
Well, not necessarily a bad part, but a hard one for sure: Crypto of the Necrodancer I mostly covered in one-takes, but when I got to Cadence of Hyrule's 4:20 Overworld, the one-take took me three days! I gave up on those from then on, I split up the tracks in more manageable chunks, without hiding it.
Best part is just, you know, getting through those tracks, beating them one by one, without any regard to whether it makes sense. Each one presents new challenges that I butt against until they give, and then I collect praise and do it again! Views are dwindling but I don't mind, I'm doing this for myself and what viewers still want to see this through.
What was your inspiration to do this? Any particular people, or was it just an "a-ha!" moment?
I'd have to go for "a-ha"! Although it sounded closer to "oh." There was just that moment where I realized that I'd have to be the one to make it happen.
The first person I showed 4-3 to was my sister! She's the person I've sung with the most over the years (by a small margin), and she loved it. And she got me this!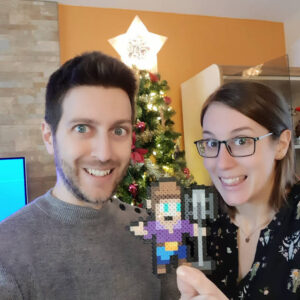 I've noticed that you also do other music related videos on your YouTube channel. Can I hear a few more details about that?
Yes! Right now I call that series Game Music Done Right, a name which will probably stick.
I started it in early 2022, because I like talking about game music in general, and wanted to bring attention to some things I enjoyed in particular. The series completely flopped in the first months, but found some footing later on, with that Xenoblade 3 thing about to break into my all-time top 5 videos.
Are you working on anything else outside of your music career currently? Or even just outside of YouTube?
Well I do sing a lot outside of YouTube, too, but my actual career is completely unrelated to any form of art. Singing is my break.
Anything you'd like to do in the future? Whether that be related to music or anything else?
There's the obvious: finish these Cadence of Hyrule covers, and keep making GMDR videos and see what works.
I'm up for making other covers (did two with GaMetal, notably), or frankly anything else people think I'd be good at. Voice acting?
At some point I expect there will be more shopkeeper to add to my to-do list, more unreasonable than ever, and I'll be back.
And finally, what advice would you give someone who wants to get into singing or even music as a whole?
Frankly I had it easy by starting young. You have to sing all the time, develop your ear, go out of your comfort zone, and especially try hard. I won't pretend it's good advice but it worked for me.
---
Thank you Nicolas! It was really cool hearing your answers and stories. I especially loved hearing about how you got into becoming an alternative shopkeeper voice.
If you'd like to follow Nicolas on any socials or watch his content, you'll find it below. Also, feel free to leave a comment below or join the Discord server if you'd like to leave your thoughts.
Nicolas on Social Media