Well, it's a step up from the usual digital manual nonsense anyway.  It's got more personality than the overly business speak laden standard that most of these virtual books come with, and it actually tries to make the player feel better about themselves as well.  Here are some the more… interesting points from it: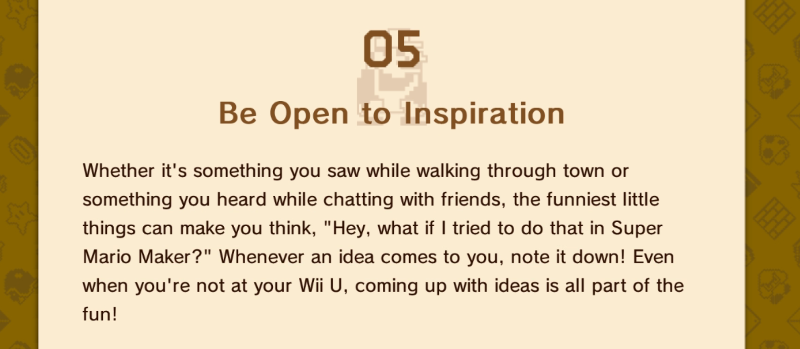 Or for those that can't see the image for some reason:
Be Open to Inspiration
Whether it's something you saw while walking through town or something you heard while chatting with friends, the funniest little things can make you think, "Hey, what if I tried to do that in Super Mario Maker?"  Whenever an idea comes to you, note it down!  Even when you're not at your Wii U, coming up with ideas is all part of the fun!
There are more interesting things from the manual too, so read on if you're interested!
The next one is a bit more… personal I guess:

Or again, for those who want to read it in text form:
I have an awful day today…
Cheer up, buckaroo!  Everyone has bad days, but try to take a step back and look at the good things!  Maybe you created a fun course or found a new maker to follow – or maybe somebody just gave one of your courses a star?  The little things can really help cheer you up!  I hope you have a wonderful day tomorrow – we're all rooting for you over here!
And finally: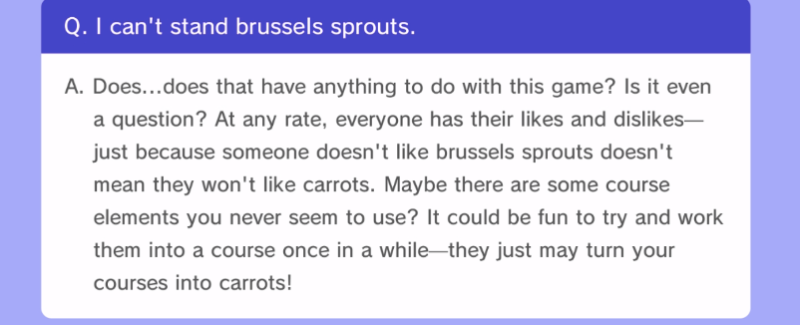 I can't stand brussels sproutes
Does… does that anything to do with this game?  Is it even a question?  At any rate, everyone has their likes and dislikes – just because someone doesn't like brussels sprouts doesn't mean they won't like carrots.  Maybe there are some course elements you never seem to use?  It could be fun to try and work them into a course once in a while – they just may turn your courses into carrots!
Above: Carrots… Super Mario Land 2 confirmed?
Either way, it's nice to see at least one modern Nintendo manual has some sort of personality to it.  Maybe this will bring about some hope that future digital manuals will read less like a computer generated technical FAQ and more like the sort of thing that was commonplace in the paper era.
What do you think of Mario Maker's manual and its interesting content?
Source:
Mario Maker's Manual Offers Important Life Advice – GoNintendo