Note: Since this review was released, the game has now been added for purchase on the Wii U Virtual Console.  If you have a Wii U, we would hence really recommend that you buy this game, since it's absolutely fantastic and deserves all the promotion it can get.
When it comes to game quality, the Wario series is a pretty mixed bag. On the one hand, you've got some of the best 2D platformers around in the form of the Wario Land series, and some also pretty fantastic party games in the form of the better WarioWare games. But then… there's stuff like Wario Master of Disguise or Game & Wario, complete rubbish with the brand slapped on it to get a few bucks out of the unwary.
Thankfully though, Wario Land 4 falls on the better side of that divide. Indeed, you could even say it's the last truly fantastic Wario platformer, given how it came right before Nintendo outsourced the series to whatever random third parties were willing to work on it. Never the less, here's my review of this excellent game.
Graphics: 10/10
Graphically, Wario Land 4 looks pretty much fantastic. The backgrounds and tilesets are colourful and full of detail and character, the character and enemy sprites are well animated and feel more lively than those in other 2D platformers, and generally the game looks very nice indeed.
But do you know what makes the graphics here even better?
The fact the game never reuses them. You see, other platformers, tend to be big on palette swaps and reusing the same tileset over and over to save on work. Like how Donkey Kong Country 1's bosses were each reused at least once with a different colour scheme, or how Super Mario World used a fairly small pool of objects over and over again… or even how a certain eShop game I can't remember (I think Mighty Switch Force) used the exact same foreground for every single level in the game with merely a bit of recolouring to hide the blatant laziness.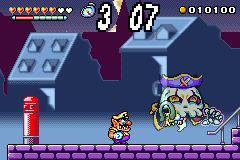 Above: Crescent Moon Village, a unique level in both style and level design
Wario Land 4 doesn't do this. Instead, it makes sure that each and every level has a brand new set of graphics to make it look unique and memorable. And once the new graphics are introduced? That's it, no other level in the game will ever reuse them (except the bonus room tileset). As a result, the game really does feel more interesting to play, since you don't know what graphics to expect in any given level or what new 'look' will be introduced when you go through a door or pipe to another part of the same level. For instance, Pinball Zone has what, about six unique backgrounds in it?
mariowiki.com/images/9/97/WL4_PinballZone_Map.png
Above: Look at that map. Impressive gfx work for just one level…
This level of graphics detail and care is one reason I score the game so high, because the people making it put all their heart and soul in the title and as a result made something that you never get bored of. So as far as graphics go, Wario Land 4 gets a 9/10. It's not 'perfect' (perhaps because it doesn't have as unique a style as the likes of Yoshi's Island or Donkey Kong Country), but it's damn near close to it and for good reason.
Music: 10/10
Music wise, Wario Land 4 is fantastic.Seriously, I would say the music is arguably the best the GBA has ever been capable of.
Why is this?
Because the music is both catchy and unique. There are at least ten different music styles represented here, and each and every one of them is done nearly perfectly. The Wildflower Fields level has a great country style theme to it, the Crescent Moon Village level has a catchy yet haunting song that beats any ghost house music in any Mario game to date and the likes of the Toxic Landfill even has what sounds like an electric guitar based theme with a feel totally unlike anything you'd expect from a Nintendo game. Have a listen to some of these songs and tell me they're not impressive for GBA music:
Above: Heavy metal/electric guitar music in a platformer works surprisingly well…
Above: Ridiculously relaxing
There's something else that's neat here too. Yes, this game has actual singing in it! You know, actually audible vocals on a GBA!