For the most part, games have been pretty good to us for the last few years. From Super Smash Bros to Mario Maker to Luigi's Mansion 2 and A Link Between Worlds, there have been many bonafide classics that were just incredibly fun to play and all sorts of interesting in terms of their ideas.
Unfortunately though, even the best games have issues (and that's saying nothing of the worst ones!). From a lack of quality control to bad design decisions done to exploit players or artificially extend the play time beyond belief, it seems a lot of the same issues come up over and over again, and often wreck even the best quality video games in the process. So here are those very issues or annoyances, in the form of the top ten video game cliches that need to die. They concern different genres, different types of games and even business models, but they're all equally infuriating none the less.
So let's begin, here are the top ten video game cliches that need to die already!
10. Timed Missions
So let's start the list with an obvious one. Timed missions. Why are they here?
Well, because 99% of the time, timed missions just suck.  Yes, there are exceptions (Wario Land 4 and Shake It have an amusing 'race back to the entrance gimmick' for example), but the vast majority of them just don't work in the slightest.
For one thing, there's no real reason for a mission to be timed in most games.  Sure, it makes sense in Metroid where the planet is likely to explode if you take too long, and the odd game tries to justify it with other obvious reasoning (like in Majora's Mask with the falling moon), but most times, the timer just seems to be there for the sake of it.  Take a Mario game for example.  Why does Mario just drop dead if he takes too long?  Is he plagued with some sort of virus that kills him after about two minutes in any one location?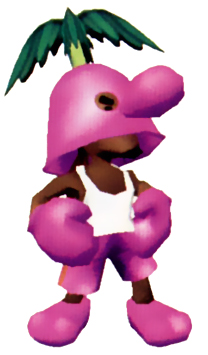 Above: You may remember this guy from Super Mario Sunshine. Every time you lost to him, Mario would literally drop dead on the spot for no apparent reason.
Oh, and it gets worse.  You see, in a well designed or somewhat merciful game, the timer tends to stop when the main character is in the middle of a cutscene or talking to someone.  Cause you know, he or she can't actually do anything in those situations, so the character being killed there just seems unfair.
Above: Steam Shovel Harry is an amusing parody of this, where the tutorial takes so long the timer runs out in the intro
Unfortunately, there's a sort of 'trend' where gamers keep the timer going right through any and all cutscenes you encounter.  Like in Wario Land Shake It, where the timer for the final boss missions continues right through the cutscenes in the middle of the battle.  And through just about everything else for that matter, since the entire fight is about 90% waiting for the enemy to let you fight back.
Or how about in Yoshi's Island DS? Now that's a real jerkass about this whole 'timed mission' thing.  The optional time trial mode literally lets nothing stop the clock, to the point the messages are replaced with comments mocking how much time the player is wasting:
And there's one more important piece of advice for you. So listen up! Time keeps on ticking even as you are reading this message!

Lost time!
Timed missions and timers in general suck in video games, and they suck even more when the game itself mocks you for its own amusement.
9. Missable Content
Next on the list, a flawed video game 'trope' that's basically as old as the medium. Found all over the place in bad adventure games and eight bit RPGS, missable content is where an item, character or even entire game can be rendered unbeatable due to your actions beforehand. Like where the best sword in the game is only accessible by completely ten seemingly random tasks in the right order and with every single one being impossible to complete once you reach a different point in the main storyline.
Or where making a small mistake early in the game means your save file is as good as bricked. Yeah, that happens in quite a few video games, especially Sierra era adventure games.
As you may have figured, this sort of thing is a right in the proverbial. Especially when you have such over the top crap as this (taken from TV Tropes' page on Unwinnable content in Sierra adventure games):
For those trying to get 100% completion, there's a truly evil bit with the "Unstable Ordnance". When you pick it up, the game warns you that it's dangerous, but you receive points for it. When you fall into the sewers, it goes boom. So you decide not to pick it up next time, and beat the game. You failed 100% completion. Okay, you then pick it up after you get back out of the sewers instead. You get unavoidably lasered when trying to leave the area by Schroedinger's Enemy (he doesn't show if you didn't pick it up). Okay, try again. You pick it up, then put it back. This yields a profit in points, and accounts for your missing points — but you still get zapped by the same enemy! To get 100% completion, you must pick it up and then put it back before entering the sewers. Every other choice either blocks 100% completion or makes the game unwinnable if you save after it.

King's Quest V: Absence Makes The Heart Go Yonder! has the infamous mountain-climbing sequence, where the player must traverse a treacherous mountain. During the journey, Graham will get hungry, requiring the player to eat and letting the player choose between eating a pie (which can be gotten, and eaten, very early in the game) or a piece of meat (which the player could possibly not have gotten at all). There's also a starving eagle the player meets later on at the mountain, who you have to feed to survive later on in the game. What the game expects you to do is eat a piece of meat yourself, then feed the eagle the rest, and the game never specifies that the meat makes for two servings, as the pie is required later on. Eating the pie, feeding it to the bird or letting the bird starve all make the game unbeatable.
Pretty annoying isn't it? You play through a game, make one little mistake (because you're not psychic) and then have to do the entire thing all over again to reach the ending.
Oh, and it gets worse. That's what happens when this 'unwinnable' thing is done on purpose by a sociopathic video game designer. If the game is broken as well? Then you get a game that can be made unplayable by accident, like The Legend of Zelda Twilight Princess and the bug where you got stuck on the wrong side of a bridge. So even when the game isn't intended to be like this, it can still end up being so due to a lack of decent quality assurance.
Try and avoid letting your games become unwinnable please. It's just infuriatingly bad game design.
8. Unexpected Gameplay Changes
A quick word or two for game designers: When someone buys a game, it's usually because they like playing that type of game.
Do you know what they don't like?
When a game turns into something completely different for no damn reason whatsoever. Seriously. If you buy Super Mario 3D World, you want to play a platformer. If you buy Mario Kart, you want to play a racing game. If you buy say, Call of Duty, you want to play a first person shooter.
What you don't want is to play through said game and have it suddenly become something else. Imagine if real life games worked like that. If suddenly after four rounds, chess turned into connect 4. Or if football had one third of the game use 'soccer' rules, one third use NFL rules and one third play like rugby. It sounds pretty stupid, doesn't it?
Because that's how a depressing amount of games seem to work nowadays. For example, going from a ghost hunting adventure game to a shoot em up where you're heading down a mine shaft in an exploding sleigh:
Above: This is so contrived and out of place.  Especially with motion controls.
A normal game is not Mario Party or WarioWare. Find one gameplay idea/genre that works, and stick with it throughout the whole game please.
7. Air Meters
In the old days of gaming, there was a pretty simple way to handle water levels.  You swam forever, and you never ran out of breath.  It was very simple, it worked rather well, and it kind of made underwater levels somewhat bearable.  Indeed, with the exception of Sonic the Hedgehog, it's actually quite tough to think of any NES or SNES era hero that could only stay underwater for a limited amount of time.
But then… 'realism' came in.  So because some developers were absolutely in love with the idea that 'games had to mimic reality as closely as possible', we got these as a way instead.  Annoying bars or timers that count down til the player character dies, and sometimes get refilled whenever they collect an air bubble or coin in the water.  And oh boy, they are absolutely terrible.
Why?  Well for one thing, they turn water levels from an already tedious exercise in bad physics to an equally. tedious exercise in bad physics… where you have to go as quickly as possible to avoid drowning.  Or in some cases, find those tiny holes and openings in the roof that let your character breathe for air for a few minutes.  Which is often even worse, since the actual underwater sections are usually made much longer to compensate.
Forget air meters, let's just go back to the Super Mario Bros way of never having to breathe underwater.  It's much more fun.
6. Knock Back
And now, perhaps one of the most infuriating video game cliches of all time due to how stupidly thought out it is and how obnoxious it makes games.  Knock back in video games (especially platformers) is a terrible idea.
Why?  Well, not only are you usually thrown to your doom by way of a nearby bottomless pit (just count how many times those damn birds or medusa heads have killed you in Ninja Gaiden or Castlevania for example), but it actually makes no sense in the slightest.
Think about it for a minute.  In real life, do you get chucked across the room the minute a gnat decides to bite you?
No?  Good, cause physics doesn't work like that.  The distance something throws someone backwards depends on its velocity and mass.  Small objects (like bullets) make holes in the skin due to their quick speed and tiny surface area.  Large objects (like a speeding bus) send you flying through the air because the force of impact is spread over a larger area.
So in any realistic setting, most of these tiny enemies shouldn't really do anything as far as knock back is concerned.  I mean, how big is a medusa head for example?  Maybe the size of a football?  The result should be someone like Simon Belmont basically shrugging off the hit, or maybe just falling straight to the floor.  Not him careening across the screen like a pinball before plunging into the abyss ten feet away from where he was originally standing.
Above: This theme shouldn't ever play in those circumstances.
What's worse, this cliche is just as bad when you can't die.  Remember Wario Land II and 3?  Great games, with the rather unfortunate design choice that any damage merely knocks you back rather than killing you.  The result?  Every boss may as well have a one hit kill move, since being hit and flung out of the area means starting the entire battle again.  Which reminds me, remember this guy?
Yeah, Moldorm (and its spiritual successors) were absolute hell to fight in the Zelda series because of this knockback thing.  You took one hit, bounced out of the area, then had to climb all the way back up and start the fight from scratch.  Which, like in the Wario Land games, meant these bosses could effectively one hit kill you.
Just stop putting this in video games. It's not realistic, it's not fun for the player and to be perfectly honest, it just reduces the player character to a one hit wonder for most of the game, since being knocked off is often effectively a loss even without a bottomless pit there.