Just a day ago, we compared Yooka-Laylee, Lobodestroyo and A Hat in Time, but guess what?  Just earlier today, yet another new indie 3D platformer had a Kickstarter campaign announced!  Behold Poi 3D, a new 3D platformer by developer Polykid:
As you can see, it's a bit different to the others we've covered recently.  With a human protagonist and a much different style of world design, the game seems to be going for the Super Mario Sunshine type of design; open and content packed levels that sometimes link off to linear and mission centered secret ones.  Except with a water powered jetpack and an acapella version of the Super Mario Bros theme.
So what's the story?  Well, we'll let the Kickstarter page explain that one:
One day, a young and rambunctious runaway was napping under a tree when suddenly something heavy landed squarely on his forehead. Rudely awoken, he discovers the culprit to be a mysterious and worn book with the words "Explorer's Log" printed in large gold letters on the cover.

Flipping through the old pages, the boy discovers notes and sketches of wondrous far off lands. Curiously, he also finds a page titled "How to be a Master Explorer." Reading further, an overwhelming sense of adventure ignites and he decides right then and there to become a master explorer. Quickly grabbing his backpack, he turns around and is startled to see an old man standing in front of him. To the boy's surprise, the figure tells him the book belongs to him and that he is the Master Explorer.

"So you want to be a master explorer, eh? Travel the world and find explorer medallions! Maybe then you'll be worthy of that title." -The Master Explorer

Amused by the child's reckless enthusiasm, the Master Explorer decides to take the child aboard his airship and bring him along in his journey to uncover the many secrets scattered across the world of Poi.
And here are some other pictures of the title, as per the campaign page: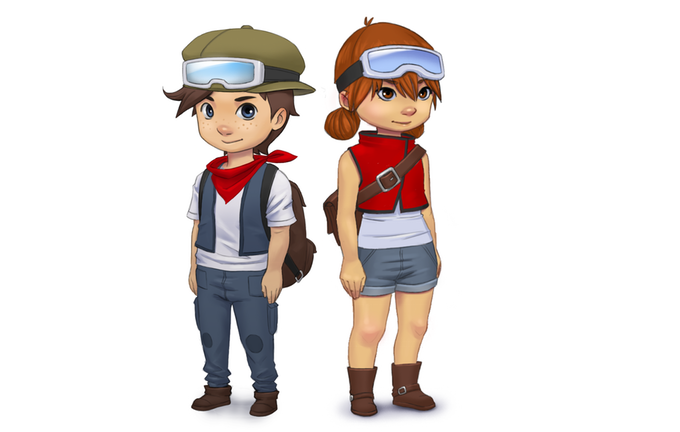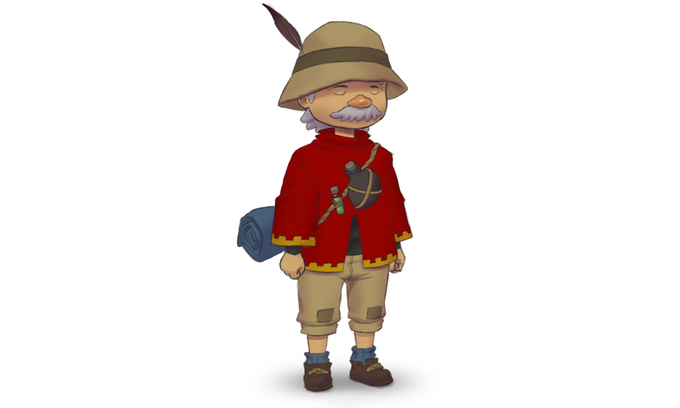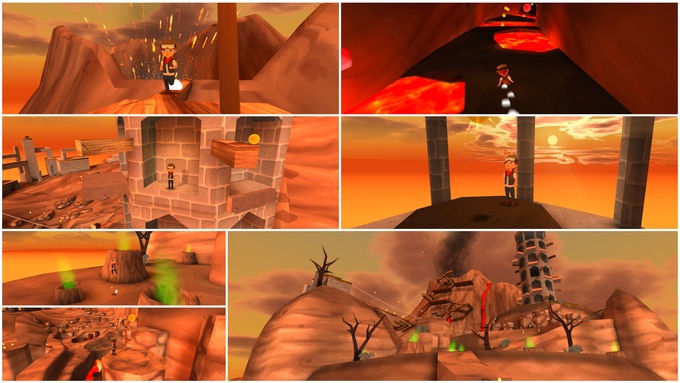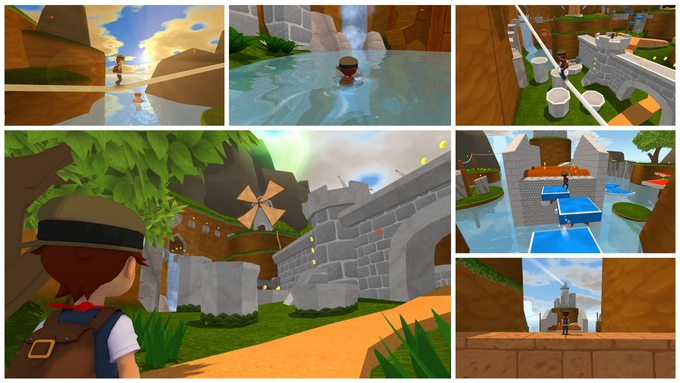 The ones above are the main characters (you can choose a male or female main protagonist) and the Master Explorer mentioned in the story.  The levels shown are the explorer's airship, Cozy Canyon and Mount Magma.  Which look a tad rough around the edges (hey, it is still in development), but do seem promising regardless.
Either way, to become a reality, Poi needs to gather $80,000 before September the 3rd.  And for console platforms?  It's currently planned for the Wii U and Steam, but additional stretch goals exist to have the game also released on the PS4 (and maybe Xbox One down the line?)
It's a pretty nice looking game in our opinion, and one we'd definitely recommend backing for those 3D platformer fans out there. Let's restore the genre to the glory days of the Nintendo 64 and Playstation 1!
Source: