Got a Mario related clip you just need to advertise to the world?  Want to help Nintendo celebrate Mario's 30th anniversary by providing them with free content?
If so, Nintendo has just the deal for you!  Put simply, their official website has a section where you can submit videos to feature on the site as part of the anniversary celebrations.  These videos have to be posted on Youtube and a maximum of about 4 minutes long, but can otherwise be anything you like that's related to Mario and his games.
Here's the official site for the 'project':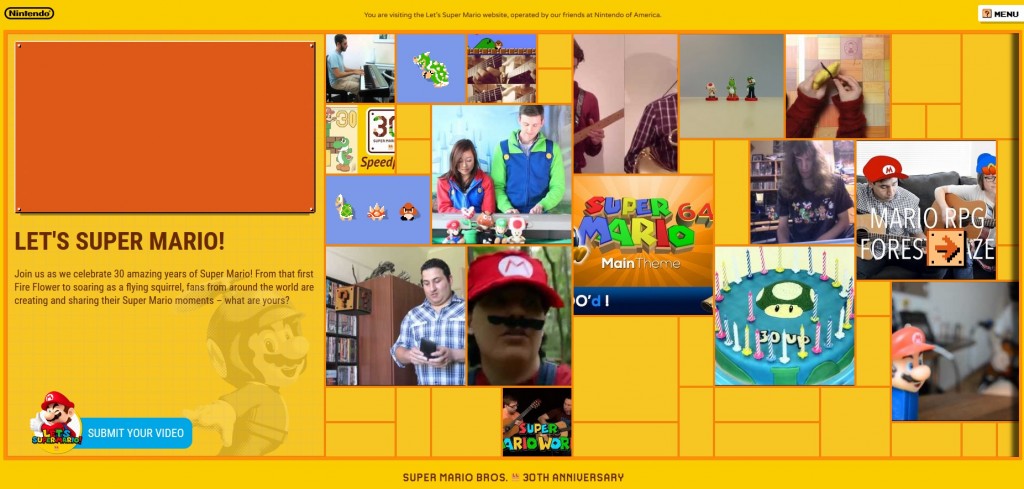 Above: On the bright side, Mario RPG content seems to be welcome.
http://www.letssupermario.com/
So, what can we say about this project?
Well to be honest, as a Mario anniversary gimmick, it's not a very good one.  Showing people pictures of Mario related thing is the job of Tumblr or DeviantArt or Youtube, not a company like Nintendo with an actual marketing budget.
It also makes us wonder what they're going to do about the inevitable flood of… not so 'safe' Mario related videos sure to come flooding in.  Would they want the Brutal Mario or Mushroom Kingdom Trailer on their official site?  Maybe not…
Above: That said, I would probably take something like Brutal Mario over most of Nintendo's actual E3 announcements this year…
And while part of me wants to submit The People's Mario video just for kicks, I suspect Nintendo wouldn't be too pleased with that either:
Above: Somehow, I don't think it's Nintendo's own political opinion…
But hey, while the more interesting kinds of Mario videos will always be found elsewhere, I guess it could be a good for a few laughs if you're really bored.  What do you think about Nintendo's Mario video 'showcase' website and its announcement at E3?