Okay, some people may find this to be in bad taste, at least to some degree.  None the less, a Mario fan game maker from Mario Fan Games Galaxy has created a new smartphone app called Iwata the Game.
As you may expect, it's a simple 'endless runner' style 2D platformer where Nintendo's ex CEO has to run through the level and dodge Goombas, spikes and other Mario related obstacles in a world loosely based on the 2D Mario titles.  Here are a few basic images of the game, taken straight from its Google Play Store listing: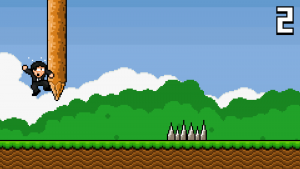 The game is currently awaiting moderation on the Google Play Store and Windows Phone Store, and can be downloaded for the PC at the link below:
Iwata the Game – PC Download Link
So what do you think?  Is the idea of a infinite runner title starring Satoru Iwata a decent enough tribute for the man who brought us the DS and Wii, as well as all those years of Nintendo memories?  Or do you think developer Hypernova is being a bit disrespectful to make a quickly thrown together smartphone app just days after Iwata's reported death?  Post your thoughts on Gaming Reinvented's forums, or perhaps in a response to our post on Twitter about the subject.