Ohayo gosaimasu! I have never played a Wario Land game before and since I want to practice my writing skills, here is a review of my own, about the latest game I played: Wario Land 4!
Introduction: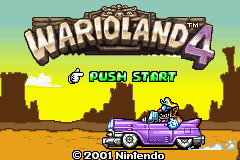 The title screen from Wario Land 4
Wario Land 4 is a platformer, the type of game a person like me, with no knowledge of videos games, would consider to be "yet another Super Mario Bros." type game. Far surprised I was, when I gave it my first try!
The game is quite different from what you'd expect from a traditional platformer. Not only can Wario defeat his enemies by ramming into them with a shoulder dash, or squish them to pulp with a butt smash (or ground pound), but the stages are open spaces, forcing you to go in different directions and explore them for treasures! Overall, the gameplay feel very different, as you go along, than you'd expect from a traditional platformer, making the whole experience quite pleasing and new!