Ohayo gosaimasu!
I am back with another review! This time, we will be looking at the sequel to Wario Land II: Wario Land 3! What a surprise, they're numbered!
As always, thank you to all the beautiful members and friends of the Wario Forums for pointing me towards this very fine-crafted game from the past.
What are we waiting for? There is so much to say about this game, we should start now!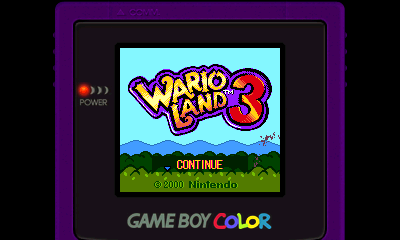 Wario Land 3's title screen, as seen in the Nintendo 3DS version.

Plot
Wario is back for another adventure. Apparently, he looks to be going somewhere on his red plane? I don't recall ever seeing a red plane in the posse of Wario. Never mind, the greedy anti-hero always find the necessary tools to find more gold!
Suddenly, the engine stops and our protagonist crashes in a deep forest! Somehow Wario survives, and makes way to a suspicious cave somewhere close by. As he peeks inside, he find what looks to be a music box on a pedestal. The beautiful gaze upon which you can make out a very lively island, posing as the decorative piece of mysterious object.
Without warning, the music box raises up, shining above Wario and without warning, sucks the greedy man inside!
"… Wario? Wario! Wake up, Wario!" – says a voice echoing in the dark, as the fat man stands up, only to be greeted by a ominous and unrecognisable figure. This Hidden Figure explains Wario of what is happening, explains how the world that lives inside the Music Box has been taken over by creatures, which sealed away this very sinister character's powers and split them in 5 music boxes across the world.
Of course, asking Wario to help is not easy, unless you can promise him he'll keep the treasures he collects along the way. With a big thumbs up, Wario runs out of the dark place and the adventure begins!Continue Reading…