Win Your Very Own Island by Playing Just Cause 3?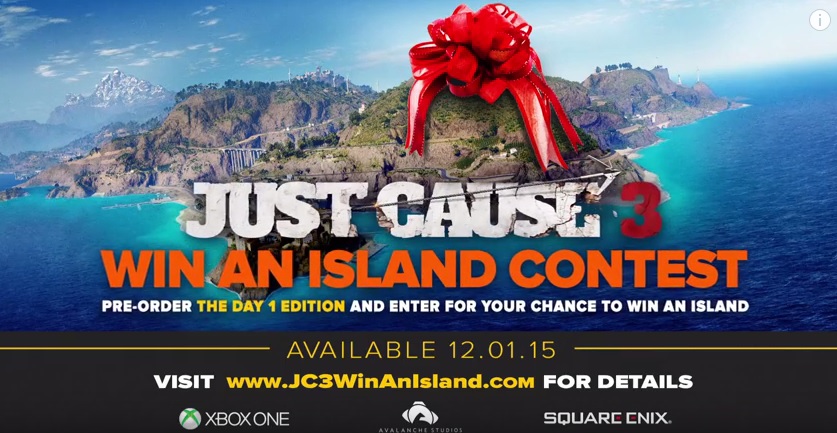 We've seen some pretty insane contests here at Gaming Reinvented.  Whether it's winning games, winning systems or winning merchandise, plenty of other companies have run contests based on their video games and things achieved within them.
But now, this is just insane.  Square Enix are offering an actual island to the person who racks up the most 'chaos' points in the upcoming Just Cause 3 video game.  And no, we're not talking a virtual island.  Or a symbolic prize.
We're talking an actual island.  You know, the kind you find in the middle of large lakes, rivers, seas and other bodies of water, that's presumably big enough to build a house on (or do whatever else you want to do).  And while it's not the biggest island in the world that they're giving away (the $50,000 dollars its worth would barely buy you a small apartment in some parts of the world), it's still big enough.  I mean, we've done a quick bit of research, and here's what you can buy for that amount on a specialised website:
Islands for Sale under $49,000 – Vladi Private Islands
Small Island, Atlantic Coast – Private Islands Online
Hemlow Island – Private Islands Online
That's a pretty impressive prize.  Either way, here's the trailer announcing the contest:
As it notes, the contest is only open to people in the US, Canada, Mexico and Chile, and you'll need a Day One Edition of the game (on either the PS4 or Xbox One) to be elligible.  You'll also have to enter the marked code inside the box into their website form in order to register for it as well.
Here's the official website for the contest, in case you want to find out more.
Either way, it's real.  You can actually win a private island by playing a video game.  Who would have thought?
What do you think about the possibility of winning a private island by doing well in Just Cause 3?  Would you want to see contests this insane start being held for other games?
Source: