Wario Master of Disguise Heading to Virtual Console!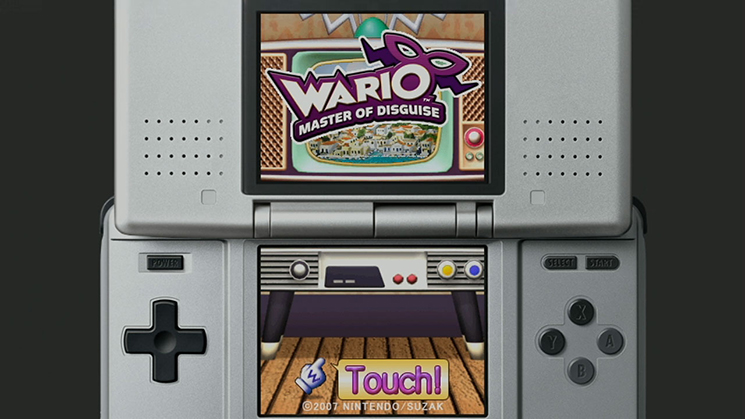 In the last few years or so, the Virtual Console has been pretty good to Wario fans. The whole Wario Land series (including Shake It) is on Virtual Console. Various WarioWare games are available (albeit not the last few year). And heck, even more obscure stuff like Wario's Woods made it across right in the earliest days of the Wii. Everyone else at Nintendo may have forgotten about the unfortunate anti hero, but at least his back catalogue is perfectly preserved!
And now, another game will join it. From tomorrow (June 9th 2016), Wario Master of Disguise will be available on the Wii U Virtual Console.
So what can I say here?
Well, it's an interesting one really. Cause at its core, Master of Disguise is not a particularly good game. The graphics are thoroughly unimpressive, the level designs are annoying, the touch screen controls need more than a bit of getting used to… it was critically panned for a reason back in the DS era.
On the other hand, the game does have its positives. The characters and story are fairly interesting, and quite a few more Wario fans like Count Cannoli and Carpaccio than just about anything else in the game. And the music?
That's really, really good. Seriously, the boss and levels themes may be nothing like traditional Nintendo fare, but they're really nice songs to listen (albeit perhaps moreso outside of the game they're meant to be heard in):
And in general, the game does have some interesting ideas. It's just unfortunately a set of ideas included in a game that doesn't really make the most of them, or have a design anywhere near as competent as a Wario Land title. There's some nice humour too, especially in the treasure descriptions.
Either way, it's likely worth a quick buy if you're a really, really dedicated Wario series fan (like the folks at Wario Forums), or want something a bit different and can suffer through poor design to experience it. But yeah, it's on the US eShop from tomorrow, for anyone who actually cares.
Source: