New Characters Being Revealed for Pokken Tournament on December 10th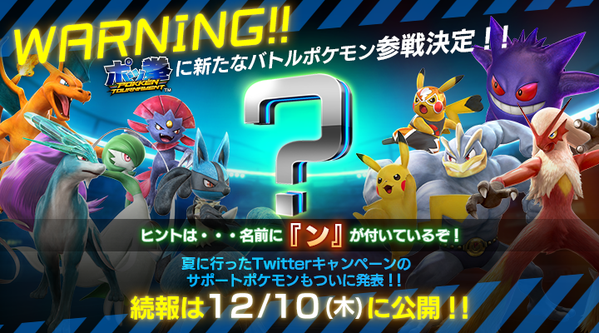 One new fighter and one new support character to be precise, based on what the official twitter channel for the game is saying.  Here's the message confirming the news, as well as a loose translation of it:
新たなバトルポケモンが参戦決定!!夏に行ったTwitterキャンペーンの サポートポケモンも12/10(木)に同時発表!! どんなポケモンが参戦するのか予想してみよう!!#ポッ拳 pic.twitter.com/wzuraFZyyn

— ポッ拳 公式アカウント (@pokken_official) December 1, 2015
New fighter Pokemon is expected to be revealed on December 10th, alongside a support character. Please support our advertising campaign on Twitter.
So who's it going to be? Well, we're not sure. Probably someone unexpected, given how few actual fighting types have been included in the title.
Who do you think is being revealed for Pokken Tournament next Thursday?