Mario Kart 8 Announced for Wii U: First Impressions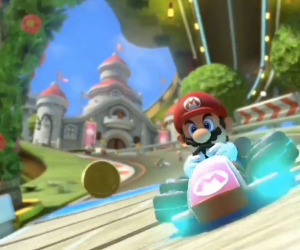 During the Direct, Nintendo announced the latest installment of the Mario Kart franchise; Mario Kart 8 for Wii U, coming Spring 2014.
As you can see from this very lovely trailer, Mario Kart 8 offers the plumber-led karting experience in full HD for the first time. Aside from this obvious fact, the glider, boat and coin mechanics have returned from 3DS outing Mario Kart 7 in addition to the motorbikes from Mario Kart Wii. Furthermore, there now appears to be segments of tracks that are played out in Mario Galaxy-esque, mind-boggling anti-gravity. Not forgetting, of course, that graphically the game looks utterly gorgeous. Just look at it.
No mention on online play yet, but I would hazard a guess and say it will be fairly prominent, and we will find out more about online features and other details before next Spring.
What are your first impressions of Wii U's iteration of Nintendo's ever-popular racer?