Lobodestroyo – Interview with Lefthanded Games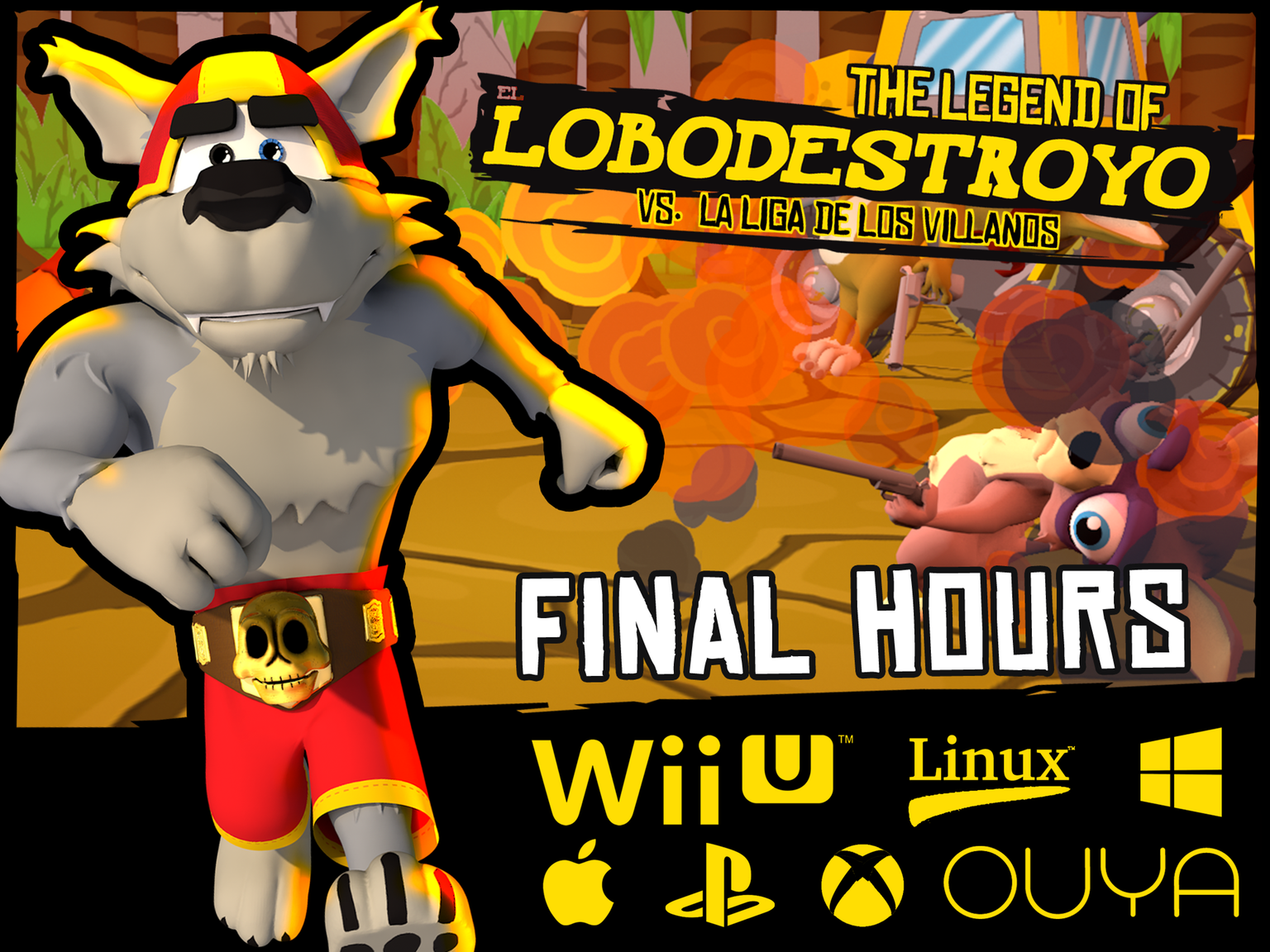 As you probably know, we're pretty big fans of Rare's games and their many spiritual successors at Gaming Reinvented. And with our extensive coverage of such titles as Lobodestroyo, A Hat in Time and Yooka-Laylee, it's quite clear we're also interested in supporting anyone willing to continue their legacy through their own 3D platformers in the indie game world.
So we were delighted when our request for an interview with James Guy of Lefthanded Games Studio (makers of Lobodestroyo) agreed to an interview with Gaming Reinvented! With exclusive information about everything about the game's backstory to the development team's history and the role the game plays in the DKU as a whole, there's something for everyone here! So whether you like the game for its new ideas, its Rare heritage or any number of reasons besides that, keep reading and enjoy our Lefthanded Games interview!
1. So let's begin with a simple bit of backstory.  Can you tell us a bit about yourself and your previous history with video games?
I've been a gamer since day one for the most part and was lucky enough to be spoiled with a Game Gear and an Amiga when I was living back in the UK.
But my first true save-up-your-pocket-money-and-buy-it console was the Super Nintendo. Fell in love with Mario World and DK Country shortly after that, and it's been an ongoing habit ever since. I'd say the N64 was my most influential system on me as a gamer and what I like to play. My original N64 died a few months back and it was with a heavy heart I had to replace it. He got a warrior's funeral and was sent out to sea on a burning raft of thatch and tears.
2. How did Lefthanded Games Studio come about?  Any interesting history behind the name or anything?
I'm a lefty, as are a few others on the team but honestly thats not what it's all about. Lefthanders are often considered the oddballs of the group. The outsiders. Freethinkers. That's sort of what we are going for. Plus it was an easy logo and I was feeling lazy that day.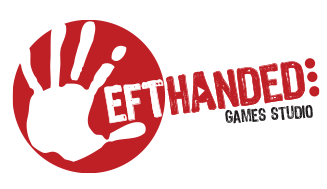 Above: The name 'Lefthanded' was meant to represent the team being outsiders.  Apparently.
3. Now onto the theme.  What inspired you and Lefthanded Games to focus on a lucha libre theme for Lobodestroyo?
I've always been a massive fan of the Día de Muertos and Lucha Libre aesthetics. The vibrant, over the top visuals and the rich lore and cultural motifs. Great stuff. Lends itself to game world design I feel.
4. Talking of the theme, what was the reason behind the name 'Lobodestroyo' anyway? I know it's the name of an individual in the game's setting, but is there a meaning behind the term?
Yes, the Lobodestroyo (or loosely translated 'wolf of destruction') is a legendary figure in our game's world. At the outset of the game he gets taken out and is gone under mysterious circumstances. It's up to Mutt, the player character, to avenge his fallen hero and track down those responsible for the destruction of his village.
5. Is there a main villain behind the La Liga de Los Villanos?  Like how the Mega Man robot masters had Dr Wily as the true force behind them?
Very early in the game there is a prison break and the maximum security lockdown villains get loose. These are all big time baddies that were previously defeated and locked up by the Lobodestroyo. With him out of the picture, these big-bads have banded together to form a league and are wreaking havoc on Costa Lucha (our game world).
6. Lobodestroyo has a very unique art style to it.  Can you tell us a bit about the story behind it and why said style was chosen?
It's a mix of wanting to harken back to simpler, clean character designs that have that childish cartoonyness to them, but also have a style that makes everything feel like it's from the same game universe. That, and we are keeping out design rather simple visually (which was initially out of necessity considering the hardware we would potentially be running the game on) to make sure to tweak things to get that 'lobo-look' we're gunning for. There are rarely any straight lines in our game. Everything is a bit wonky or crooked. It makes it all rather cohesive and helps craft the look of the world.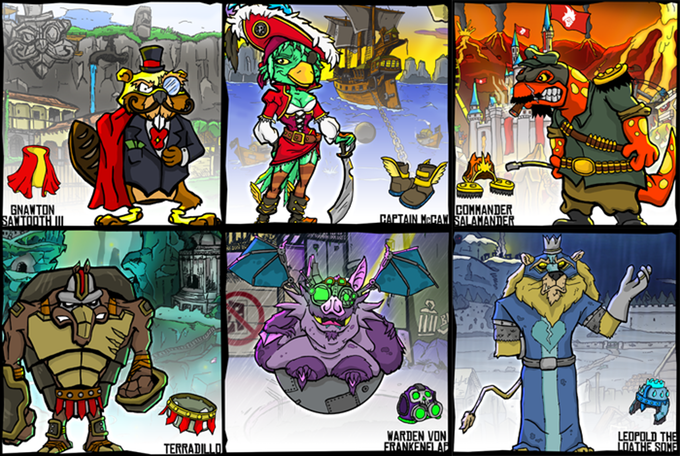 Above: The unique art style of Lobodestroyo is both to help the game run on weaker platforms and to provide, a different, more consistent look.
7. Apparently, you'll need powers from later levels to clear missions and defeat bosses in earlier ones.  What's the general set up for this?  Is it just learning new moves in one place, leaving to the hub and returning, ala the first Banjo Kazooie?  Or is it like Banjo Tooie where the levels are also directly connected to each other?
There is world interconnectivity in our game as well as a centralized hub that allows players to explore and unlock the game worlds. Some missions will branch between worlds, and other will require abilities that you might not have when first encountered. You get a healthy batch of initial abilities at the outset of your adventure, but gain new ones as you defeat and lock up boss villains. Taking down a boss is what grants you new powers after you unmask them, which is a theme lifted from old school lucha libre Mask vs Mask, retirement matches.
In Lobodestroyo when you take down a boss, you 'retire him' and claim his mask, which grants you some powers unique to that villain. It's rather Mega Man in that regard, and allows for further exploration of previously visited worlds much like in the Metroid titles.
8. So what was the story behind Mutt himself?  What inspired his character design?
Mutt is an amalgamation of the initial concept I had for the game's hero and input and changes the team has had on the idea since we began working on the game. The Mutt of today is drastically different than the original guy I scribbled out in my sketchpad. I'm immensely happy with where the character has been taken and couldn't be prouder of the guy we have constructed together as a team.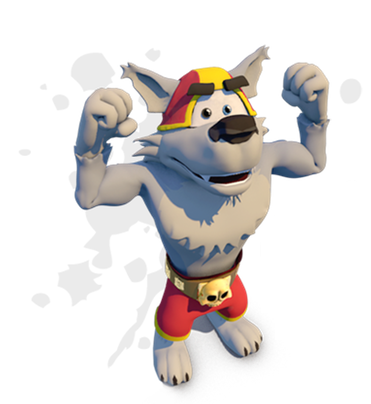 Above: Mutt has gone through quite a few design changes throughout the game's development.
9. One thing Banjo and Conker did really well was humour.  Is that a focus in this game as well?
Humour has always been a large focus of this game. It wouldnt be a very accurate Rare homage if it wasn't! From the lines delivered and characters met, to the objectives completed and worlds explored, the humor is evident in Lobodestroyo from the outset of the adventure. We are aiming for a Banjo-level of humor where there is something for everyone- without stepping into the overtly crude and arresting tones found in Conker. I want a game that a kid can play and not get in trouble with Mum and Dad,, whilst also delivering a title that the 30-somethings that grew up on these games can laugh along with (and everyone inbetween of course!).
Above: The humour in Lobodestroyo might be a bit similar to that of Banjo-Kazooie, overt, a bit crude but generally family friendly rather than like that of Conker's Bad Fur Day.
We have enlisted help in writing these scenarios from the very talented (and decidedly hilarious) hosts of DKVine's Kongerversation podcast, Chad and Hyle. They are helping to ensure that we are steeped in Rare references and suitable innuendo, that walk that fine line we have set forth for ourselves.
10. Out of the characters shown so far, which one is your favourite and why?
One of the great things about these exploratory titles is the wide cast of characters you meet on your adventure. I am fond of everyone we have living in the rich world of Costa Lucha but if I had to pick I am still partial to our heroes the most. Mutt is a great character and I'm really proud of him, but Dorado (the skull-faced spirit living inside Mutt's championship belt) is where all the dry humor and wicked punchlines come from. The back-and-forth between the two characters is proving to be great fun, and the pairing is one of my favorite parts about the character design on this project. If I had to pick a runner up though, it would probably be Mopey Dick the wailing whale. The tongue-in-cheek lines and scenarios centered around a manically depressed whale make me laugh for all the wrong reasons, and for that he's rather high up on my list of favorites.
11. And for that matter, what's your favourite level?
All the worlds in Lobo are near and dear to me for their own reasons. Each has elements plucked from my own life/interests/experiences merged with my favorite aspects of other titles' worlds that have struck home with me. We want to have all the tropes in place while putting our own spin on things. All that said if I had to pick I'd go with WonderWish Studios. It's a theme park built inside a (presumably) dormant volcano that has been overthrown by a military force and flooded with lava. The combination of platforming and combat with the assorted theme park spoofs and parodies are particularly fun to work on (as someone who's day job is linked to theme park culture).
12. Lobodestroyo raised over $80,000 on Kickstarter.  What lessons did you learn from this campaign?
Note: We messed up the figures here.  But because the response is awesome, we thought we'd leave it in…
Woah, where do you bank? That exchange rate sounds amazing! Hah, no, we walked away from our Kickstarter with a little over $39,000 thanks to amazing support from our backers and supporters.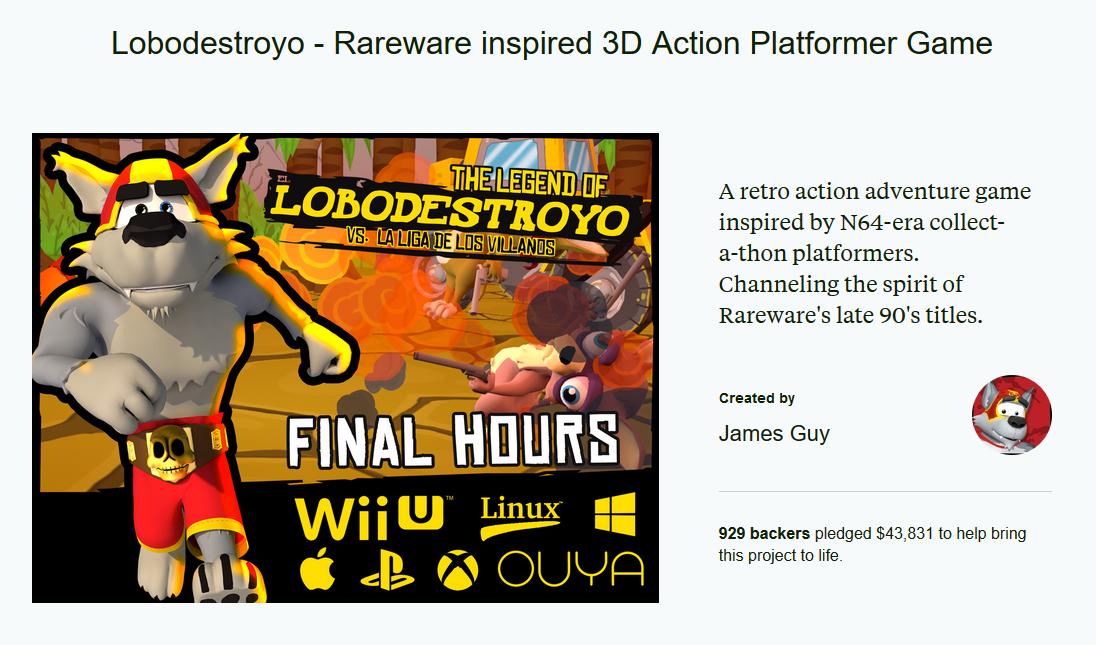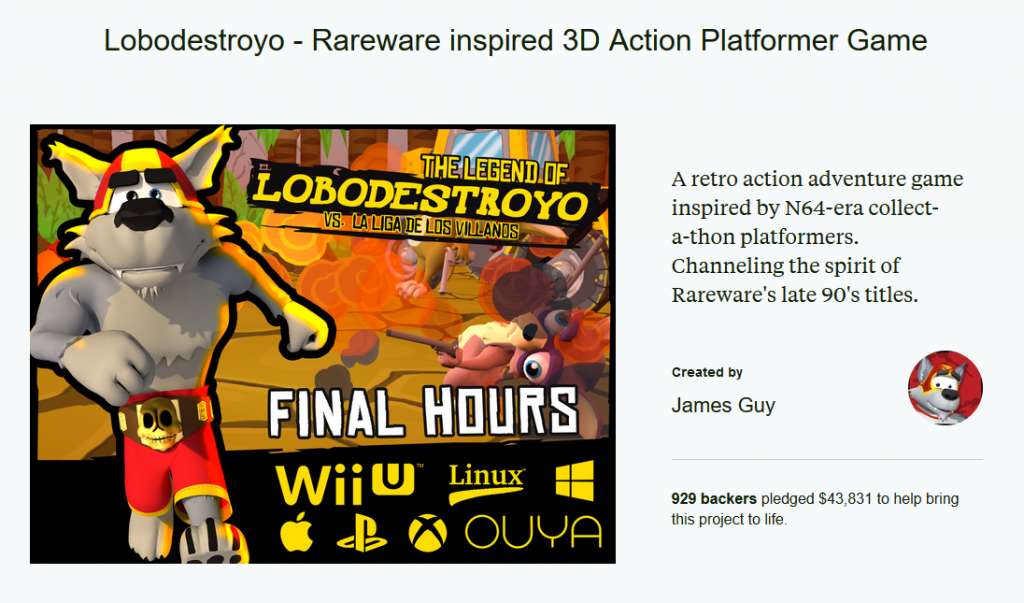 Above: The 43K raised on Kickstarter was impressive, but still not a lot when it came to game development.
While 40k is a massive chunk of change it is embarrassingly little when put into the scope of a project like ours. We budgeted and planned for the project well in advance and spent all the funds (less the extra that came our way during the last minute rally at the end of the campaign) within a month of receiving the check from Amazon (owners of Kickstarter).
We entered into an agreement with the folks at Ouya as part of their Free The Games Fund. The idea with the fund was to have games created for the kickstarted Ouya console, whilst providing avenues for fledgling game dev teams to try their hand at indie game development. They agreed to match our initial campaign goal of $35k, in installments, as certain milestones were met.
Due to the placement of these milestones and the usability of the funds (due to timing) we have not received any money from Ouya, nor have week provided any of the required milestone software builds to them. We are currently debating our next steps with all of that since their buyout by Razer, and will have more to say once the team and I come to a conclusion on what to do.
13. Given that a Wii U version is a priority here, have you got any interesting plans for GamePad and its use in this game?
Absolutely, but we have said from the start that we wont let gimmicks and features get in the way of the game we are trying to make. Don't expect anything that alters gameplay outside of the intended scope.
Above: Don't expect any Game & Wario or Nintendo Land style gimmick controls in Lobodestroyo
Especially waggle controls… never!
14. So what was the story behind Gooseworx providing this game's music?  It seems to be a very good soundtrack so far, so how did you find him and his musical work?
Gooseworx is an amazing talent and the man behind the magic, Cooper, has been crafting some solid tracks that are beyond my greatest expectations. Nothing all that glamourous really as far as his involvement on the project at the outset…He joined the team after I begged him through social media basically. I'd been a fan of his for a while and regularly visited his soundcloud page to listen to his work.
Above: The fact Gooseworx is a Rare fan who covered songs from Grabbed by the Ghoulies, Banjo-Kazooie and Donkey Kong 64 is pretty cool as well.
The soundtrack is going to be one of the strongest elements of Lobodestroyo certainly. I can't wait for Gooseworx' tracks to bring our game worlds to life!
15. Given that the Ouya itself isn't really a thing any more, is the console still being supported for this game?
Ouya has been bought out by Razer, and after some confusion and hiccups Razer has decided to offer a new Free The Games Fund-type deal to all the participants in the original program, like us. We have the contract in hand as of last week and are reviewing it as a team to determine what's best for us, considering where we are with Lobo and what would be required of us to secure the proposed funding. We dont have much more to say on that front right now but know that the team and I are all weighing up our options as to how to move forward there.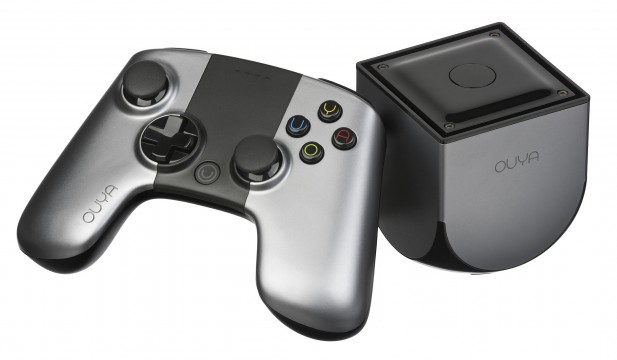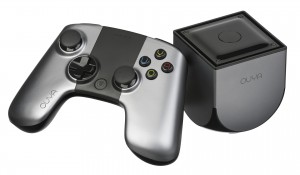 Above: The Ouya's failure raises doubts at Lobodestroyo's future on the system.
16. What do you think of the other 3D platformers that are also inspired by Rare's games, like A Hat in Time and Yooka-Laylee?  What kind of things should help this game stand out?
Above: Mr Guy also backed both A Hat in Time and Yooka-Laylee on Kickstarter.
As a firm supporter/backer of both titles and an avid gamer, I am excited to know we have all this Rare-vival gaming coming our way in
the not-too-distant future. Hat in Time was one of the projects that convinced me to try my hand at crowdfunding and push for a campaign for Lobo. Yooka-Laylee is essentially trying to do the exact same thing Lobodestroyo is, but with…you know… legitimate game
developers (and former Rare staffers on the payroll). It's great to see that the idea behind what we are trying to do is a strong one, if anything based on the immense success Playtonic found immediately after launching their campaign. It really does mean we are on to something with what we are trying to accomplish, and that there is a massive audience out there who want these sorts of titles back.
17. And on a random note… Yooka-Laylee apparently is because of a shared rap music singer, so does anyone from one of Rare's older games make a cameo appearance or anything?
We obviously don't own any rights to anything Rare-related so don't hold your breath for Bumper the Badger to drive past Mutt, or a Great Mighty Poo cameo to uncover. But we do have some ways of nodding to the characters we all know and love.
https://www.youtube.com/watch?v=0w5neFPat1w
Above: No, the Great Mighty Poo is probably not going to appear in this game.  Nor any other recognisable Rare characters.
While I don't want to spoil anything or say too much, I think that the die-hards out there will be pleased with what we have packed in.
18. It's a bit early yet, but does Lefthanded Games have plans for games after Lobodestroyo?  Is it possible the game will become a series?
The skeptic in me says that right now it would be a bit foolish to think beyond the immense task in front of us, or to presume that success will come our way in any form. We want to make this game the best we can, and get our first team project out the door. After that… well, time will tell. I will say that we are brimming with ideas and drive, so don't expect Lobodestroyo to be the only thing you ever see with a Lefthanded Games sticker on it.
19. Finally, to all those budding game designers and indie game studios out there, what advice would you give them?
Do what you love and find a way to work on what you are passionate about. Be it a part-time, side-project or the building blocks of your whole career (or both!), make sure you indulge your creativity and start making stuff! Don't let yourself get held back. If you have an idea, run with it! Inversely though, don't buy into the idea that kickstarter games are free money and a sure thing. If making games was easy, everyone would be doing it.
If you are going to jump in on a public stage, be prepared, do your homework, and expect to encounter
obstacles.
So that concludes our interview with Lefthanded Games.  We'd like to say thank you for Mr Guy for agreeing to an interview with Gaming Reinvented, and to wish him all the best of luck with Lobodestroyo on the future.  Hopefully this game (along with the various other Rare inspired 3D platformers being made at the moment) will bring about a Nintendo 64/Playstation style gaming renaissance where the indie world finally embraces the styles of Banjo-Kazooie and Conker's Bad Fur Day and where said games are system sellers all over again.
What do you think of our interview with Lobodestroyo creators Lefthanded Games?