GameStop selling Gamecube Adapter for 140 Dollars?
Buying the Gamecube controller adapter for the Wii U… is a bit of a challenge nowadays.  With its popularity with Smash Bros fans leading to it being sold out in many stores and rumours going around of Nintendo discontinuing the thing altogether, the Gamecube controller adapter is practically impossible to find or purchase at this point.
Unless of course… you're willing to pay GameStop a ridiculous price.  Behold, the Gamecube controller adapter on GameStop's site: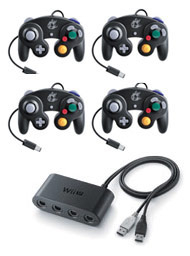 http://www.gamestop.com/wii-u/accessories/wii-u-gamecube-adapter-w-4-wii-u-gamecube-controllers/119215
Note anything unusual?  Yep, you can only buy it with a full set of four controllers, and only for an almost insane price of 140 dollars!  Talk about the company wanting to squeeze every penny out of their customer base!
So yeah.  Want to play Smash Bros for Wii U with a Gamecube controller or two?  Better have a ton of money left aside to spend on a bunch of unnecessary controllers and what not on GameStop's website.
Source:
http://mynintendonews.com/2014/12/24/gamestop-is-selling-the-gamecube-adapter-with-four-gamecube-controllers-for-139-95/