Donkey Kong Country Tropical Freeze Lets You Play Solo Characters?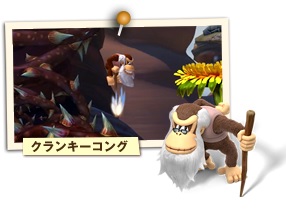 In hard mode anyway, so you get to finally see whether Cranky Kong truly can beat the entire Snowmad invasion on his own with just one heart!  This is according to the official website for the game, which has now been updated with content about the extra stuff in the game, also showing off the same Time Attack mode introduced in Donkey Kong Country Returns.
Here's the source:
http://www.nintendo.co.jp/wiiu/arkj/enjoy/expert.html
And the bit about Hard Mode and solo playthroughs can be found at about half way down the page with a picture of a heart next to it. As well as these screenshots, which very clearly indicate that only said character is on screen at any one time:
So yes, we can finally play as one of the other Kongs in single player mode, with the extra challenge of only having one hit point.  Are you happy that this is now the case?  That you can try a 'play through all levels as only Cranky Kong' run?
Source:
http://www.dkvine.com/interactive/forums/index.php?showtopic=8797&st=150