SEGA Survey Asks About Crossover Choices…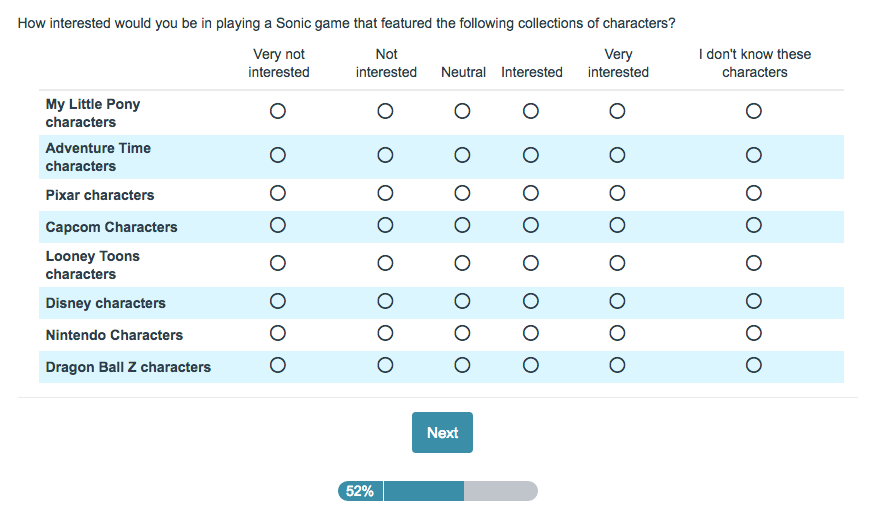 Do you like seeing Sonic in Super Smash Bros? Or the Mario and Sonic Olympic Games? Do you ever wish to see yet more crossovers involving the Sonic the Hedgehog series and third parties?
If so, well SEGA seems to hear you loud and clear. Because on their latest survey, the company asks what franchises the user wants the Sonic the Hedgehog series to have a crossover with.
And the choices?
Well, that's where it gets 'interesting'. Behold: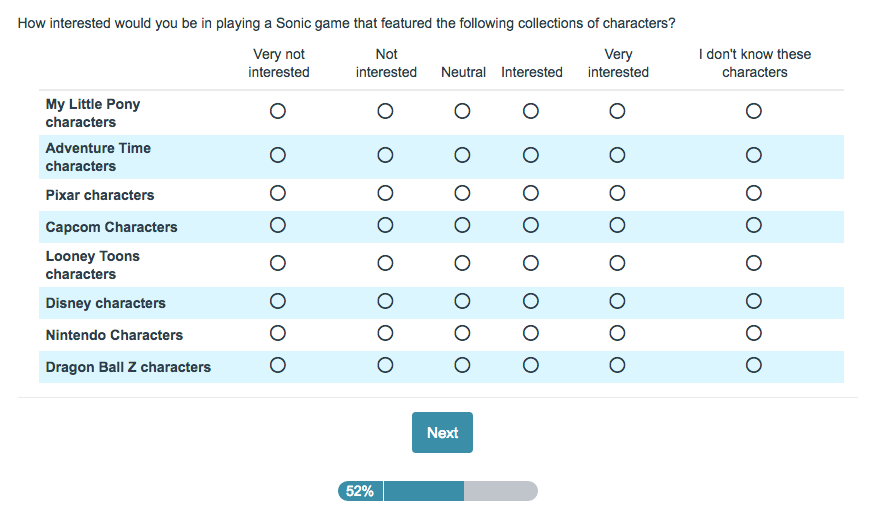 Seems like SEGA's going for all the internet popular franchises here. They list My Little Pony, Disney, Looney Tunes, Adventure Time and even Dragon Ball Z among the possible series that Sonic could have a crossover game with! It's like the company are reading Sonic the Hedgehog's Twitter account and taking it a tad too seriously! Heck, why not add Five Nights at Freddy's and Minecraft too? You've got everything else that's popular online there!
Either way, here's how I suspect each choice would go down:
My Little Pony X Sonic the Hedgehog: Oh god, the internet was basically keel over and die under the weight of all the flame wars. People are already getting sick of My Little Pony Friendship is Magic references in their games and media due to the brony crowd, and a crossover like this would just get buried under a flood of Youtube dislikes.
Adventure Time X Sonic the Hedgehog: Well, it'd be less controversial than My Little Pony, that's for sure. Still not sure how it'd actually work in game format though.
Pixar X Sonic the Hedgehog: A Sonic the Hedgehog game where he meets the cast of Toy Story or Monsters Inc or The Incredibles would certainly be unique, and hey, the latter does at least have someone with super speed in it. But would Disney agree to a crossover with only Pixar characters and elements? They seem to be merging Pixar with the Disney animated universe at the moment…
Capcom X Sonic the Hedgehog: It'd make one hell of an interesting fighting game, I'll say that right now. That said, I can also say a Mega Man crossover working, given how Eggman/Robotnik and Wily have worked together in the past.
Looney Tunes X Sonic the Hedgehog: Huh, that's a strange choice for a possible crossover premise. Though maybe him racing Speedy Gonzales might work out well. As might a team up with Taz or an adventure involving Wily E Coyote and the Roadrunner.
Disney X Sonic the Hedgehog: Well, Disney Infinity isn't a thing any more. Guess this could be a pretty good alternative.
Nintendo X Sonic the Hedgehog: A crossover platformer, racing game or other type of non party game would work well here. After all, they did try and put Mario in Sonic All Stars Racing at one point, and fans have been clamouring for a Mario/Sonic platformer for a while now.
Dragon Ball Z X Sonic the Hedgehog: Wasn't this Super Mario Bros Z? That had Sonic and friends in it too. Still, this one could work on a thematic level, since Super Sonic is basically a Super Seiyan in all but name.
So there are definitely some interesting possibilities there, if SEGA decides to pursue them in the future. They might even decide to make a game which crosses over with more than one of the choices, if Sonic Lost World's special levels are anything to go by:
But what do you think? What series do you want to see Sonic cross over with?
Source: