A Portal Spinoff Called Bridge Constructor Portal Has Been Announced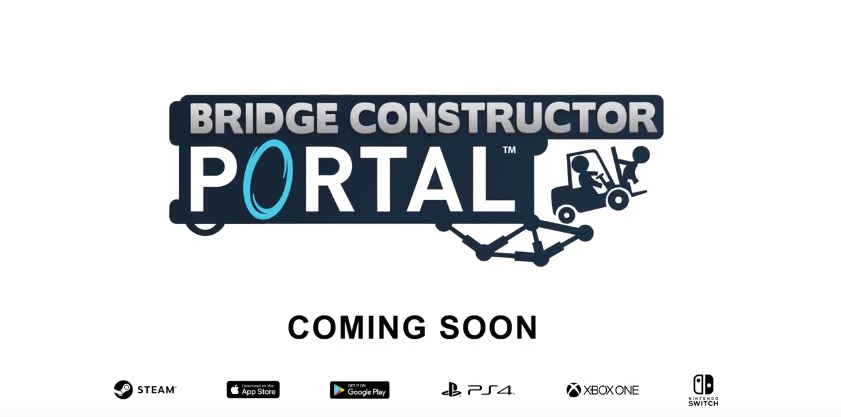 In the last few years, Valve hasn't really done much where game development is concerned. Oh sure, they've made some updates on Steam and found ways to monetise their multiple titles through lootbox type mechanics, but as far as new games are concerned, releases are few and far between.
So much so in fact that some people have actually started questioning whether Valve makes games any more at all!
Which is why when talk of a new Portal game was heard online, the fans were ecstatic. After all, it's a beloved series with two amazing games in it, and the mere thought of a third title would basically set the internet on fire.
Then we got the trailer. Here it is, the debut video for Bridge Constructor Portal, a bridge building Portal spinoff headed to the app store, Steam, PS4, Switch and Xbox One:
As you can imagine… people haven't been very happy about it. Indeed, the responses online to this title have been absolutely brutal, with comments on internet forums and Reddit questioning every aspect of the title and the video being so heavily disliked the uploaders disabled ratings on it. The game's gone down about as well as Metroid Prime Federation Force did.
But you know what? I think that's kind of unfair. At its core, it seems like Bridge Constructor Portal could be a good game. Not an ambitious game sure, but a decent little puzzle game to play on a smartphone or what not.
It's just that like so many other titles, its creators made a fatal mistake when making and marketing it:
They announced it after a long period of no important games in the series. A period where Valve made nothing of interest at all.
And just like other games in the same situation, that created a huge backlash. It's basically Chibi Robo Zip Lash or Banjo-Kazooie Nuts and Bolts all over again; a random gimmick game/spinoff deal that just happens to be the only thing the fans have gotten in years.
So regardless of any quality the game may have, this is basically doomed to fail. The game just isn't what the fans (or general public) want from the Portal series and feels like another blind cash grab from a company that's completely ignored its core business for nearly a decade.
Still, what do you think about it? Are you happy with this Portal spinoff, despite its… interesting choice of genre and design?
Or do you feel that Valve giving the license to Headup Games may not have been a wise move, especially with the limited number of 'real' titles the company put out in recent years?
Post your thoughts on the matter (and more) in the comments below or on the Gaming Latest forums today!