The Pokemon GO News Round Up; Part 2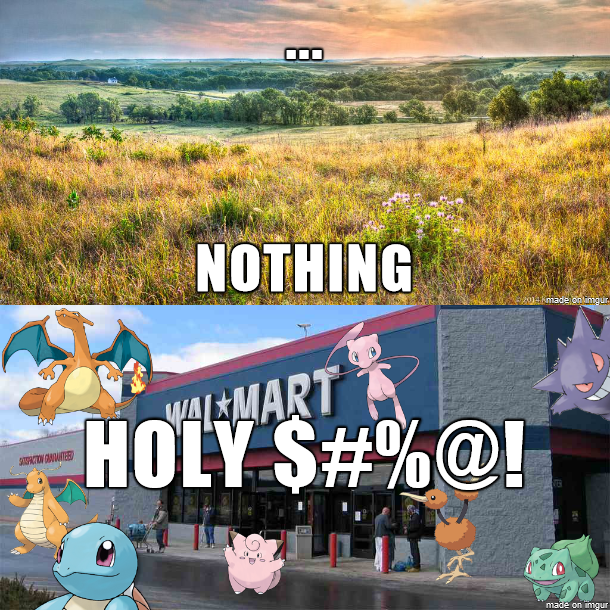 Well, this is quick! It's only been three days since the last news round up!
Yeah it is. But while I was planning to wait a week before posting the next one, the sheer amount of Pokemon GO news has made me change my mind. Seriously, everyone's talking about it now. Politicians, marketers, companies… it's become a media circus to put the UK Brexit thing to shame!
As a result, I thought it was a bit insane to wait four more days to try and catch up with everything that's been doing on. So here's the next Pokemon GO news round up, four days early thanks to all the news the game is generating!
Let's begin!
Pokemon GO Stories and News
Another day another country conquered – Pokemon Go #1 gross in UK in a matter of hours pic.twitter.com/VkKQhzY0Kv

— David Gibson (@gibbogame) July 14, 2016
First to start off, a bit of news from analyst David Gibson in regards to the games sales. Basically, Pokemon GO is now the top grossing mobile app in the UK. That's quick!
Developer of Nintendo's Pokemon GO aiming for rollout to 200 markets soon
No idea how this will work, because the most generous count says there's only 196 countries on the planet at this point in time. And I'm pretty sure Pokemon GO won't be launching in North Korea any time soon…
But Niantic somehow wants to roll it out to 200 markets anyway.
Pokemon GO Available in 26 New Countries
Namely Austria, Belgium, Bulgaria, Croatia, Cyprus, Czech Republic, Denmark, Estonia, Finland, Greece, Greenland, Hungary, Iceland, Ireland, Latvia, Lithuania, Luxembourg, Malta, Netherlands, Norway, Poland, Romania, Slovakia, Slovenia, Sweden, and Switzerland.
RUMOR: Pokemon GO – How to pick your Eevee evolution
Apparently you name it Sparky to get Jolteon, Rainer to get Vaporeon and Pyro to get Flareon. You know, as per the Pokemon anime series.
That's one rumour anyway.
Another one (which sounds a bit more likely) is that if the Eevee has Swift, it becomes Vaporeon. If it has Dig, it becomes Flareon and if it has Body Slam it becomes Jolteon.
Which is somewhat strange. I mean, Eevee doesn't even learn Body Slam in the main series…
Pokemon GO Declared 'un-Islamic' in Egypt
Sigh. Moving on.
Fake Pokemon GO Game Locks Phone and Clicks Porn Ads
In other words, avoid fake Pokemon GO apps. They're either scams or actively malicious, like this one.
Pokemon GO Top Grossing App in Italy and Spain
World Domination continues – Pokemon Go #1 gross in Italy and Spain …..but not Portugal …why? pic.twitter.com/jZ8SDYKUmS

— David Gibson (@gibbogame) July 15, 2016
Just like in the UK. The game takes over yet another two regions.
US Government Considers First Pokemon GO Regulations
Because every new fad needs new legislation, right?
Niantic to Add Sponsored PokeStops to Pokemon GO
Because hey, now we can get PokeStops at every McDonalds!
Niantic Taking Requests for New PokeStops and Gyms
Know a location that should be a gym or PokeStop in Pokemon GO? Request it's added via this form on the official site!
25-34 year olds play Pokemon GO the most.
And apparently, 21% of trainers would rather play Pokemon GO than have sex. Thanks for that information guys.
Hacking Group Knock Pokemon GO Offline
PokemonGo #Offline #PoodleCorp

— PoodleCorp (@PoodleCorp) July 16, 2016
With a DDOS attack. They also want to do a larger attack on the game later, which is worrying:
Just was a lil test, we will do something on a larger scale soon .

— XO (@xotehpoodle) July 16, 2016
Hopefully Niantic and Nintendo can shore up those servers.
Pokemon GO Now Available in the Netherlands
And that's another region the game is now out in. Just about 170 regions to go?
Pokemon GO Videos and Memes
Florida Anchor Walks Through Newscast for Pokemon GO
https://www.youtube.com/watch?v=4eLY8NUAFL8
Quick tip; if you're working in a TV studio, don't walk on set because you're too distracted by the game
Vaporeon Stampede Central Park, NYC
Vaporeon stampede Central Park, NYC from Woodzys.
Well, seems like these people really want a Vaporeon in Pokemon GO. Watch them stampede towards Central Park after it!
Using a Roomba To Hatch Pokemon GO Eggs
Well, it's certainly novel. Like the guy who used a drone to hunt Pokemon.
Ice Cream Shop Giving Discounts to Pokemon GO Players
50% off if you're level 21+!
The Main Problem with Pokemon GO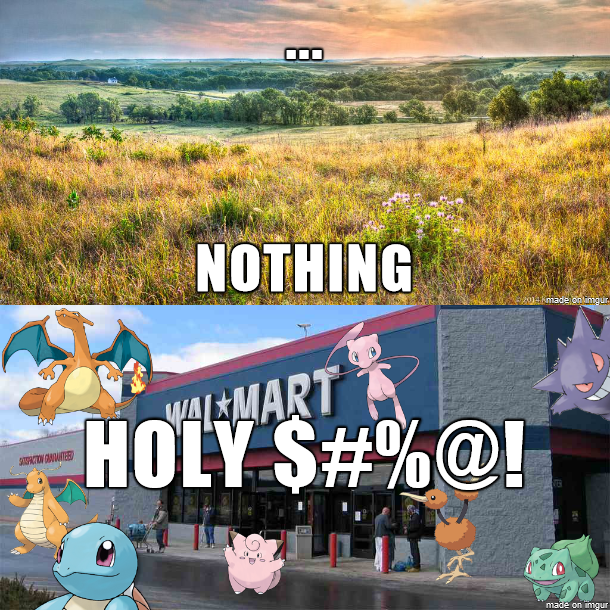 Lots of Pokemon in cities, none in the countryside. Yeah, apparently they don't like the long grass after all!
Yeah. This is NSFW.
Phone Shop Adds Stickers for Pokemon GO Compatible Phones
A lot of people were asking whether their new phone could support Pokemon GO. So an employee in this store added stickers to the phones that could.
San Diego Police Department Playing Pokemon Theme Song for Pokemon GO Fans
Because what better song to play Pokemon GO to than the anime theme song?
Other Random Pokemon GO Related Things
#RipleysGo Contest for Pokémon Go Players
If you catch a rare Pokemon in a Ripley's attraction in the US, Canada, the UK or Australia, you could be in with a chance of winning $5000. Full rules can be seen at the link.
Mixed Reality Capturing Pokemon
In other words, this is how the game might be if it worked with the HoloLens.
Teenager Hit by Car While Playing Pokemon GO
These stories are terrible, but they do make me want to point out that looking where you're actually going tends to avoid these issues. It's like how people are so engrossed in Twitter or what not that they walk into the road because of it.
Driver Gets Into Accident While Playing Pokemon GO
Don't play the game while driving. Seriously. Also, don't do anything else while driving either, because that's also very dangerous
How Much Data Does Pokemon GO Use?
5-10 MB per hour. Not as much as some people were claiming, thankfully.
Remember Troops, Be Careful When Playing Pokemon GO
The army warns soldiers about the risks that playing the game could cause while on duty.
Four NYPD Cops Under Investigation for Playing Pokemon GO on the Job
Turns out that playing Pokemon GO on the job might not be a good idea.
Want to search locations on Yelp by whether they have a Poketop nearby? Now you can!
Another Dead Body Found by Pokemon GO Player
Pokemon GO seems like a very useful app for the police. After all, people have already found two bodies because of it.
Nintendo Cracks Down on Pokemon GO 'Piracy'
Well they're trying to crack down on it. But Pokemon GO is a free app. So noone considers redistributing the app files as piracy.
Genius builds a Pokédex phone battery case, and Nintendo should too
He wanted his phone to look more like a Pokedex. So he made a case to do just that.
Pokemon GO Player Refuses to Seek Aid After Being Stabbed
I've heard of people getting engrossed in games, but this is ridiculous. If you've been stabbed, it'd advisable to seek medical help/go to a hospital. Your life is more important than a video game (or other form of media).
T-Mobile Gives Pokemon GO Players Free Data
So now you can play without using mobile data. Most people think this is a good thing, although some think it also hurts net neutrality:
Pokemon GO is the Bitcoin for Every Business
Apparently it's something to do with the Pokelures. Interesting concept.
The Impact of Pokemon GO on Wikipedia
Pretty high apparently. 4.5 million people have visited the Pokemon GO article since the game was released.
There are fewer Pokemon GO locations in black neighbourhoods. Why?
Because it uses data from Ingress and an open source marker database. Which had their locations both crowdsourced by the community.
More people from majority 'white' neighbourhoods played Ingress basically.
Users Spend More Minutes a Day in Pokemon GO than Facebook
Not surprising. How many minutes a day do gamers usually spend in a game? Likely quite a lot.
How Your Business Can Profit from Pokemon GO
Oh boy, seems like the marketing people have realised that Pokemon GO is a money maker for small businesses. Expect lots of 'gurus' saying how Pokemon GO can help your business today, all for $9.99 an eBook!
Ontario Police Warn Pokemon GO Players About Trespassing
Which is a little premature. I mean, Pokemon GO isn't even available in Canada yet!
Or in other words, graphics of all the Pokemon you can find in the wild in this game.
Donald Trump Shares Pokemon GO Spoof to Attack Hillary Clinton
Thought Pokemon GO was getting political before? Now it definitely is.
Hillary Clinton Hosting Campaign at Pokemon Go Pokestop
Hillary Clinton is utilising Pokemon GO as well.
Measuring the quotable pop culture impact of Pokémon Go
Hooray for various celebrities and politicians talking about Pokemon GO.
Rail Staff Blame Power Failure on Pikachu
Move on signal problems, Pikachu seems to be causing train delays now!
Man in New Zealand Quits Job to Play Pokemon GO Full Time
Wonder how this one went down?
"Sorry guys, I'm quitting to become a Pokemon Trainer. I want to be the very best, the best there ever was!"
Pokemon GO Players Stranded in Caves While Playing Pokemon GO
Remember kids! Always pack an Escape Rope, or a Pokemon with Teleport!
Marine Veterans Playing Pokemon GO Stop Murder Suspect
Some more evidence that Pokemon GO helps fight crime.
Church of England Makes Churches Pokestops
Several of their churches have signed up to become Pokestops, with the church saying "it's a good way to start a conversation that may lead to other things".
Pokemon GO Players Find Naked Woman Vandalising Church
Two dead bodies, a robbery and now an insane lunatic vandalising a church. Pokemon GO fans make all the weirdest discoveries.
TRNDLabs Pokedrone (Pokemon Catching Drone)
Remember that story about a guy who tried to use a drone to play Pokemon GO? Well now someone is literally making a special type of drone to play Pokemon GO more 'easily'.
And so that's the next news round up for the game. It's a pretty insane list (given how the last round up was published just two days ago), but it gives you a decent overview into all the stuff going on in the world of Pokemon GO anyway.
Wonder what else will happen in the next few days?