No, Charles Martinet is Not Stepping Down as Mario's Voice Actor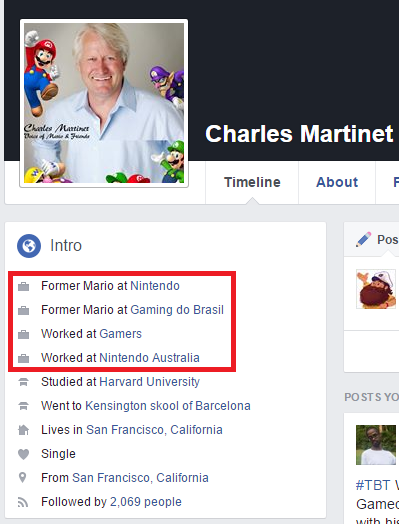 Earlier today, Nintendo fans had a bit of a shock when Mario's voice actor, Charles Martinet, had changed his job title to 'Former Mario at Nintendo'. Did the unthinkable really happen? Had Martinet decided to step down from the role after 22 years?
Well, no. As Martinet pointed out on Twitter, he's still Mario's voice actor and has no plans to retire any time soon:
@GamingReinvent Hello, it's a me! Not to worry–Facebook glitch. I'm still doing the voice of Mario & Luigi, and friends! WooHoo!

— Charles Martinet (@CharlesMartinet) October 28, 2016
So Nintendo fans can breathe a sigh of relief; Mario, Luigi, Wario and Waluigi aren't getting a new voice actor. Instead, a Facebook glitch screwed his listed occupation, and has seemingly been doing the same thing for many other people on the site as well:
Everyone from my work (including me) is listed as 'Former' or 'Worked At' inaccurately. Facebook's got some kind of issue, and has had it for months now.
Above: From a comment by RustyOwl at GoNintendo
And that's a pretty big problem if you ask us. I mean, Facebook is practically 'the' place people check for information about an individual or company. It arguably wasn't meant to be (that's LinkedIn's role), but it's what people use it for none the less.
Which makes listing people's job titles incorrectly a real issue. Imagine if that happened to the US president, and it said 'Barack Obama, former President of United States'. Or if it'd happened at Facebook and listed Mark Zuckerberg as the 'former CEO at Facebook'. The public and press would go nuts, even more so than they did here.
Add how a lot of companies have angsty investors (note how much Nintendo's stock goes up and down after every announcement), and you've got a single glitch that could potentially cause huge problems in the future.
But hey, as far as Charles Martinet and voicing Mario goes, there is nothing to worry about. He'll be voicing Mario and co for the foreseeable future.