Wow Yoshi's New Island Has Some Terrible Music…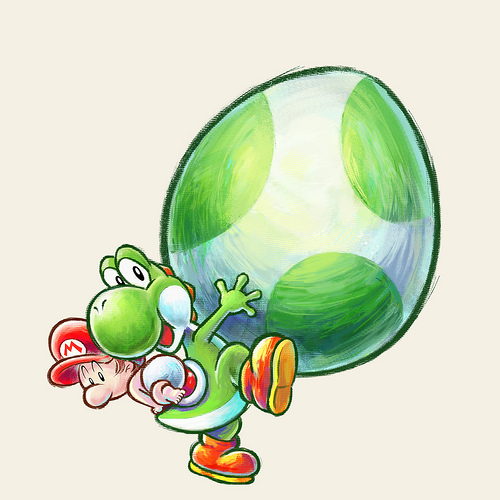 And given that this by the developers of Yoshi's Island DS, a game which had some of the most unremarkable music in Nintendo history (just the castle theme from that game should bring back bad memories), that's kind of surprising.  So do you want to hear the worst possible (non ROM hack) music known to man? Well step inside then, because it's absolutely embarassing how god awful some of these songs are…
That's the title music.  The first ever impression a new player gets of this brand new 'Yoshi's Island' game!  Oh my god it's awful.  Seriously, it sounds like a bunch of amateurs just smacking random musical instruments and hoping sound comes out.  Or more accurately, a lot like Nintendo's terrible E3 demo for Wii Music, where Miyamoto and a bunch of other guys absolutely mangled the Super Mario Bros theme tune:
Makes me picture a bunch of Arzest employees on a stage trying to blurt out the Yoshi's Island theme in Wii Music while waggling Wii remotes like crazy!
But wait, it gets worse!  How about hearing a bunch of Yoshis 'sing' the Yoshi's Island song?
That can't be that bad, right?  I mean, New Super Mario Bros U's Yoshi songs weren't utterly unhearable, right?  How bad can it possibly be?
Oh god no.  If you can picture the last nail being driven into the coffin of a great game (or more accurately, everyone's beloved memories of Yoshi's Island 1), this is it. The theme as sung by a bunch of pre school kids who somehow got let into a recording studio at Nintendo.
It continues with a cave theme that's got to be the least interesting thing since Joke's End in Superstar Saga:
Which makes me want to have a little 'game'.  Out of these two extremely annoying and repetitive songs, which one would make you lose the will to live first?
Yoshi's New Island Cave theme:
Mario & Luigi Joke's End theme:
Someone should mix them, stick on 'em in the background when in work/school/college and see how long it takes before people start getting irritated by the music.
Either way, anyone who even remotely hoped that Yoshi's New Island wouldn't screw up in the music department can be pretty much be said to be wrong now.  Cause they absolutely and utterly murdered the soundtrack of the first Yoshi's Island in the worst way possible.  Thank you Arzest, thank you for completely failing at composing decent music.
Ah well, at least they didn't mess up the castle theme quite as badly as last time: