The Legend of Zelda Majora's Mask 3D Officially Announced!
Oh come on.  You knew this was happening, right?  It's been hinted at by ever 'rumour' and 'leak' for the last three years or so.
But now, it's finally been confirmed.  Majora's Mask 3D is coming to the 3DS, in Spring 2015.  Here are some pictures and videos showing the game in action…
As well as the brand new special edition, complete with fancy poster and box: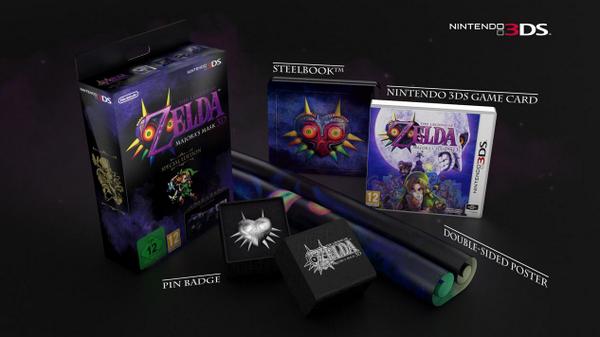 Want to see more? Click the link below to keep reading.
Here are some bits from the press release too:
REDMOND, Wash.–(BUSINESS WIRE)– During a Nintendo Direct presentation this afternoon, Nintendo dropped a moon-sized announcement: The Legend of Zelda: Majora's Mask 3D, a remake of the beloved Nintendo 64 game, is coming exclusively to Nintendo 3DS in spring 2015. The Nintendo Direct video also revealed new details about amiibo functionality and upcoming games like Splatoon, Xenoblade Chronicles X, Kirby and the Rainbow Curse, Code Name S.T.E.A.M. and Captain Toad: Treasure Tracker.

The Legend of Zelda: Majora's Mask 3D: One of the most talked-about games in the history of The Legend of Zelda series is coming to Nintendo 3DS. Launching in spring 2015, The Legend of Zelda: Majora's Mask 3D brings Link's suspenseful, intricate quest through the mysterious world of Termina to a hand-held system for the first time with enhanced 3D graphics and added features for a smoother game experience.
So… now that the game has actually been confirmed… are you gonna buy it?  Personally, I think I will.  I missed out on the original game, and I think I might finally see what all the hype is about.