September 1st Nintendo Direct Liveblog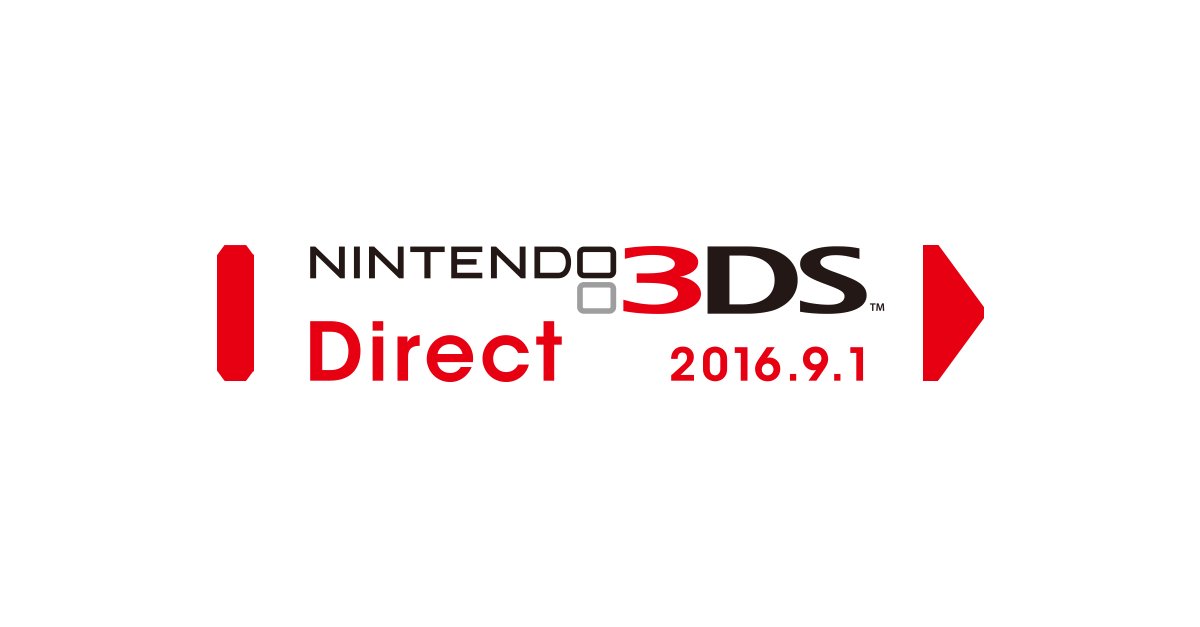 Well, it's that time again. So as per usual, you'll be able to watch the Direct (and read our live coverage of it) here on the Gaming Reinvented site.
First up, here's the stream for the Nintendo Direct. It's region specific, so we've included ones for all regions. Here's the Nintendo of America livestream for the Direct:
Watch live video from Nintendo on www.twitch.tv
As well as the Nintendo of Europe one:
Watch live video from NintendoUK on www.twitch.tv
And the Japanese Nintendo Direct livestream:
https://www.youtube.com/watch?v=axgqnNKEgLg
Secondly (as always) we'll be running a liveblog for the game. So when the Nintendo Direct presentation starts, you'll be able to see a summary of the goings on below. This will include new game announcements, interesting details in trailers, etc.
This stuff will then be posted on our YouTube channel (Nintendo3DSChannel) once the Direct is over and we've got the footage in a convenient format.
So kick back and enjoy the show! Cause we should be seeing all kinds of interesting Nintendo trailers and announcements in this one!
Liveblog
Side scrolling adventure game with Pikmin. Interesting, though I have bad memories of Chibi Robo Zip Lash now...
With football, baseball, tennis, golf and horse racing. Looks cool!
Mario Sports Super Stars!
Ever Oasis next. Could be an interesting game, if it's moved on a bit from the E3 version.
Animated Yoshi shorts with Yoshi and Poochy, and a Yarn Poochie Amiibo? Awesome!
Poochie Pups? OMG that's cute!
Yoshi's Woolly World on 3DS? That looks pretty cool! Goodbye Yoshi's New Island, you're dead now.
Shin Megami Tensei 4 Apocalypse now. Looks good.
Sonic Boom Fire and Ice. Let's see if this is better than the previous Sonic Boom games...
Disney's Magical World 2. Okay.
Yo-Kai Watch 2. Which is neat I guess.
Dragon Quest 7 remake too.
Dragon Quest 8 remake now. That said, his intro nearly made me think Mother 3 was coming.
Latest Ace Attorney titles now. Seance Trials sound like a pretty bad idea for a court system though. Wouldn't want to live in that universe!
It's available as of today. Good for music rippers!
Toon Zelda confirmed, sight. What a poor character idea.
That Spirit Tracks remix is going on YouTube very soon!
Hyrule Warriors Legends DLC now,
Hyrule Warriors Legends DLC now,
Hyrule Warriors Legends DLC now,
Skyward Sword on Wii U eShop now, which is okay.
NES Classic Edition now. And Classic Zelda Amiibo figures. Damn, I expected a new Zelda game, like a Zelda NES remake for 3DS!
Nindies Summer Jam? Is September summer now?
Picross 3D Round 2. Seems good for Picross fans.
Tank Troopers now. Why not call it Advance Wars?
Slot Car Rivals or Market Crashers can be downloaded for free. They and the others launch after the Direct.
Can now encounter 100 players now. Mini games too. Like Slot Car Rivals, Market Crashers, Feed Me, Mii Trek and Ninja Launcher. Quite interesting ideas there.
Street Quick Plaza? Interesting concept.
Animal Crossing Mini Direct confirmed for Autumn. Which is cool.
Animal Crossing New Leaf update now. Which is quite cool.
You can download a free version of the game from the eShop, which is good.
Giant Monty Mole is a boss now too.
Do like how players can join boss batlres in progress though. That's cool!
Mario Party Star Rush now. Yay?
No Mystery Mushrooms in this version now. You can share courses locally and through StreetPass now though.
Super Mario Maker for Nintendo 3DS now! This is awesome!
Alolan Rattata and Snorlax with Pulverising Pancake Z Move!
Pokemon Sun and Moon first. Anyone not expect this?
Damnit, I so need to get this thing to use daylight saving time. But that's not a priority right now, sorry.
Well, the post is now ready. Updates start at 3pm.