Oh hey, Japanese Pokemon fans can win another special Edition 3DS System…

In a raffle.  That you get an entry for by spending over 1000 yen at the Denny's and Famil family of restaurants in Japan.  Apparently, there are ten of said systems to be won via the raffle, and another five to be won via an email campaign on the official website.  Here's a picture of the system design in question: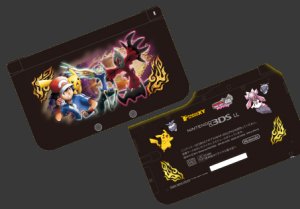 As you can see, it's a pretty nice design!  Decent colour scheme, decent styling around the edges, a pretty neat picture showing off Yveltal and Xerneas (alongside Ash and Pikachu from the Pokemon anime series).  Pity it'll never be released to the public, or made available to buy or win outside of Japan.
So yeah, what do you think?  Are you a bit jealous that Japanese Pokemon fans are getting yet another exclusive 3DS XL design?  Do you wish Nintendo would sell these outside of Japan, like through Club Nintendo or something?  If so, post your thoughts here or at Nintendo 3DS Community.com now!
Source: