It's a bit unexpected to say the least, but they actually wrote a spoof of 'Twas the Night Before Christmas' with Mario & Luigi Dream Team characters and storyline to promote game and the Year of Luigi 3DS XL!  It's kind of amusing too, so keep reading to see the full poem for yourself!
Here's the Nintendo of America version of the poem: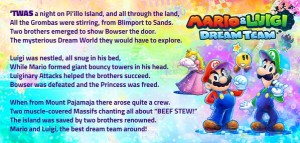 And here it is for those who want to read it in text format:

Twas a night on Pi'illo Island, and all through the land,

All the Goombas were stirring, from Blimport to Sands.

Two brothers emerged to show Bowser the door,

the mysterious Dream World they would have to explore.

Luigi was nestled, all snug in his bed,

while Mario formed giant bouncy towers in his head.

Luiginary Attacks helped the brothers succeed,

Bowser was defeated and the Princess was freed.

When from Mount Pajamaja there arose quite a crew.

Two muscle-covered Massifs chanting all about "BEEF STEW!"

The island was saved by two brothers renowned.

Mario and Luigi, the best dream team around!
It's a prettycool poem I do have to admit, and it definitely captures the feel of Mario & Luigi Dream Team (and the original poem) in just three paragraphs.
Either way, the message is clear; buy Mario & Luigi Dream Team, one of the best Mario RPGs in the series and another of the 3DS' great games.
Source:
https://twitter.com/NintendoAmerica/statuses/415557546242760704