Nintendo Posts Official Warning about Pokemon X and Y Save Glitch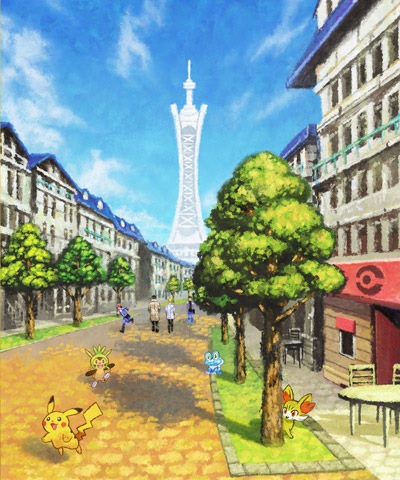 As has been mentioned a fair amount online, a glitch was recently found in Pokemon X and Y that corrupted save files when you saved the game in the wrong place in Lumiose City.  But while the news media has been discussing it for a while and a reason for the bug hasn't been discovered, Nintendo UK have now officially released a warning about the glitch telling people how to avoid it screwing up their save files.
Here's the notice:
A request regarding saving game data in Lumiose City in Pokémon X and Pokémon Y for Nintendo 3DS

Thank you very much for playing and enjoying the Pokémon series.

An issue has been found with the Pokémon X and Pokémon Y games, released for Nintendo 3DS on 12th October 2013. After the player saves the game in certain areas and then reloads the save file, the controls may become unresponsive.

Please follow the instructions below in order to avoid this problem.

For players who are already experiencing this issue, please be aware that we are currently preparing an application to fix it, and will make it available to download from Nintendo eShop as soon as it is ready. We apologise for the inconvenience.

The Problem

In some rare cases, if the player saves the game in certain areas of Lumiose City (see below map), then ends the game, the controls will not respond when the saved game is reloaded.

How to Avoid This

Please make sure you don't save the game while in the areas marked on the map below (blue area). You can still save the game anywhere else in Lumiose City, including inside buildings such as Pokémon Centers.

Solution for Players Already Experiencing this Problem

We are preparing an application to recover saved game data for players whom this has happened to. This will be made available to download from Nintendo eShop as soon as possible.

We apologise sincerely for any inconvenience and ask you to please keep an eye on our website over the coming days for the latest information and updates.
So yes, Nintendo is now officially aware the bug exists and is planning to come up with a fix for it soon.  They've also made it clear that they're working on a special eShop app to recover save files broken by the above issue.
It's interesting that a news article was posted too, since I only really remember two or three times in Nintendo history where they've ever actually confirmed there was a problem with one of their games and mentioned a glitch (the others being Missingno in Pokemon Red and Blue and the three shortcuts fixed with the first Mario Kart 7 patch that was released last year).
Maybe now they'll also officially mention the game breaking bugs in some other Nintendo games that were released in previous months too. Still, good to see they're actually being somewhat proactive about this and have actually bothered to put out an announcement warning people about the presence of this glitch.  Here's hoping no one else loses their save data as a result of it.
Source:
http://www.nintendo.co.uk/News/2013/October/A-message-to-all-Pokemon-X-and-Pokemon-Y-users-820955.html