Nintendo Gives Out Rarest Ever 3DS XL for Pokemon Tournament Prize!

Want this awesome Pokemon X and Y 3DS XL shown in the post screenshot?  Well, good luck with that, since it's the rarest 3DS system ever made.
How rare?  Only ONE will ever be made.  And it'll go to the sole winner of the Pokemon Dragon King Tournament, complete with the winner's name printed on the console itself.  So for the source (and my random views on the subject), head inside and keep reading…
So that's the design.  If you want to see it in a bit more detail, here's a bigger picture of the system: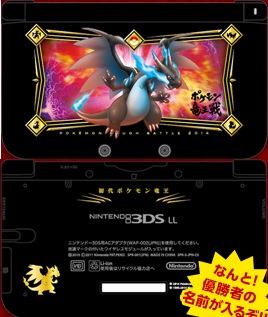 Looks pretty damn badass, doesn't it?  Yeah, I can just say that whoever manages to win this tournament will absolutely love this one of a kind 3DS system, especially with that kind of artwork printed on the back and the amazing colour scheme used in general.
I also assume it'll fetch a pretty penny if it ever ends up on eBay or the likes, since a one of a kind system that never had additional units made seems like something you'd expect to see in a high end auction house.
So yes, behold the best 3DS XL design in recent history, and one that'll never be seen again due to its limited production 'run'.
Do you want this special system?  And if so, how much would you pay for it, if the tournament winner ever stuck it on eBay or Yahoo Auctions?
Source: