Nintendo Direct coming on November 13th 2013!

Well, I called it.  Just a few days or so ago, I was actually wondering when the next Nintendo Direct would be coming.  And now it turns out that it's happening tomorrow, on November 13th 2013!
Of course, there's no real information about what it'll cover other than 'previously announced 3DS software launching from now until early 2014', so I guess it could be focused on all manner of different games.  What do I predict?  What games do I expect will be covered?  Find out in the full post after the break!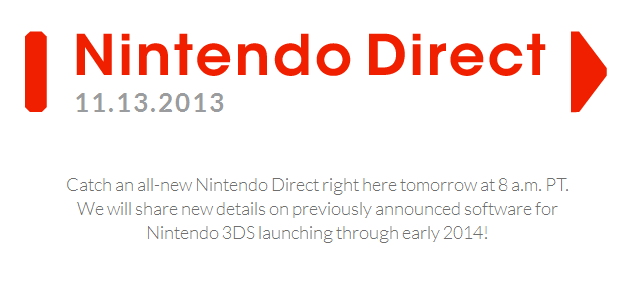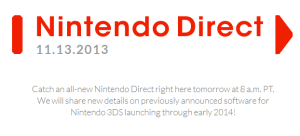 Predictions wise, I suspect the obvious choices of games to cover will be the usual Legend of Zelda A Link Between Worlds and Mario Party Island Tour titles, which are being released within the current month in at least the US and before the end of early 2014 (in Europe and Japan).  So it's obvious we'll see a new trailer or at least some new information about both of these games.
But that's only two games.  What other titles might be covered?  Well personally, I'd put money on the following:
Yoshi's New Island
Mario Golf World Tour
Why?  Because we haven't seen anything from them in months, and because they're both confirmed to be released sometime next year. This could easily turn out to mean a January, February or March release date is coming.
Other than that, who knows.  Probably third party games or indie games or something.  Maybe ones no one actually cares about, since Nintendo has poor priorities like that in Nintendo Directs.  I also suspect that despite the name, there's a good chance they'll interrupt it to mention 3D World in some way, because damn they need that game promoted and to leave it out the first Nintendo Direct of the month would be insanity.
But yes, long story short, a new Nintendo Direct is coming tomorrow.  Post your thoughts on it and your predictions here or at Nintendo 3DS Community.com today!