Next Nintendo Direct Announced for the 3rd of March 2016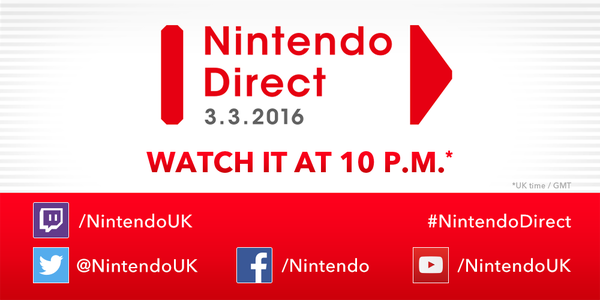 Which for those who aren't paying attention to the calendar, means tomorrow. Said Nintendo will start at 2pm PT (or 10pm GMT, for those in the UK), and will cover Wii U and 3DS games being released in Summer 2016.
Here are Nintendo's official announcements about it on Twitter:
Watch a #NintendoDirectNA about games launching through this summer on 3/3 at 2 p.m. PT. https://t.co/M7Omi1z2OG pic.twitter.com/FMmswF82Ug

— Nintendo of America (@NintendoAmerica) March 2, 2016
It's time for a new #NintendoDirect! We'll be live on 03/03 at 22:00 GMT!

→ https://t.co/omHXzCAW79 pic.twitter.com/PbhFlHXvO1

— Nintendo UK (@NintendoUK) March 2, 2016
The #NintendoDirect will focus on #WiiU & #3DS games coming this spring and summer.

→ https://t.co/4RSf0LgWq2 pic.twitter.com/dUbd9tTkYf

— Nintendo UK (@NintendoUK) March 2, 2016
So what do we think is likely to be announced in this Direct? Well, Zelda seems to a sure fire inclusion. After all, it's been ages since new footage of Zelda U was released, and even that was about 15 seconds worth. So it feels like we'll be getting a proper trailer this time around, giving us some indication of how the game will actually work on a story level.
Star Fox Zero seems plausible too, though it could easily be an announcement that the game's just been delayed again. Pokemon Sun and Moon could make an appearance here, given that we've only seen concept art and the logos rather than any of the actual gameplay or included Pokemon.
And there's likely to be something new as well. Maybe Paper Mario for Wii U will finally be announced? It's pretty much a sure fire bet at this point…
But what do you want to see in tomorrow's Nintendo Direct?