Newegg not selling Luigi's Mansion Wii U?

As many people have mentioned on different news sites, the eretailing website Newegg.com had an odd listing for a 'Luigi's Mansion Dark Moon Wii U' earlier today.  Indeed, it even had the game 'available' to pre-order, despite the fact no one at Nintendo had ever actually announced the game would be coming to any system other than the 3DS.
Here's a picture showing what it used to look like: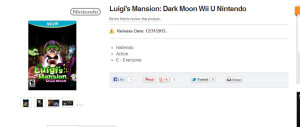 It even listed a fake (fan made) box art image alongside it to make it look even more likely!
Unfortunately though, this isn't the case.  Newegg.com have now removed the listing from their site altogether and it seems like the whole thing was just a mistake to begin with.  So false alarm people, Luigi's Mansion Dark Moon isn't getting a Wii U port like some websites have suspected!
Are you at all surprised by this?  Disappointed it's not being released for Wii U as well?  Tell us what you think in the comments below!