New Pokémon Ultra Sun and Ultra Moon Trailer Shows Mantine Surfing (and more)!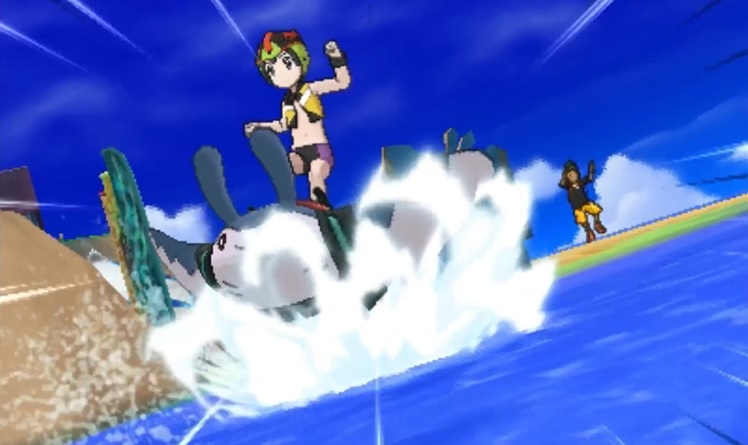 Well, it's that time again folks! Yep, Nintendo's released another trailer for Pokémon Ultra Sun and Ultra Moon, and this one shows all kinds of new features in the game. Here's the video if you haven't seen it yourself:
As you can see, there are all kinds of changes here. You've got tons more Pokémon, with a massive 400 of them in the Alola Pokedex alone. There are all new trial layouts and themes, with Mina even getting a trial of her own this time.
And well, things like the photo mechanics have been improved significantly. No longer are you merely photographing Pokémon in certain spots, now you're able to take photos with you and your team in them instead! That's pretty cool really. Especially if said pictures can be shared online afterwards.
But these aren't the most interesting changes here. Oh no, that's the surfing.
Why?
Because not only does Mantine now exist as a Ride Pokémon you can use, but you can use it to surf between the islands in Alola now!
Yup, no more needing boat rides to get around. You can now ride the waves between the islands on an actual Pokémon instead, complete with fancy tricks and giant waves to master. It's a neat addition, and makes the world feel a bit more interconnected than it did before.
Add the other new mechanics we seen in the video, and well, Pokémon Ultra Sun and Ultra Moon just look more interesting than ever before. They're not simple third versions, they're all new games with major features.
It's a pleasant surprise given their muted announcement back in June this year.
So, what do you think about it? Are you happy Pokémon Ultra Sun and Ultra Moon are getting these new surfing mechanics? Or the other things shown in the video?
Have your say on the matter at the Gaming Latest forums today!