New Nintendo Direct on November 5th!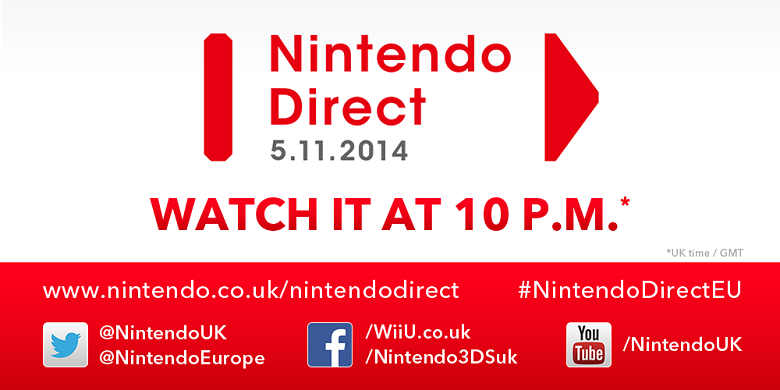 Yes, a new Nintendo Direct has been announced… and it's tomorrow!  What's more, it'll be covering upcoming Nintendo 3DS and Wii U games, meaning that we finally get to see some of the great titles being released in 2015 (including already announced ones like Monolith's Xenoblade Chronicles X and The Legend of Zelda U).
You can watch the event on the official Nintendo Direct website from 10PM UK time, or 2PM Pacific Time, depending on where you live.  Here are the official announcements:
A good old fashioned Nintendo Direct airs tomorrow, delving into upcoming #WiiU & #3DS games! http://t.co/zd0YYTCIVD pic.twitter.com/Q7btQAlsnn

— Nintendo of Europe (@NintendoEurope) November 4, 2014
Watch a new #NintendoDirectNA on 11/5 at 2 p.m. PT for updates about upcoming games for #3DS and #WiiU. http://t.co/sVsqDLEOcv

— Nintendo of America (@NintendoAmerica) November 4, 2014
[任天堂]11月6日朝7時より「Nintendo Direct 2014.11.6」を世界同時放送します。今回は来年春までに発売されるソフトの情報を中心にお届けします。#NintendoDirectJP http://t.co/b3onjq0NyU

— 任天堂株式会社 (@Nintendo) November 4, 2014
So yeah, this should be interesting. Just a pity about the timing over here in the UK (it literally airs right after The Apprentice).