New Nintendo Direct Coming This Week!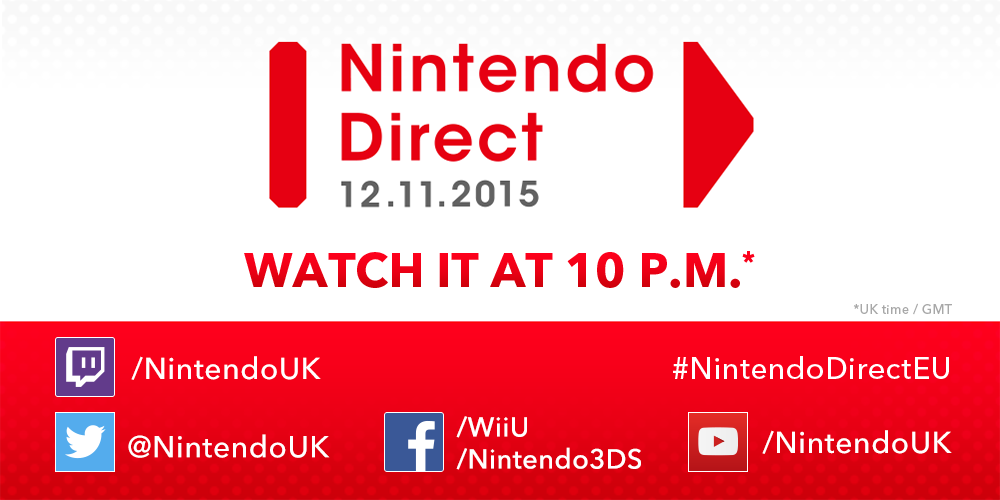 It's been a long time coming, but we finally have a new Nintendo Direct on the horizon!  Covering games for the Wii U and 3DS (it specifically points out mobile and NX games won't be mentioned), it's due to air this Thursday (12th of November) at 10pm GMT.
Here are the official announcements about it on Twitter, courtesy of Nintendo's different region specific accounts:
It's almost here! pic.twitter.com/t17ji6t9Fq

— Nintendo of America (@NintendoAmerica) November 10, 2015
[Shibata] I hope you will join me for a new #NintendoDirectEU with updates on upcoming #WiiU & #3DS games on 12/11! pic.twitter.com/aPF9Uzhu24

— Nintendo UK (@NintendoUK) November 10, 2015
Above: Nintendo of Europe president Satoru Shibata will host part of the European presentation.
So after all these months, we're getting a new Nintendo Direct presentation. What will be shown? What upcoming games have Nintendo not announced yet? Well, we'll just have to wait and see!