Well here's something interesting.  You know how people were speculating whether Retro Studios was behind the upcoming 3DS port of Donkey Kong Country Returns?  Well it seems like in reality they have nothing to do with it.  No, apparently Monster Games (the makers of the Excite Truck series and Pilotwings Resort) are the company behind the development.  Here's a page from the Australian game classification board talking about it: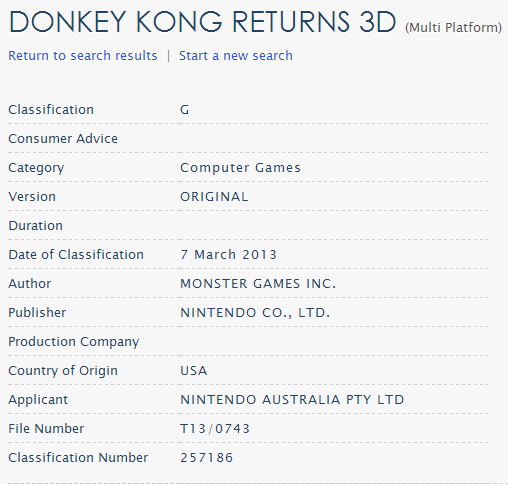 Well, that's another mystery solved, we now know what secret 3DS title Monster Games were apparently working on all this time.  Additionally, someone on another site (DK Vine) also figured that this is why everyone thought they were making a Diddy Kong Racing sequel.  Stupid, but if you're somehow who talked about a game with the initials of DKCR and ended up missing a letter, it seems quite possible the guy you were mentioning it to thought you meant Diddy Kong Racing and passed it on!
Still, what do you think about this choice of developer for the 3DS Donkey Kong Country Returns port? Are you happy Monster Games are working on this title or do you wish they were working on an all original one instead?
Source:
Australian Game Rating for Donkey Kong Country Returns
Via My Nintendo News