Minecraft is Coming to the Wii U!
It's been a while, but we've finally got the news that Minecraft will be coming to the Wii U.  Launching worldwide on the Nintendo eShop on December 17th 2015, the game will come with off TV play and will retail at a price of $30 in the US. What's more, the game will be compatible with the various add on packs for the game, which let owners of the console versions use characters from various TV shows, films and other video game franchises in place of the default protagonist. The following packs will be included by default:
Battle & Beasts Skin Pack
Battle & Beasts 2 Skin Pack
Natural Texture Pack
City Texture Pack
Fantasy Texture Pack
Festive Mash-up Pack
With these additional ones being made available to buy in the eShop:
Festive Skin Pack
The Simpsons Skin Pack
Doctor Who Skins Volume 1
Doctor Who Skins Volume 2
Star Wars Classic Skin Pack
Star Wars Rebels Skin Pack
Star Wars Prequel Skin Pack
Mass Effect Mash-up Pack
Skyrim Mash-up Pack
Plastic Texture Pack
Candy Texture Pack
Cartoon Texture Pack
Steampunk Texture Pack
Pattern Texture Pack
Greek Mythology Mash-up Pack
Halloween 2015 Mash-up Pack
Pretty cool, isn't? Didn't expect we'd be able to play as characters from The Simpsons or Doctor Who in the Wii U version of the game, so to see those add on packs included is a very nice surprise. Perhaps the Rare ones will make an appearance too, giving us the chance to see the likes of Banjo, Kazooie and Conker the Squirrel return to Nintendo platforms after a decade's long absence!
The game will also be available in retail form at a later date, if you prefer to get a box with your Wii U purchases. In addition to that, it will also be published by Microsoft themselves, at least in Japan. Bet you didn't expect to see them publishing a game for a Nintendo system!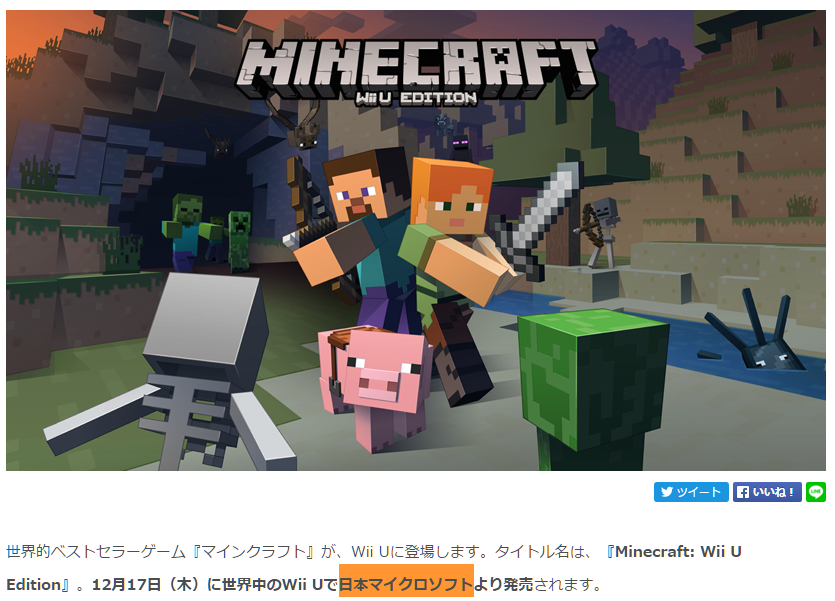 Above: Microsoft.  Publishing a Wii U game.  Did anyone see that coming?
Notch (Minecraft's creator) didn't see this game coming either:
Whoa, I did not expect this! Neato! dat squid doe! https://t.co/0Du7gn37gp

— Markus Persson (@notch) December 7, 2015
So yeah, Minecraft has finally come to the Wii U. It should have been out back in 2011 or so when the game was hugely popular, and Nintendo probably should have bought the series before Microsoft did as well, but hey, it's nice to see that the game will finally be available on a Nintendo system. Perhaps Nintendo's new management has finally noticed what people want and is willing to give it to them for once…
Source: